Pejiño, or the return of that player who makes a difference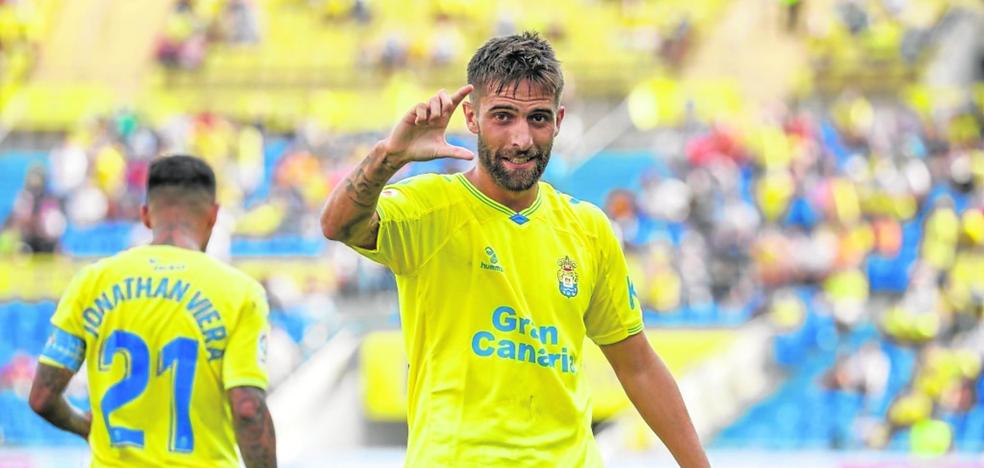 When he disappeared from the lineups due to injury, he was the team's top scorer with five goals
On the match sheet for last Monday, against Leganés, at the Gran Canaria Stadium, Pejiño's name appeared among the substitutes. Great news for everyone. It is about that different player that Las Palmas has and that is getting closer to his reappearance, after several months absent due to injury.
We remember that last January he underwent surgery for osteopathy of the pubis, an operation performed by Dr. Pedro Luis Ripoll, in a specialized clinic for elite athletes, in the city of Murcia, the same one where a few years ago he was also successfully operated on of the ankle the former yellow player, Sergio Araujo, today at AEK Athens in Greece.
Since then, the skillful winger from Barbate has been in the care of the club's medical services, and in the expert hands of Juan Naranjo, the team's chief physiotherapist, and the cast of professionals who work by his side every day in Barranco Seco. in the care of footballers. There is no rush, the times of reappearance are marked precisely to avoid relapse.
Last year he experienced a somewhat similar situation. He scored four goals and spent a long season injured, from matchday 8 (match against Cartagena) to matchday 24 (match against Sabadell) where he reappeared playing 45 minutes (he was a substitute).
Pejiño played his last 18 minutes in the match on December 18, 2021, at home, against SD Éibar (0-1). Since then he has suffered an ordeal with injuries that already seem to be forgotten. When he was absent, he was the team's top scorer with five goals (Huesca, Mirandés -2-, Ponferradina and Cartagena). He now returns to make the yellow attack more powerful. UD Las Palmas has played twelve consecutive games this year if a decisive player in one-on-one, skilful in dribbling with his left foot, a good shot on goal, with an eye for goal. In short, there are few players in the second division who make a difference with the ball like him. That different footballer that every coach wants to have on his team. For García Pimienta the return of Pejiño, at the best moment of the team, means one more piece of gold to place in that puzzle of good football that is beginning to be built in the decisive final stretch of the Championship. A victory this Sunday in Ponferrada would place the Gran Canaria just one point off sixth place.
The midfielder, who joined the yellow club two seasons ago, under the guidance of the sports director, Luis Helguera, and who was tied until 2024, due to the admiration he was arousing in other clubs with greater financial muscle, returns so that Las Palmas put on the sign of the team to beat.