Pedro Sánchez, in favor of Simón recording 'Planeta Calleja': "He has all the right by law"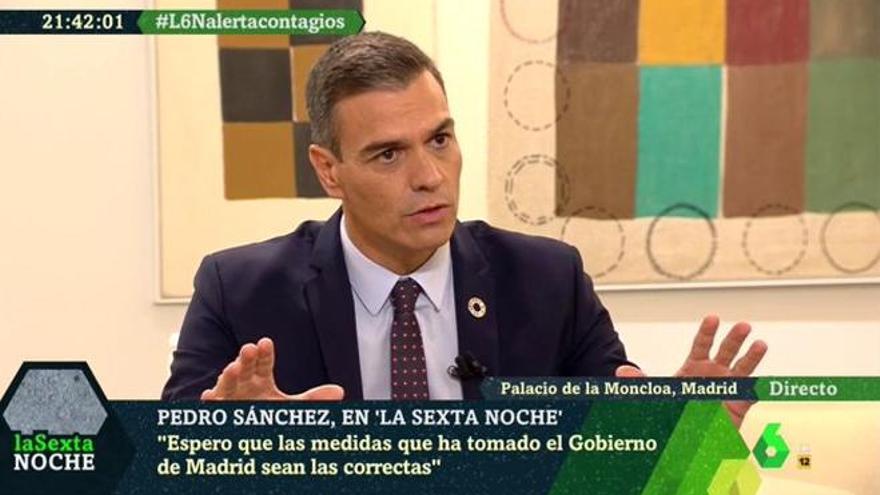 This Saturday, September 19, 'La Sexta Noche' interviewed Pedro Sánchez to talk to him about current affairs, largely focused on the pandemic of the coronavirus and in the controversy arising from the Fernando Simón's vacation, during which he recorded a program for 'Planeta Calleja'.
The president of the Government has avoided any reproach to the head of the Center for Health Alerts and Emergencies and has defended that he has had Holidays despite coinciding with the worsening of the second wave of the pandemic.
"Is it understandable that at the peak of the second wave he is not at his job?" Iñaki López asked him, to which Sánchez replied: "Dr. Simón, during all this time he has only taken a week's vacation. Now this week has been caught. "
The socialist continued to make his case for Simon, stressing that "You have the right, also recognized by law and I defend you that right, to take a week of oxygen, to rest ", since he is a person who, like many families are seeing, he is "working day and night from Monday to Sunday."
On the other hand, Sánchez recalled that Fernando Simón already worked for the Ministry of Health during the Government of Mariano Rajoy. "It was not someone we named. Is someone we inherit in his position, as director of CAES, when we came to the Government. And I tell you one thing: Spain has had the fortune, the enormous fortune, of having a person, not only of knowledge and experience, but also of the human quality of Dr. Simón ".