Pedro Ferrándiz, pioneer and myth of basketball, dies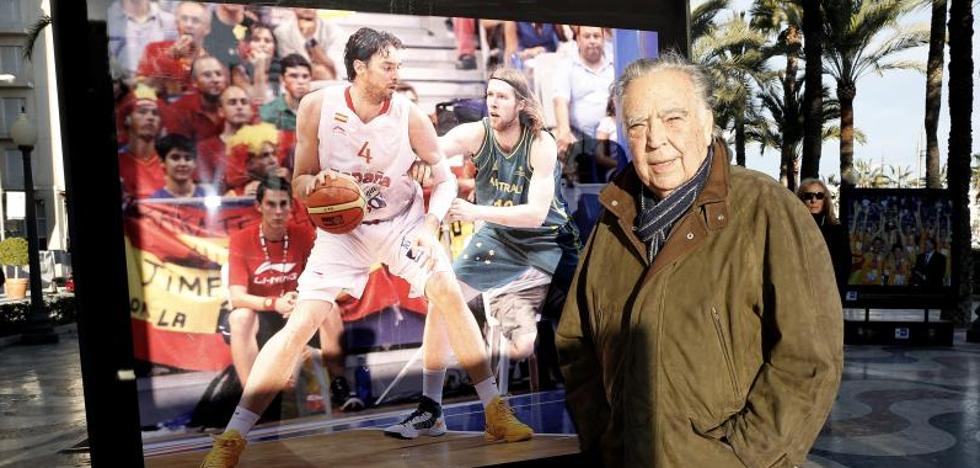 He was 93 years old and, with 27 titles won at Real Madrid, five more than Lolo Sainz and Pablo Laso, he is the most successful Spanish coach
Basketball is mourning the death this Thursday, at the age of 93, of Pedro Ferrándiz, ahead of his time, the most successful Spanish coach in history and a Real Madrid myth, although he also led the Spanish team. The basketball section of the white team would not be understood without his figure, since he achieved 27 of the 93 titles that shine in the club's unrivaled track record. He won five more awards than Lolo Sainz and Pablo Laso, recently dismissed.
Four of the first five European Cups lifted by the madridistas bear the stamp of this pioneering coach, a genius who radically changed the way this sport is played in Spain. In addition, he won 12 Leagues and 11 Cups with the merengues. An example of a self-taught person, he was the Whites' coach for thirteen seasons in three stages: from 1959 to 1962, from 1964 to 1965 and from 1966 to 1975. In total, he managed Madrid in 490 games. He also commanded the national team between 1964 and 1965, when the European Championship in Russia was played.
Players who coached at that time, such as the legendary Wayne Brabender, always stressed that Ferrandiz combined being a very affable person with the rigor that a coach should always have. He was one of the first coaches to leave Spain in search of pearls to polish at Real Madrid. That was precisely how he recruited this extraordinary American forward in Minnesota, back in 1967. He kept an eye out because Brabender would win 28 titles in 16 courses.
Saporta's favorite

Ferrándiz was the right eye of Raimundo Saporta, the head of the Real Madrid basketball section par excellence. So much so that he practically went from organizing a tournament for children and directing children to leading the first team with enormous success. Perhaps tired of so many titles at that time when Madrid was hegemonic, he retired at just 46 years old but never left the basket.
Ferrándiz is much more than a basketball coach. Through its foundation, created in 1991 with headquarters in the Madrid town of Alcobendas, master classes were always given in the best colloquiums. The Samaranch library is located precisely there, considered the largest in the world dedicated to the sport of basketball.
A member since 2007 of the Naishmith Hall of Fame in Springfield and since 2009 and 2019 of the FIBA ​​and FEB Halls of Fame, respectively, he leaves a permanent mark. Among the recognitions and merits received at a national and international level, the Grand Cross of the Royal Order of Sports Merit and the Collar of the Olympic Order also stand out.
A giant of Spanish basketball is leaving, convinced that to succeed you always have to take risks, never play with that fear that grips your muscles and clouds your eyes. As Real Madrid reflected in a statement in which it expressed its condolences for this irreparable loss, "Ferrándiz's legacy will be eternal, not only because of his titles but also because of his spirit of innovation and for being a visionary of the game, a unique figure who changed and revolutionized this sport forever."