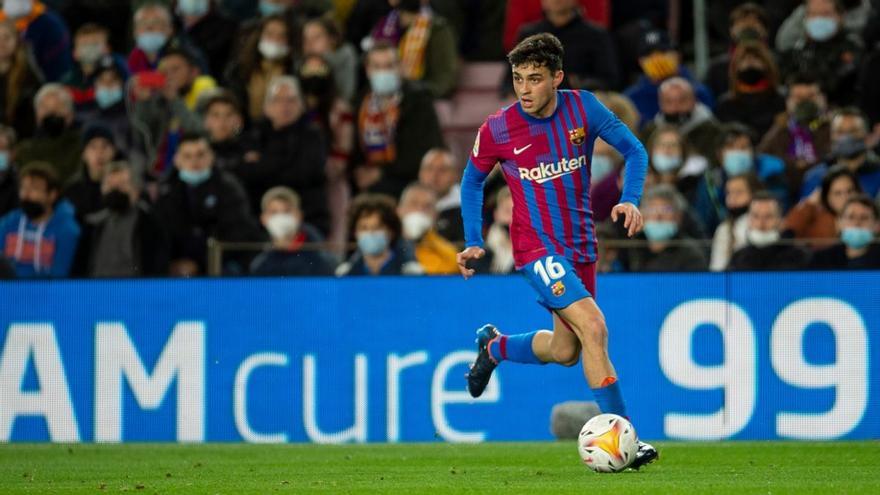 It's not from La Masia, but it looks like it. It's not Andres Iniestabut it also seems. And she was already able a year ago to get a complicit smile from Messiweeks after he had sent the burofax to Bartomeu to leave the barca. He even changed Leo's mind with his street game, willing as he was to stay even though in the end, and much to his chagrin, he had to go to Paris.
That humble young man from the Canary Islands, who arrived without any advertising from Las Palmas (he cost five million euros, although the evolution of his football will make him reach 20, a trifle for the treasure that he is), has become the heir to the best school of midfielders that has been seen in a club where they were born Guardiola, XaviIniesta, Busquets.…
Pedri hasn't been at the Camp Nou for two years and has become the boss of Xavi's Barça, the owner of the game at Barça year one without Messi. Nor is it a novelty. As soon as he arrived he seduced koemanthen hypnotized Luis Enriquewhich gave him the flag of the national team which he led to a semi-final of the European Championshiptransformed into the most revolutionary young man with a silky football, inheritance of his Canarian soul, with nuances of modernity that make him a transgressor.
when he plays, Xavi enjoys and Iniesta smiles in Kobe, from where he usually exchanges discreet messages with Pedri, determined as it is to have a life of its own. They look alike in the field. And also outside. Nothing populist in his game, offering tightrope walking lessons with the ball avoiding the lime border as he demonstrated on Sunday with that heel with a pipe including Balenziaga that put the Camp Nou on its feet with 70,000 people throwing their hands to their heads.
Even Araujo, his teammate, forgot for a few thousandths of a second that he was central and became a fan enjoying a great technical gesture a few meters away that will be remembered for ever and ever.
conjurer costume
It seemed Pedri who was then Riquelme, the Argentine wise man who did not triumph at the Camp Nou, captivated as he was by the magic that Iniesta already radiated. "At the time of the pipe I was shit in case he lost it. I have to work hard to be someone in this world of football," he later confessed with that discretion and sincerity that characterizes him. The ball, faithful as it always is to the prodigious feet that cradle it with care, did not abandon him. Nor he to her.
"At the time of the pipe I was shit in case I lost it. I have to work hard to be someone in this world of football"
The stadium went crazy and then, already from the bench, Xavi felt what he had felt after playing for almost fifteen years with Andrés. "Pedri makes everything easy, it's wonderful. He reminds me a lot, a lot, a lot of Andrés," said the Barça coach, following in the footsteps traced back in his day by Luis Enrique. a World Cup, European Championship or the Olympic Games. He hadn't seen anyone. Nor to Don Andres Iniesta. It is something out of all logic", also confessed the astonished coach after falling in the penalty shootout of the semifinal with Italy.
Pedri is discovered every day he plays, no matter how much he was already chosen the best youngster in Europe or chosen in the ideal eleven of the tournament last July. There was a time, and not so long ago, when, buried by muscle injuries that did not let him live in peace after an exhausting year (73 games, European Championship and Olympic Games included), forgot how good, how really good it already was. And it is.
He is not Iniesta, nor does he want to be. At his age, Andrés had not played so much for Barça or for the national team. "At the level of talent I have not seen in the world one like Pedri", said Xavi on several occasions, recalling that there are players "with different characteristics such as De Bruyne and Modric". But the current City player, at the age of the canary, was at Belgian Genk while still unknown on the European scene. The Madrid midfielder used to do mischief at Dinamo Zagreb and was signed by Tottenham at the age of 22.
Pedri is much more precocious than all of them, injecting variety into his football, capable as he is of combining short passes, magical pauses and electric dribbles dancing in front of Iñaki Williams with poisonous and diabolically deep diagonals that mocked the Athletic defenders as he demonstrated in his majestic and long pass to Dembélé, prologue to Luuk de Jong's 3-0.
The ball passed through the air at the Camp Nou as if Pedri had a remote control in his right boot, as calm as ever, being natural and simple, nothing baroque like his football, causing Xavi, who had to live in his beginnings under the weight of the comparison with Guardiola, already invested with the suit of heir. "He reminds me a lot of Andres." With that weight and that legacy will continue forever.