Pedri: "I am comfortable with Luis Enrique, this is a dream"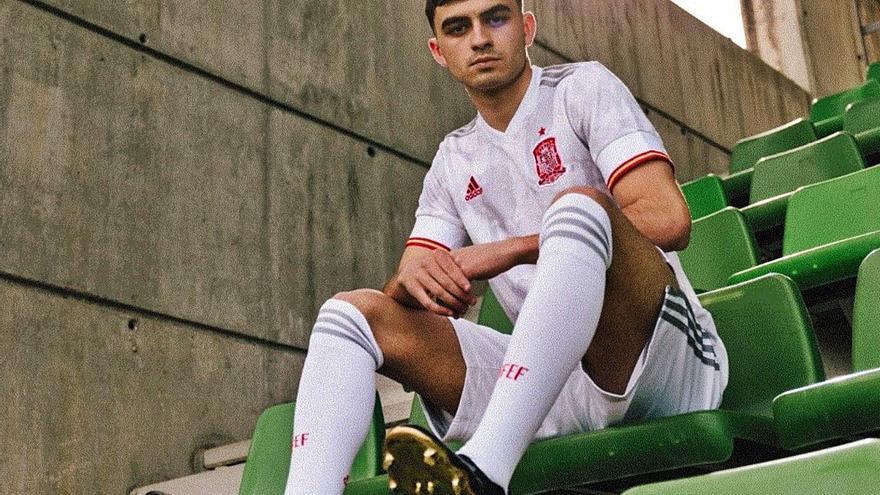 The FC Barcelona player and former UD Las Palmas footballer Pedro González 'Pedri' assured that he fulfills a dream by having been summoned and being able to debut with the absolute morning, and is clear that far from comparisons with other footballers he wants to be Pedri and carve out his "Career and achievements."
"I like to be compared to Iniesta, but I have to be Pedri and make my own career to achieve my achievements," the teguestero said at a press conference, following the same script used by the coach, Luis Enrique Martínez, asking not to It will be compared to that of Fuentealbilla. A cord of maturity.
For now, the teguestero arrives, at 18 years old, to the national team in a great moment of form and ready to enjoy. He will become the earliest canary to debut with La Roja. "From the first day they have treated me very well, I am very comfortable here and I want to enjoy the experience because it is a dream for any child. To enjoy and learn ", he acknowledged.
Step by Step
The market value of the Barça player amounts to 70 million and has generated 11 'kilos' for the UD through its sale to the giant culé and the clauses. "I don't have any reference here but I try to focus on everyone, they are great people and players. You can learn something from everyone. I'm trying to get something from everyone ", he commented when asked if he had any player in mind as to using him as a reference in this constellation of magic.
As for Luis Enrique, he assures that it has caused him "a very good feeling". "I like his ideas, his football, I love the style of play that he likes and I hope to learn a lot from him, as from all the coaches I have had. Because I have to learn the style of the national team, I think I'm going to adapt very well ".
"They treated me so good. I have always felt comfortable. Knowing Jordi and Sergio, both of the U-21s, have helped me to be calm. And the colleagues I have met here have struck me as magnificent people. Very good ", he commented on his reception in the group of the senior team. Asked which competition he would choose to play this summer, if Euro or Olympic Games, he assured that it is not in his hands. "I would not choose either, I like both. Wherever they take me, I will be at ease and will try to add the maximum to the team. It's not my decision, "he replied.
Pedri, for now, could make his debut with Spain in one of the three qualifying matches for the Qatar 2022 World Cup that the national team will play against Greece, Georgia or Kosovo. For now, he already has good memories of his first international concentration. "My first memory, I would stay with the first training all together. I got to know everyone better, off the pitch I am shy but inside I have fun and I would stay with that ".
In addition, if he makes his debut, he hopes to have a similar connection with a teammate, like the one he has with Messi at Barça. "That connection can be made with many players, not as much as with Leo because he is the best in the world. But there are a lot of quality people in the selection. Those of us who like to associate can understand each other very well ".
On the other hand, he was asked about the future of his coach at Barça, Koeman. "He has bet on me and I have to be very grateful to him. But it's not my decision. Me, to take orders. But for me, of course he is a good coach and I have to give him back the trust he has placed in me. "
Álex Domínguez starts
The Under-21 team begins in Maribor (5:00 pm / Four TV) its career in the Eurocup of the category with a duel against one of the hosts, Slovenia, against which it will begin the defense of its crown in search of achieving the first part of the work with his classification for the final crosses.
The tournament did not escape the vicissitudes of the coronavirus pandemic and not only had to be postponed from 2020 to 2021 but also had to vary its format somewhat and be divided into two parts. In this rebirth, figure the UD goalkeeper, Álex Domínguez, as well as the former yellow goalkeeper, Josep Martínez (German Leipzig), and the Gran Canaria Yeremi Pino. On Saturday, the powerful Italy plays.