Pedrerol and Rufián meet in 'El Target': "You also set up beach bars, but of a different kind"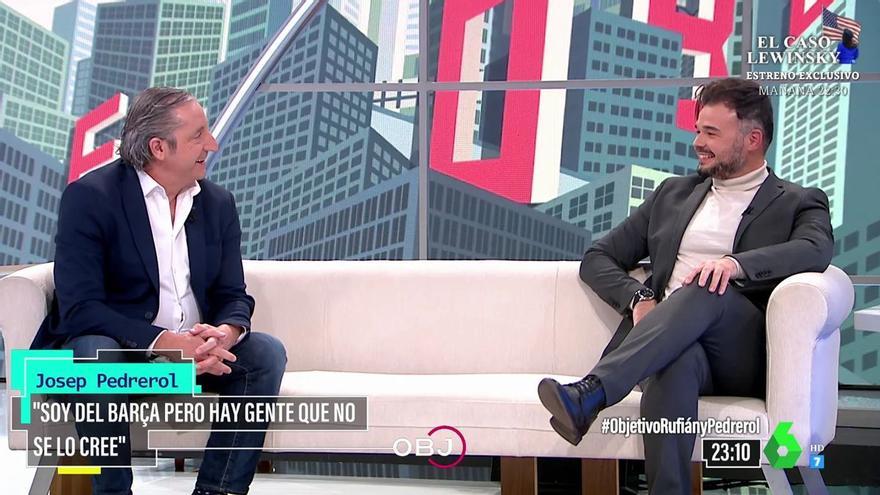 Josep Pedrerol and Gabriel Ruffian starred last night in one of the most outstanding moments of 'The objective'. The sports journalist and the ERC politician, who did not know each other in person, met for the first time on the set of the program of Ana Pastor. An encounter that gave a lot of play, since both were encouraged to talk about football and politics with the odd dart.
"I'm from Barça although there are people who don't believe it", confessed the presenter of 'The beach bar' after Pastor pointed out that Rufián is a supporter of Espanyol. This led to Pedrerol making a curious request: "As he is from Espanyol and a Catalan politician, it could help you in Catalonia. To collaborate a little more, to show it".
The guest replied that "the easy thing is to be culé", while Pedrerol acknowledged having "a special affection" for the blue and white team: "I was going to see Barça matches, the family and all that leads to making you one team or another. But I have always liked Espanyol and I feel that you have to help you, that's why I'm asking you. "
It was then that Ana Pastor proposed to the politician as a collaborator in the Mega sports debate: "Have you ever considered a gathering of Espanyol like Rufián or are they big words?" "Rufián is in another orbit, in another world"replied the journalist. However, the aforementioned left the door open to that proposal: "I'm delighted. You have a fuss there that not even in Congress".
"The one that you have mounted is also good. Do you prepare much what you mount? What scriptwriter helps you put on the show? It's funny, he's very resourceful (…) you also set up beach bars, but of a different kind, "Pedrerol replied with a laugh, who defended the tone of his program:" El Chiringuito is a social reality. It is in the cafeterias, in a chat with friends … It is to debate and contrast ideas ". "Politicians make it very complicated. We have to relax people, because they piss off the public.", he assured.