Paula Badosa's winding but determined path to success: "She always dreamed big"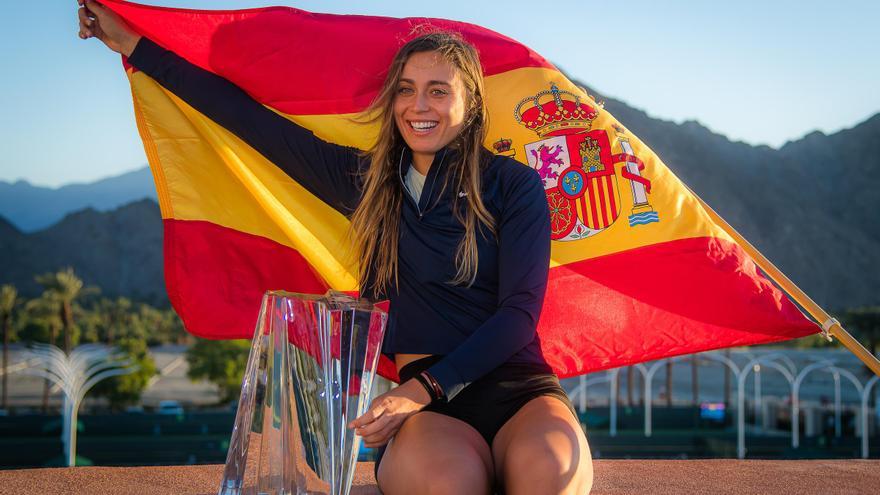 The straight line is not always the shortest way to a goal. No way. The laws of geometry emanate from nature, but they collide with life, so complex and variable, so subject to exceptions that each life is an exception in itself. When sunday Paula Badosa pounced on the cement of Indian Wells to begin, in full euphoria, to digest his own disbelief, the sinuous line of his life drew the most beautiful of meanders. That of a woman who risked, suffered and continued to risk to pursue the goal with which she challenged herself when she was still 15 years old, to the incredulity of those who listened to her, so shameless: "I want to be number one in the world". "I dreamed big", recalls Pancho Alvariño, one of his first coaches, about the seductive ambition of that adolescent prodigy, now a star of Spanish sports.
Badosa antagonizes the orthodoxy of talent that grows unstoppable protected by a stable and enduring environment. The change has marked his still incipient career, just 23 years, in which he has known highs, none like the current one, and lows, none like the depression into which he fell in 2018, "pressure, obligation and fears" after uncorking the enthusiasm national, winner of Roland Garros juvenile one year earlier. "It was a broken toy that was in a very dark tunnel," he confessed Xavi Budó, his coach at the time, about a woman today elevated to a podium that only a Spanish tennis player had conquered before: Rafael Nadal.
Manhattan
La de Badosa is the story of a girl born to Spanish parents in Manhattan, where her parents made their way into the world of fashion. Seven years later, Paula travels to Spain, never to return to her country of birth. Except to win tournaments, of course. High (now measures 1.80 meters), strong and cheeky since she was a child, tennis grabs her attention and she grabs her first racket in the Club Tennis d'Aro, from Platja d'Aro, on the Costa Brava. A hobby that ends up being something more, much more. She wants it, her parents see it, because a talent like this does not go unnoticed, and they look for where to enhance it. Your next stop is Valencia.
Pancho Alvariño remember the day you came to TennisVal, the academy he ran in the Valencian capital together with Jose Altur, that teenager who wanted to eat the world. He soon realized that his previous references to her had even fallen short and that before them there was a raw talent, one among hundreds. "His father told me that he wanted to work something more seriously. He came for a week to try it out and we quickly realized that it had enormous potential. She was 15 years old and she was already a very strong girl, but little worked, "explains the now coach of Tamara zidansekCuriously, the woman who cut the best Badosa Grand Slam to date in the quarterfinals of Roland Garros.
The girl Paula settled in the home of a relative, in the area of Chiva, although he soon moved to a residence in Petxina for convenience, it was closer to the training center. There he spent his day, from first thing in the morning until mid-afternoon, combining his sporting progression with his studies. They say that she was not a brilliant student, but that it was enough for her to carry out her courses. Only when it was clear that his future was on the slopes did he park the books.
"She was an impulsive girl, somewhat messy in your game. Since he was so talented, he could play whatever he wanted, without much thought about it. It was not an exaggeration either, but those details had to be polished. She has always had a strong character that made her pissed off at herself, it's something that has been improving, she learned to put all that character on the track, "says Altur.
Aggressive tennis
Alvariño, who worked closely with her, delves into the improvements they sought for their game: "It was physically very strongHe served very well for his age, which is something that Spanish tennis players do not usually excel at. It was evident that his tennis was going to be very aggressive, with great force, very straight, as it is now, but I had to work it more. Especially regarding order and discipline. He trusted his game to winning shots, but had a hard time working on long points. We worked a lot on his physical endurance, on his speed, on the lateral movements… He worked very hard on his physical appearance and that allowed him to exploit his full potential, which was immense ".
He trusted his game to winning shots, but it was difficult for him to work on long points
His two long years in Valencia culminated with his entry into the Top10 of the junior ranking and with a presence among the 400 first women of the classification of the WTA. At the age of 17, unstoppable and his progression, he decided to pack his suitcase back to Catalonia. The change of coaches and work teams has been constant during his career, something that the chair tends to discourage, but that has worked for Badosa. In fact, in August he broke up with his technician Javier Marti after less than a year of working together to entrust your preparation to Jorge Garcia. Before, I had worked with Xavi Budó. In short, in the last 14 months he has had three different coaches.
13th in the ranking
"I was sure that I would become a professional tennis player of the level, one of the 100 best in the world, of the 60 even. But this… They are big words ", confesses Altur. "The potential he had with the serve was totally unusual in Spanish sport. I always thought that I could get to where it has come now ", Alvariño comments on a Badosa that this Monday has risen to the 13th place in the world ranking.
"I thought I would not get here", replies from a distance the protagonist, who after her victory recalled the problems she went through in the past: "I have gone through very hard times, but I never stopped dreaming and fighting. These days I remembered all that, I have memory and I know what happened, I have had to work a lot and go through moments of depression and anxiety, to be treating me ", added the Catalan about the situation that she lived three years ago (she was 20) and that she told the world two years ago.
Heat stroke
After surprising with his arrival in the round of 16 in Roland Garros last year, 2021 was the year of its definitive explosion. Belgrade, a minor tournament, earned him his first professional cockade in May. Then he climbed to the quarter-finals of the French land, to the eighth of the grass of Wimbledon and even the rooms of the Tokyo Games, where heatstroke scorched a pristine tournament, forcing his dramatic wheelchair retirement. Until Sunday, on the hard court of Indian Wells, his winding road finally closed, realizing that what he had drawn was a circle, as perfect as a straight line, symbol of the wonderful exception that is Paula Badosa.