Pau Riba: "I am a radical optimist and I plan to reach 100 years old"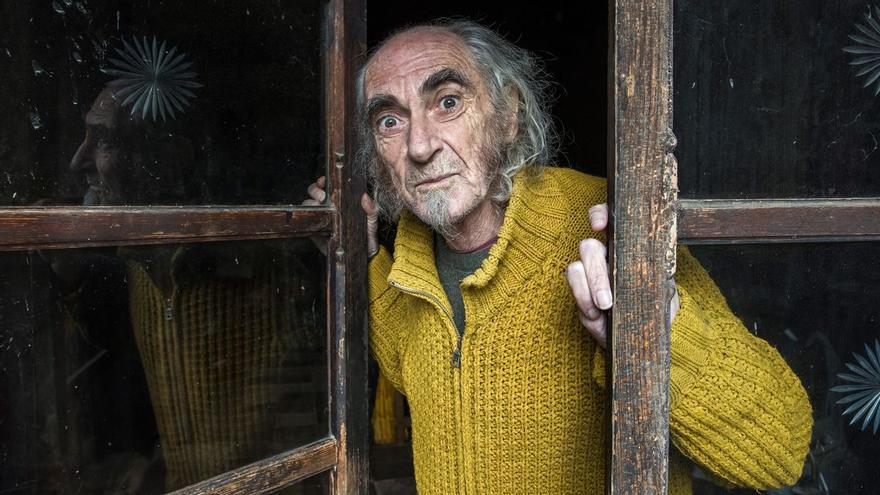 Since, this Tuesday, Pau Riba reported in the networks of the ailment he suffers, an inoperable pancreatic cancer, the venerable troubadour has felt like a great wave of sympathy and affection enveloped his day to day, very subject to medical care of various kinds (chemo and alternative therapies), but without neglecting the projects: concerts for this month and a book and a record on the way. Connected with the floating good vibes, he cracks that rogue smile of his. "I know that I represent something for people, and that they have an appreciation and an esteem that perhaps I do not deserve. I am aware that I am a kind of, how to say… champion, or icon… "Guru? "I don't know that", he ponders the encounter with this newspaper in the Upper House of Tiana, where he has lived for four decades.
There, next to the fire, near a record player on which the vinyl slice of 'Transformer' by Lou Reed rests, the author of 'Noia de porcellana' is smiling and ready to use the right words, transmitting a kind of cosmic poise, a serene inner rearmament. "I am a radical optimist, by nature, I feel good, I think I have an open future and that I will reach 100 years old, and that there is nothing to worry about", meditate. At his side, Memi March, his partner for 27 years (and in charge of his affairs as a total manager), corrects him. "Pau, last week there were 120!" He steps out. "You're wrong," she jokes. Whether it's 20 years up or down, there is a threshold. "Now it is being said that in the future we will live forever, which I would not want in any way", Pau Riba stops. "With living 100 years in this theater you already have more than enough. Then you start to get bored: everything repeats itself, you've seen everything… ".
"With living 100 years in this theater you already have more than enough. Then you start to get bored "
Criticism of the system
The note published in the networks slipped a criticism of the health system ("very contained", Memi points out), since it accused the "Head doctor" having attributed the pain that Riba suffered for six months to a psychosomatic effect. "If it were up to me, the doctor would be denounced," she makes clear, that does not walk with diplomacy. "I come from punk," he adds (pronounce 'pank'). "And I, from 'punk-creas'", he replies, in a crazy pun. "They were calling the emergency room for six months, with Pau complaining of pain, he who never complains about anything and is not paranoid," continues Memi March. It was not until October that the tumor was detected, and from there, upon admission to the Municipal Hospital of Badalona, ​​and then to Can Ruti.
The advanced state of the process ruled out the operation. "There were moments when it seemed that Pau would no longer get out of there," she explains. Even in that set, "He kept making jokes, verses starting from 'morphine, fine molt, fine mort ...', or saying 'I don't know if they will give me a CT scan or an' atac '". Good mood, trying to outwit the tension. "And all with masks, seeing only our eyes. I sang to him, and boleros from Machín would come out ", he is surprised. Calls from friends like Sisa, whom Riba asked to sing 'El setè cel' over the phone.
Galactic carols
While the chemotherapy plan was being outlined, a complementary pathway was taking shape through the Institut Khuab and Dr. Joan Vidal-Jové. Discarded, as inapplicable in his case, the sound frequencies (it would have been a "cure through music", he observes sympathetically), they opted for hyperthermia: applying high temperatures to the tumor. "The doctor has given us a lot of hope and has told us that there is a field ahead", Memi March explains. All this, accompanied by morphine, vitamin C and chemo sessions.
Memi March: "The doctor has given us a lot of hope and has told us that there is a field ahead"
This jolt to his health does not modify for now the plans of the artist, who keeps his three concerts this december (on the 23rd at the Center Artesà Tradicionàrius, on the 26th in the Albéniz room, in Tiana, and on the 30th at the Cafeteria Slavia, in Les Borges Blanques), where he will update, like every Christmas, the Christmas carols of 'Jisàs de Netzerit' , with its crossing of sacred history and 'Star Wars', wrapped in From Mortimers. "Everything is ready and updated," says Riba. And on January 8 he will be at the Museu-Arxiu, in Malgrat de Mar, with another project, PLAN, which includes Llull Riba March, 19-year-old scion, in charge of the battery.
Music history
But, apart from the stage, Pau Riba has almost ready a book, 'Icon-classical musician', subtitled 'Història de la musique del segle XX (l'electrònica)', to be published by the Males Herbes publishing house, which a few months ago launched another volume with little modest intentions, 'Història de l'univers'. Now it is a question of going through a musical era that "begins with Graham Bell and the telephone, and extends to punk, so that it goes from 1876 to 1976," explains Pau Riba. "And speaking of the instruments, not the instrumentalists."
And another mission advances day by day, his second album with the Orquestra Fireluche, after the entente materialized in 'Ataràxia' (2019). There, above all, he will recite, although there will be "two or three songs" sung, new pieces like the one dedicated to Memi and another for her daughter, Aina. "He asked me for it in a very special way," he reports.. "She is breastfeeding me, because she has a four-month-old son and every day she brings me a shot of milk." This album will include 'La minyona de Reus', a traditional song that he sang in his days by the duo Pau i Jordi, with the Grup de Folk. "It's a bit spicy, because it talks about a 'minyona' and a 'lligagama'". Joan Amades "polished" songs like this in his 'Costumari català', Pau Riba notes, who does not deprive himself of launching one of his taunts at "Puritan attacks that Catalunya she has always had against herself: 'we will not say this in public, we are serious people ...' "
We said goodbye without feeling that we had bothered him too much after all, thanking him for his willingness to talk and the quick photo shoot. Chemo is waiting for you in a few hours. "And we have stopped thinking about the future, about the tours next year," concludes Memi. "The future is tomorrow, every day."