Patricia Cantero and Silvia Mas, 470 world champions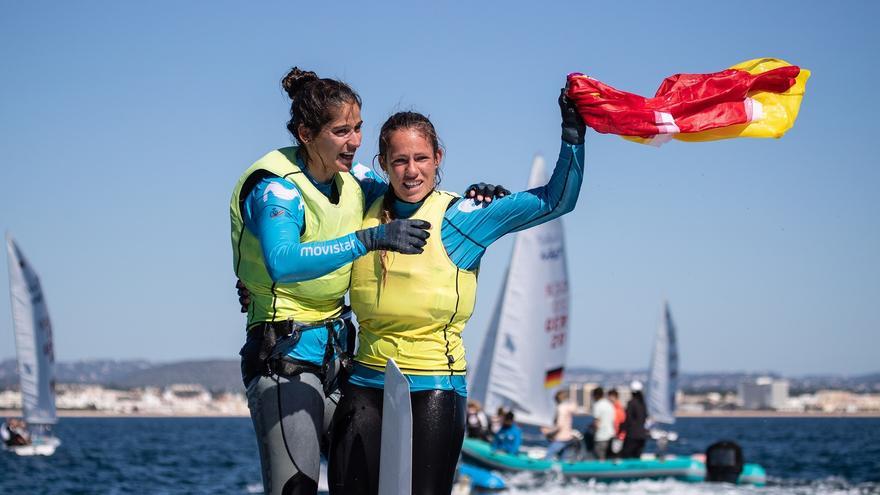 Patricia Cantero and Silvia Mas they celebrated in style their victory in the Class 470 World Championship female sailing. A deserved and long-suffering triumph at the same time, perhaps that is why it is savored more. And it is that the crew made up of the Gran Canaria and the Catalan, who led the classification of the World Cup event held in Vilamoura waters, in Portugal, from the second day, I saw glory slip away at times in today's decisive regatta, the Medal Race. But the members of the Spanish team reacted in time to climb to the top of the podium.
To this gold medal is added that of bronze won in male by Jordi Xammar and Nicolás Rodríguez. Two metals achieved in the most important championship of the Olympic cycle that confirm the great chances of victory for both formations in the Tokyo Games.
The start of the women's Medal Race, with Silvia Mas and Patricia Cantero as leaders, was made to wait due to the instability of the wind, with two postponements on the brink of the start and cancellation of the first attempt. The third time was the charm, with the wind at the limit of the impossible, to live a heart attack regatta.
The Spanish women covered the route sailing along the razor's edge, no wind to push them and putting his title in a tris to the same finish line. The Final fourth place confirmed the gold for Spain in this World Championship, with the Dutch Zegers and Berkhout on the second step of the podium and the Italians Berta and Caruso on the third.
"I do not know what to say; I'm in a cloud; the week, and more so today has been very, very complicated. Both Silvia and I have worked a lot to be here. We have managed to win a very fought World Cup and it remains in my head that it will also be the last of 470 female to be made"Declared Patricia Cantero, an athlete from the Royal Nautical Club of Gran Canaria after the victory in Portugal, who celebrated in style with their technicians, the coach from Gran Canaria Gustavo Martínez Doreste and Álvaro Marinho.
Silvia Mas, the other 50% of the 470 world champion crew, was just as happy. The Catalan dedicated words of praise to her shipmate and, above all, friend: "Everything I say about Patricia is little, she has proven to be the best and with a very clear head to keep calm at all times ".
"I have no words; we have been fighting all week six days one after another, until the Medal. The cancellation of the first regatta today – yesterday – was a stick because we were going very well and in the final we had moments in which we were losing the gold, but we never gave up ", said the Barcelona woman.