Pascu and Rodri: «We really want to play for the first time in the Canary Islands»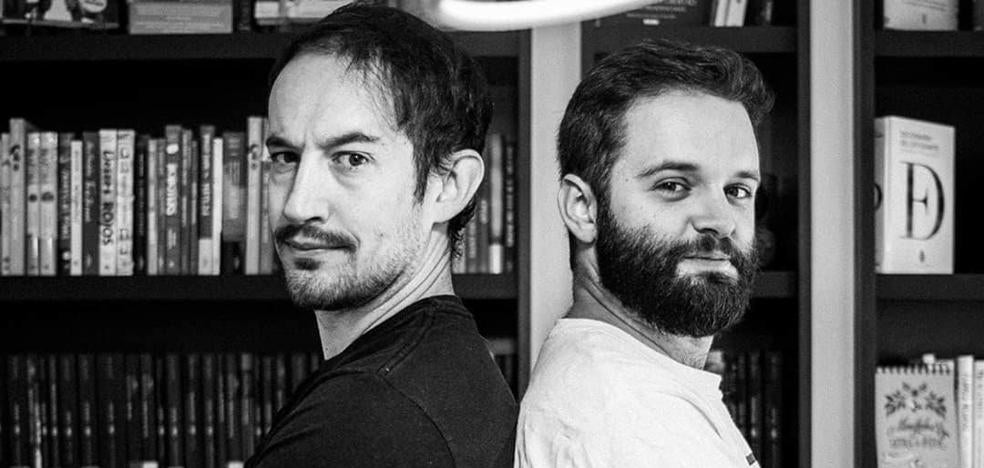 Members of 'Gutting History'
The show arrives in Tenerife and Gran Canaria this month
-
When you started working on the idea for Gutting the Story, did you really want to do what you're doing? Could you imagine touring the world while you 'gutted history' to children and adults?
Rodrigo: No, of course not. We only wanted to make funny songs with the maximum historical accuracy possible. If it is true that Pascu was more fond of history but even so we did not want to be a popularizer, we simply wanted to "gut" the story (laughs).
Pascua: That's what Rodri says, we didn't imagine something like that. Rodri and I had a "little project" and this came out of chance as something else. We were lucky that people liked it and it was a hit, and since we were having a good time, we got that smash hit.
- Despite having made yourselves known through a YouTube channel, during these years you have also released several books and sung on numerous stages. What do you enjoy the most?
Pascu: What I enjoy the most is drawing. It is my passion and my life and I do not stop doing it. Another thing that I love is researching the story behind the songs, getting up on stage and… Now that I think about it, I think I like everything (laughs).
Rodrigo: What I enjoy most right now are the concerts. Since we were 12 years old we have always been on stage and this happened long before making any book, video or anything else (laughs). Personally, I believe that it is the way to be more in contact with our public, so that they see what we are really doing and it is very gratifying.
- You, as disseminators by accident, have achieved that something that is normally boring, such as history, ends up hooking millions of young people. What do you think is the key to your success?
Rodrigo: I don't think there is any specific key, but the moment in which we made the change to not giving fictional musical sketches helped. At first we played some roles that were not ourselves but very exaggerated characters in a humorous way, well, we were not Pascu and Rodri. With Destripando La Historia we became ourselves depending a lot on people liking how we told stories, how we were and are, our humor and our way of being. There we were lucky that people connected with our way of telling things. That I would say is the key.
Pascu: The key to our success is that the story is not boring, what can be boring is how they tell it to you. We are lucky enough to take pieces of history that are entertaining as mythology and tell them in an original way.
- What is your favorite song you have released so far?
Rodrigo: It is very difficult for me to choose my favorite song, I would say that I have favorite fragments in each song. Right now I'm very happy with the next one that's going to come out, I can't say which one it is (laughs), but it's one of the ones I'm liking the most.
Pascu: That question is easy, Odin.
- After the great success you had in Mexico in April, you will visit the country again in November. Did you really expect to cross the pond and have followers in so many countries?
Both: We never expected that we would have such a great reception. In the end, it has been the result of "booms" impossible to foresee or plan that were very successful in Latin America and especially in Mexico. We were growing little by little in a linear way and suddenly «ZEUS» appeared, which made us take a very big leap. Then "Aphrodite" and well… you don't expect this, but you work on it little by little to reach more people and one day you have this luck. And this is always surprising and appreciated.
- In June you launched your latest book 'The most chungos monsters' and there are already 5. In addition, we can say that they are being a success among young people and thanks to you, many are becoming interested in reading. Villains, princesses, gods, heroes, monsters... have you thought about who will be the protagonists of your next book?
Both: No, we haven't thought about it yet (laughs). We just finished the last book and we don't have the next one in mind. We want to focus more on making videos that are already playing.
- In September you will perform in the Canary Islands for the first time, and on top of that in the two capital cities. We know that you were in Tenerife in July, but what about Gran Canaria? Have you ever visited the island?
Rodrigo: Personally, I have been playing in Gran Canaria playing with Bely Basarte and I had the opportunity to do some tourism, but it was very short.
Pascua: I have been with my family at times, but never working. It's something I've always wanted to do and it's finally going to happen.
Both: We are very excited and looking forward to playing there for the first time in a concert of our own. It is one of those places that the public demands of us and it becomes more complicated to go inside than inside the peninsula, but finally we will be there!
- Apart from a lot of music and fun, what should the Canarian public expect at your concerts?
Both: A magnificent atmosphere can be expected. That is what stands out our assistants and professionals who make it possible for us to be playing. We have a fantastic audience where there is never any type of problem and they generate a very nice atmosphere of young people, adults and children around one thing that unites them regardless of many other factors. This is one of the things we are most proud of.