Party at Silvestre Carrillo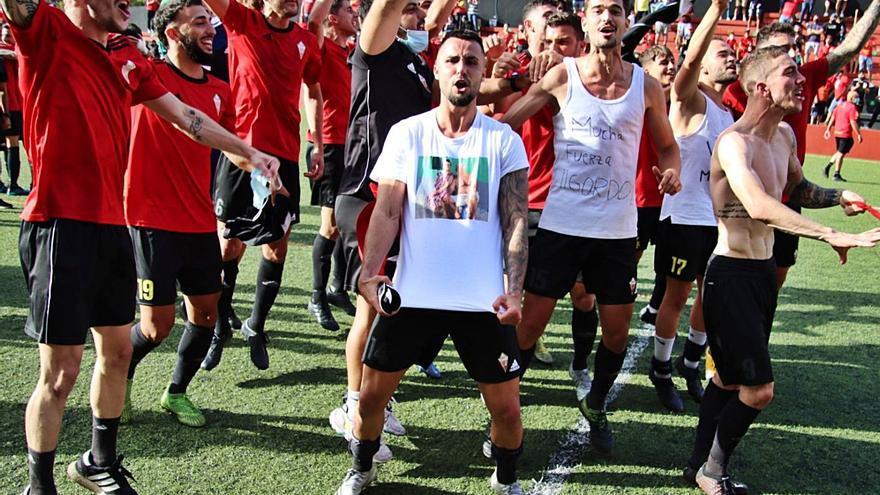 El Mensajero is already a new team in the emerging Second Division RFEF. The rojinegros could mathematically close their promotion to the new category of Spanish football and they succeeded. To do this, they had to overcome an initial goal by Joaquín shortly before the break. After the break, Omar Fleitas scored a penalty twice to put the La Palma team ahead. Those of Yurguen Hernández knew how to suffer and ended up celebrating the result with the fans who came to Silvestre Carrillo.
The 'Mensa' began warning with a shot from Alonso from the front of the area preceded by an excellent control. The kick, however, was easily stopped by Cendón.
David, in the 9th minute, played with Raúl Alemán near the area and tried his luck with a shot that missed the target. Despite the warning, Las Palmas C continued to show signs of danger.
In the 16th minute, Ale González had a clamorous chance, when he finished off a ball that Cendón failed to clear. When the goal was already called, Ian unexpectedly appeared to clear under sticks.
In the 32nd minute Moleiro looked for the yellow goal with a shot with effect that Kylian cleared from under. Las Palmas C warned on different occasions and in the end ended up going ahead shortly before the break with a goal from Joaquín, who took advantage of a bad clearance by Kylian to leave Silvestre Carillo speechless.
The rojinegros came out after the break determined to change the course of the game to get the desired promotion. The intensity of the Messenger took effect when in minute 47 Raúl Alemán was knocked down by Isidro inside the area. Omar Fleitas was in charge of executing the maximum penalty and was right to put a draw on the scoreboard. A few moments later, in the 56th minute, there was another penalty for the Palmeros when Ale González fell. Again Omar Fleitas took responsibility and did not fail either. Delirium came to Silvestre Carrillo, although there were still many minutes ahead.
With ten minutes to go, a corner from the yellow subsidiary prolonged by Joaquín ended up on the crossbar and further increased the fans' fear of a last-minute scare. The last clear chance for Las Palmas C came from Isidro's shot at a ball into Pol's box that Kylian caught without complications. The Messenger's suffering lasted several minutes in injury time, but in the end the referee signaled the long-awaited end of the match. El Mensajero will play next season in the new Second Division RFEF.