Part of the main cone of the La Palma volcano collapses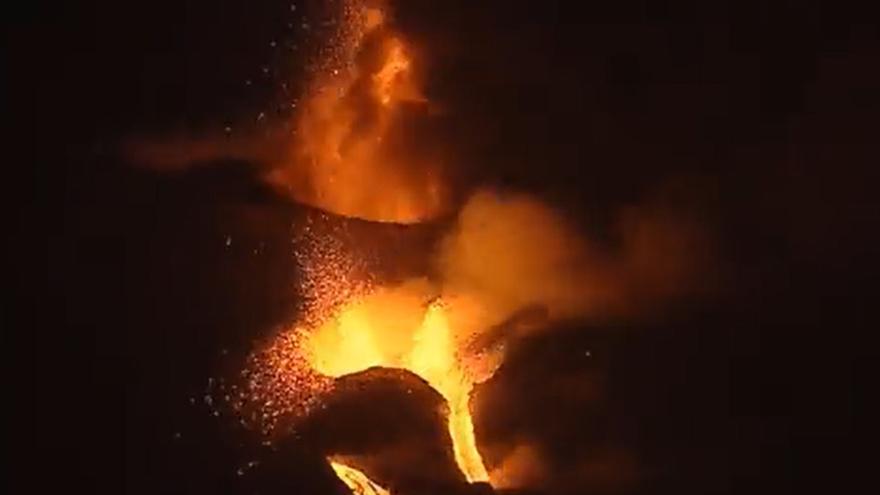 Part of the main cone of the volcano of La Palma it collapsed this afternoon. At around 8:00 p.m., the scientists who have traveled to the island to monitor the eruption that began on September 19 noticed an increase in the intensity of the magma output.
This increase in the emission of lava at La Palma summit is due to a morphological modification of the terrain, that is, to the collapse of part of that main cone.
Already in the early hours of Sunday, the magma itself caused the secondary cone to collapse, as announced this morning by members of the National Geographic Institute (IGN).
In fact, throughout today an increase in explosive activity has been detected, so the appearance of new emission centers is not ruled out, as is clear from the opinion issued daily by the Pevolca Scientific Committee.
The national responsible for volcanic surveillance of the IGN, Carmen Lopez, has indicated at a press conference that although the tremor activity is more intense, it has not yet reached the one recorded between September 24 and 27, which was much more intense than now.
Carmen López recalled that when this activity reached its maximum, there was a stoppage of the activity, since it did not allow more emission to go out, and the tremor decreased sharply and the system was opened based on a series of violent explosions.
The new wash that appeared on October 1 continues to flow west, pparallel to the wash that reaches the sea, having reached the previous wash at the height of the Los Campitos road and observing a lower emission rate in the last hours in relation to previous days.