'Parchís': Children who fly in 'jets' and destroy hotels | TV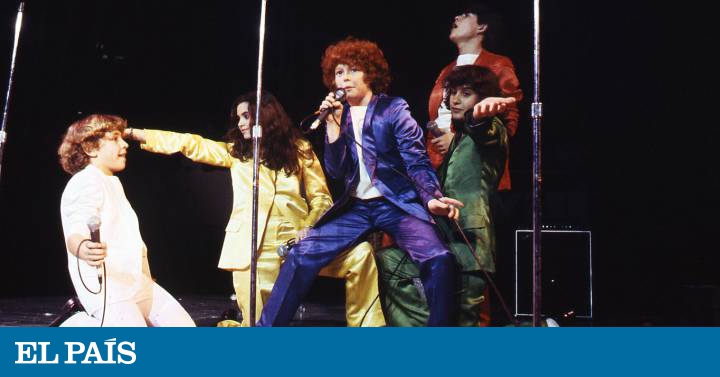 Sometime in September of 1977, one of the people in charge of Discos Belter, a record company in low hours dedicated to producing television phenomena linked to the Spanish song already in decline, was watching Tonight party. They had just performed Enrique and Ana, duo incorrectly in the current times, it was formed by a girl of eight years and a twentysomething, and the public had gone mad. Belter's guy must have nodded and said, "Children, that's it." And the next thing that happened is that he sent out advertisements in all the newspapers looking for children between eight and 12 years old to record some songs. They should be handsome, nice, and sing and dance well.
Thus a world phenomenon was born called Parcheesi. He was going to charge his victims, of course, but above all he was going to put a mirror before the infinite greed of a country that exploits what shines until it stops shining. In 1979, five children in Spain stopped being children and became a money-making machine. Tino, Yolanda, Gemma, Óscar and David. They sold 14 million records worldwide of those who practically did not see a cent. If they were in Mexico, in Argentina, or in Peru, and they wanted to call home, they did it once a week and collect it back. They called one of the parents, and he called the others. While someone in Belter was rubbing his hands.
The ingredients are those of a story of media terror. "That the most brutal thing of your life happens to you at 14 is crazy," says Tino at a certain moment in time. Parcheesi. The documentary, which just premiered on Netflix. In another, it is the later director Joaquín Oristrell, who acted as guardian of the boys -eventing greater evils-, who assures that the boys have been champions "in surviving Parchís". Because of "what we thought was going to be a work of three or four months", to record an album of 25 children's songs to "try their luck", it became a world madness: they arrived at the Azteca Stadium before 100,000 people.
"I spent the first two songs crying," says Frank Diaz, the red-haired boy who replaced Óscar Ferrer when he, the youngest, could not take it anymore. Ferrer's mother was the only one who traveled with them and told her about everything that happened. How they were exploited (they shot a movie in the morning, and in the afternoon they had two performances in a circus) and how nobody was watching a cent of that exploitation. "It could be your birthday and nobody said anything to you on the plane," recalls Yolanda. But that's what the parents in Spain did not seem to care about. For them, the children were doing something unique, and any criticism bothered. Only Ferrer's mother. Belter pushed to get out.
Even before going to America, his life had changed in Spain. They spent months on tour and when they returned to school, to Barcelona, ​​they had no friends. "It was going out the second time in Applause and start having custom clothes, "recalls Yolanda, and Gemma, the director of her school, made her get on a chair, class by class, and told the others:" Look at her, she'll be on television tonight. " When we were 10 years old we did not know what the word success means, "says David, and it is true that when they are asked in interviews, they do not know what to answer.
But children who travel in jets private – this is when producer Jorge Berlanga comes into play, in Mexico, a businessman who came "from football, Maradona's friend" – and who destroy hotel rooms, because the feeling was that "there were no limits". They traveled without adults. They were the adults. They competed to see who stole more souvenirs in stores. They threw chairs on the balcony. They were stars without knowing what it was like to be a star. The manager, Antoni Plana, says that he only wanted them to have fun, "that they did not see that as a job". And as they began to turn years, they also began to experiment with each other. They spent so much time together that, evidently, their first love stories were among them.
"Everything was a bubble, it was our bubble, and we lived there," says Yolanda Ventura, at one point in the documentary. They were isolated children who only thought they could fit in with other children like them, because what would they talk about with a child who had not performed at Madison Square Garden? That explains the harmony that occurred between the five and the members of Timbiriche, the Mexican band that emerged as a counterpart to Parchís, at the time they began to triumph in Mexico. A very young Paulina Rubio – around 12 years old – fell madly in love with David, the dice of Parchís, and that motivated that more than as enemies, they would look like a big family. By then Belter had earned much more than he had invested, which had also been a lot.
Because it was not enough for them to fill up the television with ads, the head of sales of the record company, Salvador Fenollar, admits that they were buying presenters. "I received 500,000 pesetas a month that I was distributing in checks," he says. He came to sign "a check for a million pesetas" for a presenter. No expense was spared when it came to buying from who could make it grow. Until it stopped growing. The opportunity arose to travel to the United States and become Disney stars-they were going to spend a year there training-but one of them, Tino, the eldest, did not want to. He had turned 16 and "the red suit oppressed me," he says. He wanted his own solo career. He had it. To the third disc, with mili of by means, it is finished.
The dream did not become a nightmare, fortunately, and despite the lack of control in which the children lived, especially during the first years. "Of course, the girls were very cute, and there were parties, and there were older gentlemen trying things, you had to keep pushing away the bluebirds," says one of those involved. Of course, Tino "began to have relationships prematurely," says Oristrell, and in some cases not with girls but with "moms." "Sometimes I went back to the room and found myself inside the closet," recalls Yolanda. By then they had starred in seven films in three years, this and the other side of the pond, where, says Gemma, "we felt the Beatles."
The board broke, desperate, those of Belter, to discover that against Disney could not fight. Upon returning from the boys in Mexico – having already replaced Tino, who had begun his solo career – the company had declared bankruptcy fraudulently, saving the hundreds of thousands of pesetas owed to them. The landing in reality was in all cases forced. There is not enough talk about him but he intuits. Some, like Tino, the leader, whom everyone stopped talking after their betrayal – the accident that cost him an arm would reunite them – would even want to have never formed part of Parchís. At one point, Oristrell assures that the children were "the children of Lord of the Flies"They behaved like selfish and savage adults, but did they have another example around them?
(tagsToTranslate) parchís children (t) fly (t) jet (t) trash (t) hotel (t) new (t) documentary (t) netflix (t) portray (t) year (t) wild (t) group (t) infant (t) eighty



Source link