Papu gives Sevilla victory against Alavés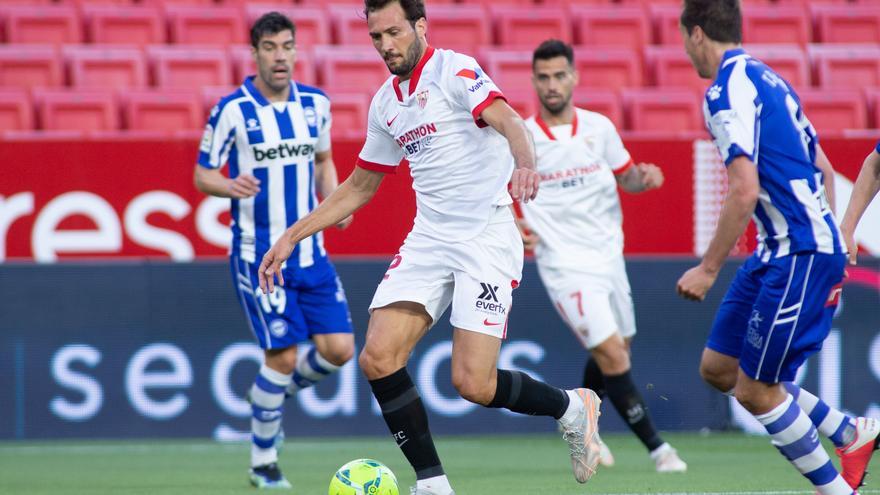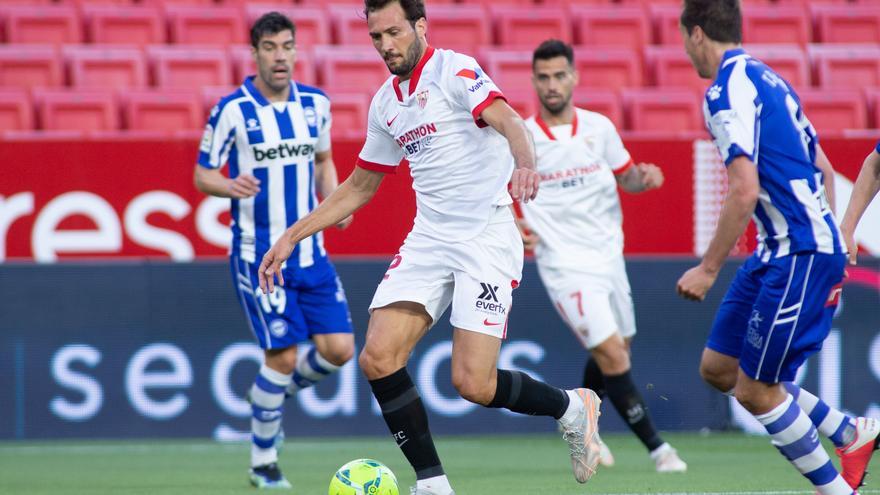 A goal in added time by Argentine Papu Gómez gave victory to the Seville before him Alaves (1-0) and led to a historical mark for Andalusians, who, with the Champions League secured for a long time, broke their league record of points in a bad game with 77 that since 2015 had been held by Unai Emery's Sevilla with 76.
After a first half with little intensity and without clear scoring chances, in the second the tedium continued, with a very thick Seville against a looser Alavés and that generated options to get ahead, although in the end an isolated action of Papu Gómez gave the victory to the Spanish people to put a good finishing touch on an exceptional year .
In a duel with nothing at stake, with Sevilla with the Champions tied for five days and Alavés saved since last Sunday (4-2 against Granada) with their second win in a row, Julen Lopetegui and Javi Calleja introduced eight and seven changes in their eleven, giving court to the less usual or who end their contract.
This made the crash lacked emotion and minimal intensity. that is necessary to compete, with a first part in which Javi Calleja's team had some arrivals, although unclear and especially in corners and in centers to the area, in front of a Seville without soul and without rhythm, without any depth. .
A center from the Argentine Lucas Ocampos that Antonio Sivera cleared against the Moroccan Youssef En-Nesyri was the little offensive baggage of a Sevilla lost to the orderly and disciplined approach of Alavés, who near the break had his best chance with a header from the central Tachi, although he narrowly missed a corner kick.
In the resumption, the babazorros continued to annoy the goal of the Czech Tomas Vaclík. However, Lopetegui soon moved his card with the entry of Rakitic, Óscar Rodríguez and Óliver Torres for Ocampos, Jordán and Mudo Vázquez, which led to several shots from afar, first by Ocampos and then by Óscar and Suso, which they did not find. prize.
A serious Alavés could also get ahead with a distant shot from Manu García that Vaclík stopped, a deflected header from Rioja, a shot outside the post by Manu to pass the Sevillian winger Rioja and, above all, in a heads-up by Joselu who, in his farewell, saved the Czech goal in the 90th minute.
However, and after two attempts by the Dutchman Luuk de Jong, who later joined Papu Gómez, and En-Nesyri, it was Sevilla who hit 92 minutes with the goal from the Argentine midfielder, who made the mark possible. Lopetegui's historical team of points and put a nice finishing touch on the great campaign of the Nervión team, despite their bad game.
Data sheet:
1 – Seville: Vaclík; Aleix Vidal, Koundé, Rekik, Escudero (De Jong, m.74); Franco Vázquez (Óliver Torres, m.56), Gudelj, Jordán (Óscar Rodríguez, m.56); Suso (Papu Gómez, m.74), En-Nesyri, Ocampos (Rakitic, m.56).
0 – Alavés: Sivera (Pacheco, m.72); Ximo Navarro, Tachi, Lejeune, Duarte; Pina, Manu García; Pellistri (Rioja, m.66), Pere Pons (Joselu, m.66), Édgar (Lucas Pérez, m.78); Guidetti (Battaglia, m.78).
Goal: 1-0, M.92: Papu Gómez.
Referee: Isidro Díaz de Mera (C. Castellanomanchego). On the local side, he admonished Aleix Vidal (m.29) and coach Julen Lopetegui (m.85).
Incidents: Match of the thirty-eighth and last day of LaLiga Santander played at the Ramón Sánchez-Pizjuán. No audience.