Paloma San Basilio and Pilar Jurado, on Plácido Domingo: "He has always been a gentleman" | Society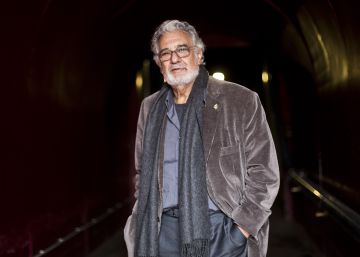 Singer Paloma San Basilio has defended Plácido Domingo on Wednesday, after nine women have accused him of sexual harassment"I can only affirm that Mr. Domingo was always a gentleman with me, a great companion and a generous artist, of those who do not abound, and with whom I had the privilege of sharing the stage," said the artist in a statement. Along the same lines, the president of the SGAE, the soprano Pilar Jurado, said Tuesday that she "has never" seen herself in that situation and that the singer is "a perfect gentleman", that He has been fighting gender violence for many years, because he believes that women "deserve to go through life without having to look back, which is a situation that has worsened in recent years."
San Basilio, who recorded the album with the tenor Finally together and has collaborated with him on albums and concerts, has lamented "greatly the comments that are being poured into the press" on Sunday, to which eight singers and a dancer have accused of harassment for three decades since the 1980s, according to research published Tuesday by the Associated Press. Given these testimonies, the tenor replied that he believed "whenever all his interactions and relationships with women were welcome and consensual," and acknowledged "that the rules and values ​​by which we measure ourselves today, and we must measure ourselves, are very different from how they were in the past" .
"There is a television special that many people could enjoy and in which their companionship, dedication, respect and talent are clearly seen," added San Basilio, in response to "the numerous calls received" to pronounce on information That has shaken the world of opera.
"It's complicated because I don't know what other people have lived and I can't tell if it's true or a lie, because it wasn't there," said the SGAE president, who has worked several times with the tenor. "What has always generated with me has been a relationship of absolute affectivity, but never in life have I felt harassed or forced to do anything I did not want: it is a tremendous thing and I am very surprised," he admitted.
However, he has clarified that, in some cases, it is "complicated" to address them, because "one does not live that situation." "It would be necessary to see how far … because there are people who can also directly approach another by interests. It is complicated," he concluded.
Institutions like the Philadelphia Orchestra and the San Francisco Opera reacted on Tuesday canceling both performances provided by the tenor. The Los Angeles Opera, of which the Spanish tenor is director general and in which several of the denounced events occurred, has promised an investigation of the facts.