Pallete defends the attractiveness of Telefónica's dividend and believes that there are too many operators in Europe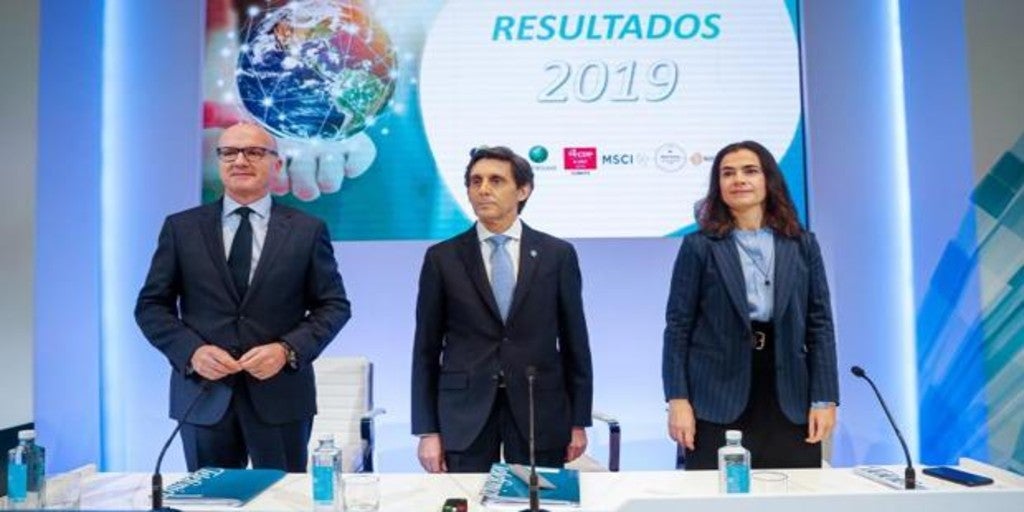 Madrid
Updated:
Keep

Telefónica's staff, led by the president of the teleco José María-Álvarez Pallete, the CEO Ángel Vila and the Director of Finance and Control Laura Abasolo have appeared before the media to reel off the results corresponding to the year 2020 announced first thing in the morning. In them, the telco has reported that it increased its net profit by 38.5% to 1,582 million despite having entered 11% less (43,076 million) and reduced the dividend by 25%, leaving it at 0.30 euros per action to be paid in December and June 2022. In this context, Pallete has defended that «The dividend yield is high compared to the rest of the Ibexand telecos"And that its fixation" depends on the situation. " Furthermore, in his opinion, the option for the "scrip dividend" gives more functional flexibility to the company and the shareholder, who can choose whether they prefer the remuneration in shares.
The head of Telefónica has also highlighted the «Cash generation capacity» of the telco – 4,794 million euros – and that it has reduced the debt by 2,516 million to 35,228 million euros. Pallete pointed out that the closing of all corporate operations signed last year will also contribute to this, which will bring the operator returns of 9,000 million euros. Specifically, expect the merger between O2 and Virgin in the UK culminates "in the middle of this year". In this sense, he has denied that the process with the British regulator is slowing down.
"We are in an accelerated Phase 2 approval, We hope that this list will be completed by the end of May ", pointed out Pallete, who emphasized that it had already negotiated with Sky – one of the companies that had made allegations together with Vodafone – and argues that the operation is similar to that carried out by other giants of the sector.
"If there are consolidations, we will support them"
Along these lines, it has spoken in favor of concentrations in the telecommunications sector in Spain and at the European level. "If there are consolidations, we will support them", has pointed out Pallete who has been especially critical of "obsolete competition rules, which ignore the quotas that new operators have." In his opinion, it is not taking into account that traditional operators such as Telefónica also compete with voice and video platforms (WhatsApp, Telegram, etc …). It has also put on the table the contrast between the European market, "With more than 400 operators", compared to the United States and China "Where there are three or four operators." In his opinion, all of the above influences the reduction in income per client or in an environment of low investments.
5G auction
Regarding the next auction of 700 MHz frequencies scheduled for next March, the CEO of Telefónica Ángel Vila has shown his confidence that «Investment takes priority over collection» and remembered that the rules that will regulate this auction are not yet closed. In this sense, Vila has warned that "for every euro invested in the spectrum there will be less for networks."