Palencia already has its disaster in the style of 'Ecce Homo'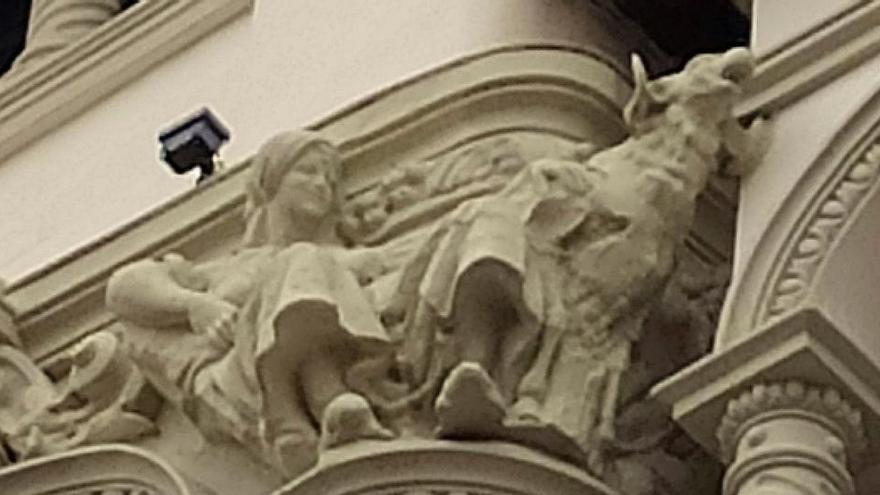 The discovery of the questionable restoration of a sculptural figure on a facade of a central street in Palencia It has caused the surprise and curiosity of the citizens, who see how an aesthetic disaster can become a claim, although in this case the artistic value of the damaged work is scarce and it is not even listed.
The image now shows a misshapen face, with excessively wide eyes and a mouth with childish lines, with hardly any expressiveness.
It was the artist from Palencia Antonio Capel who alerted through social networks of the unpleasant finding, located in front of his workshop on Calle Mayor in the capital of Palencia.
It is, in particular, a century-old sculptural relief that crowns one of the building's towers, at number 9 of the main Palencia street, about twenty meters high.
Probably that height has made it go unnoticed until now the deformed image of the face of one of the figures, which is already known as the 'Ecce Homo' of Palencia, by analogy to the unfortunate restoration in 2012 of the painting of the 'Ecce Homo' of a church in the Zaragoza municipality of Borja.
Capel did not hesitate to describe the restoration as "mischievous" and elucubrated that "the head fell off" at the time, during some of the renovations of the building, which currently has several owners, including the bank Unicaja.
The building, one of the most emblematic of the Main street of PalenciaIt was built between 1919 and 1922 as the headquarters of the Palencia Catholic-Agrarian Federation.
Since the 1970s it houses a bank office in the basement that, as a consequence of the successive mergers, it has been owned by the Caja de Ahorros y Loans de la Provincia de Palencia, Caja de Salamanca, Caja Duero, Caja España-Duero and Unicaja.
Given that the sculptural ensemble is not listed and that the building only has structural protection in the General Urbanism Plan, the future of the image will depend on the decision taken by the owners of the property.
The fact is that, with the commotion that has been mounted, which has even crossed borders, the photographs at heights and the citizens who stand in front of the facade to point out the damage are numerous.
It remains to be seen if everything remains an anecdote or if, as happened in Borja, the building becomes a 'place of pilgrimage' for curious people from all over the country, although in this case the author remains anonymous and that candid figure is missing that it did exist in the analogous case in Borja, that of Cecilia, the author of the mess, who claimed that she had done it with all her good will.