Pain and recognition at the farewell of journalist David Beriáin in Artajona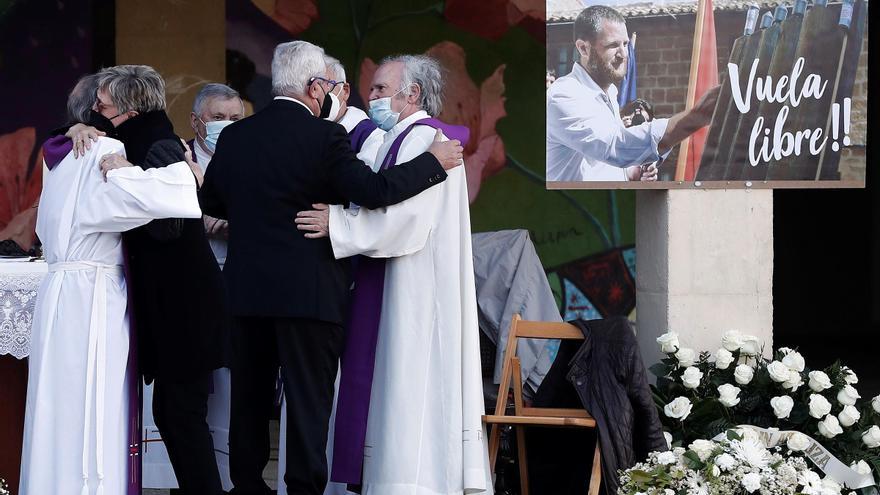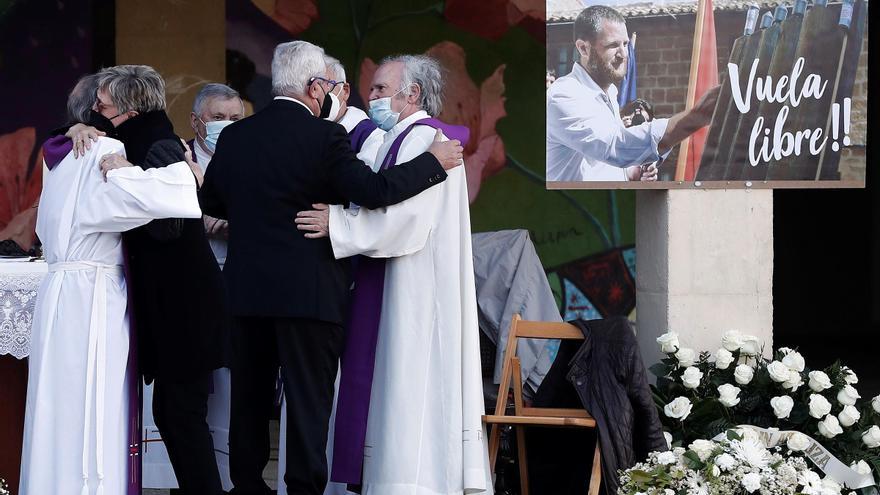 The pain for him murder of Navarrese journalist David Beriáin in Burkina Faso He has joined the recognition of his person and his professional career in the farewell that this Saturday family, friends and colleagues have given him in Artajona (Navarra), his hometown.
David Beriáin and the Basque cameraman Roberto Fraile, along with conservationist Rory Young, were killed in Burkina Faso in ambush while filming a documentary about poaching in this African country.
"David loved his people and his people loved him"It has been repeated these days and it has been shown both in the memories shared by those who knew him, which have underlined how proud he felt of his town, and in the expressions of affection shown by the residents of this municipality of about 1,700 inhabitants, in which everyone knows each other.
Flags at half mast and a deep regret has been breathed in this fortified town since the murder of the "son of Angelines, la de la Bodega" became known, a town that last night he received between applause the coffin with his mortal remains, who have been buried in an intimate ceremony.
The restrictions established by the covid-19, which have prevented many who wanted to accompany the family this Saturday from being able to move to this town, have also led to the choice of a spacious and outdoor space to hold a memorial funeral. The chosen place has been the patio of the Urraca Reina de Artajona public school, in which these days "without consolation" for his loss they remember his generosity and willingness to collaborate and to whom he granted what was probably his last interview, to the 1st year students of Primary Education within the project 'We know Artajona and the Artajoneses'.
There on a cold sunny afternoon his closest relatives, his parents, his wife and brother, and his friends They have been supported by authorities such as the president of Navarra, María Chivite, and the mayor of Artajona, Juan Ramón Elorz, as well as neighbors and colleagues, their producer and other media or Reporters without Borders.
The chairs arranged in the patio with a safety distance have been insufficient to house all those who have wanted to say their last goodbye to the journalist, whose image launching the rocket announcing the festivities of his town accompanied by the slogan 'Fly free'has chaired the event, in which music, closely linked to his life and his figure, has played a prominent role.
The emotion has taken hold in many moments of the attendees, who, through their friends and family, have remembered a man from "infinite generosity, a great listener, a human who has known how to give a voice to those who do not have it, "a" committed "journalist, who has fought" against all violence "and whose reports" oozed truth. " his "humility, closeness and empathy" and they have even joked about "the one you have messed up" when "what you wanted when you started was anonymity".
The condemnation of "all violence" and especially "of this so cruel and cowardly" that he has ended his life and those of his companions has been expressed in the act, in which the family has thanked all the samples of support and affection received and in which they have fired him, inviting him to do what he wanted "to fly free ".
This tribute is in addition to the numerous expressions of recognition that Beriáin has received, to whom the Government of Spain will grant the grand cross of the Order of Civil Merit, as well as his partner Roberto Fraile. For its part, the Government of Navarra has awarded him the Cross of Carlos III el Noble, an award that recognizes people "who have made an outstanding contribution to the development, projection and prestige of the Foral Community".
With a degree in Information Sciences from the University of Navarra, Beriáin soon specialized in armed conflicts, violence and immersive journalism, which led him to travel to Afghanistan, Darfur, Colombia, Congo and Libya, among other places, to portray reality in war situations.
In 2012 he founded the production company '93 Metros' with other partners. He has directed documentaries such as 'Clandestino', 'The Lost Army of the CIA', 'La Vida en Llamas', 'Amazonas Clandestino' or 'Yasuní, Genocidio en la Selva', among others, and has served as executive producer of series such as 'Estrecho' and 'El Palmar de Troya'. His work has earned him various recognitions and his personal and professional career the love and respect of those who knew him personally or through his reports and documentaries.