Pacuco Rosales: "UD needs more men and fewer names"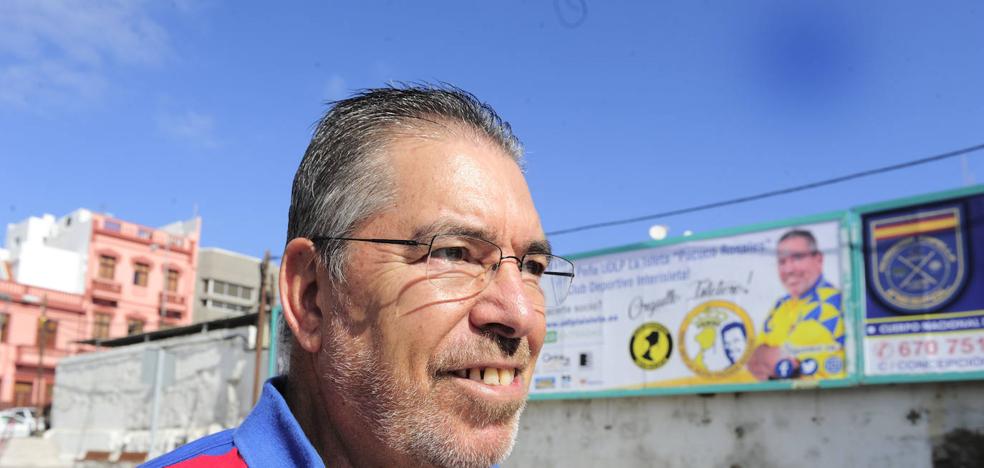 Since his retirement he continues to be a sufferer and a militant. Expect less than
Pacuco Rosales (Las Palmas de Gran Canaria, 1949), forever installed in the saints of the UD and whose impressions agree and proceed in this season of mourning, the shipwreck against Tenerife still very present in the promotion promotion. True to his vital optimism, he assures that better times will come. But he also asks that what happened leave the necessary teaching as a prelude to a future at the height of the shield.
-Has the anger left by Saturday passed or does this require further assimilation?
-I got over my anger because, before the game, as I said in several public statements, I already understood that everything was very difficult and complicated for the team. I didn't want to think about it but I saw it coming, come on. We got the worst, the worst possible rival in this promotion, a Tenerife that was the best team away from home throughout the season, a block made, with experience, very compact, that knows what it plays, frequently touching the limit of the regulation , which is lawful if the referees allow it, and I sensed that we could stay on the road. Everything hurt me a lot for our fans, more than 30,000 people who went with a tremendous illusion, because from half past four in the afternoon I could perceive it when I was already in the stadium area. A number of youth, of proud children with that yellow shirt... And everything fell apart, the castle fell. The first goal was a slab for the stands and for the players themselves.
– Did everything start to get lost in the Heliodoro with that UD that only had blank bullets?
-There nothing came out for UD. We saw it, we discussed it and we lived it. The arbitrations, in addition, were permissive with the intentions of Tenerife to stop the rhythm of the game based on fouls... Moleiro was given a direct red card that was not punished in this way due to the force with which he was knocked down and the ball almost out of the field... The 1-0 gave hope anyway. But that 0-1 so soon, with Valles' error at the start, who instead of clearing with a fist he wanted to catch the ball, with Enric shooting from veteran winning the action to the clash, it was already insurmountable. It was known that it was going to be a game with few goals and Tenerife's advantage already, with what was achieved in the first leg, left everything sentenced. Then they contained well, with a lot of discipline... In fact, as their morale is now, for the decisive tie against Girona I see them as favourites.
–With Viera's injury, I didn't even see it possible with a miracle?
-We had, before the promotion, eleven games in a row without losing, nine wins and two draws. And in this streak Viera was playing great and running the show. He is a First Player. And when he got injured, without detracting from the rest, the team lost almost all his options.
–How did you experience everything from your seat in Gran Canaria?
-I went to the game very early and parked in the usual place. And I have to say that something happened to me that gave me a bad omen. I saw a group of people and one of them told me that the last time he had seen me before a match I had lost the UD. That's how it all started. Then with my friend Pepe Morillas, with whom I always go to the stadium, we enjoyed the preview greeting many people. And when everything started, I recognize that I had never suffered so much before. The fatal pass. I got up from my seat, I started giving instructions to the players as if I were on the bench, shouting... I reacted in a way I didn't expect and it also bothered me that people could see me... But the impotence was enormous and I didn't I could be quiet. I noticed a lack of character, although the youth of the squad explains it. He plays football very well, yes, he touches the ball... But he lacks character and in that game he saw himself against a Tenerife team that ate UD by running, squeezing, pushing, stopping Viera, leaving several players in continuous aid... And I left my throat screaming at the players, I was overwhelmed by everything, seeing that ours were incapable of finding solutions to what Tenerife was doing.
-The other football prevailed, what would Camacho say...
– Tenerife has exploited it all season. I have seen many of their games and they have been the best visitors, although at home they had some more problems. He lost three in a row before this UD tie. But he won the game in the first leg and in the second leg due to experience, dedication, fight, intelligence, desire, strength... In every way.
–Does it hurt more than the 'Cordobazo' of 2014?
- For me if. The 'Cordobazo' was at the last minute and, in my opinion, it was due to a lack of experience when there was an invasion on the pitch. While the Córdoba coach gathered his players, Josico, who was from UD, allowed our players to leave the game, dedicating himself to separating people. In fact, Valerón almost got hit in that forced interruption. Then they make us the goal at the end, suddenly, without time to assimilate it. But it is that this double defeat against Tenerife was like in slow motion, in two games in which they beat us. In the Heliodoro, in the first half, they made fourteen fouls and we made one. That proves what they put. With a very efficient containment system, a midfield with very positional pivots and up top, Gallego and Elady who are two beasts. Gallego was enough to destroy the UD defense. I think that in the penalty, Navas thinks he is with him instead of with Mollejo and that is why he dropped his elbow as if to protect himself. It was a penalty like the one from the goalkeeper to Mujica, which they did not take to VAR. I don't understand this criteria...
-Was there, then, arbitration influence in the fate of the tie in your opinion?
– No. The rival was better in both games and moved forward fairly. But Tenerife was allowed a lot of fouls without cards.
-What do you think of Jése's statements in which he accused García Pimienta of making mistakes in planning the decisive match in Gran Canaria?
– I don't have to tell anyone what to do, but, in my opinion, Jesé is wrong to speak that way to the media. You can think so, as maybe some other player did it without saying it. But without leaving the booth. And at that time, in front of everyone, it was not the right thing to do. On top of that, she talked about whether she didn't see it clear to continue, that she wanted to see the project... It wasn't the time for that. And the same in the project that is done, the number of games in which he did not score is evaluated... Jesé did not have to speak that way after what happened.
-In contrast to Viera, who also spoke but in another radically opposite tone...
– Viera is a born winner, he has accumulated experience and he spoke to the fans saying that they are going to come back. He seemed perfect to me. Now Luis Helguera's task lies ahead to rebuild this squad, which will be quite difficult due to the changes that have to be made.
– Is it enough to play the promotion, even if you lose, or, as you did in 1996, if these games are played, they have to be won?
– I had a veteran team, made up of men. He had a defense that stuck between them if it was necessary to win. And three points that scored 50 goals. He was devastating. They died for the UD. Now it has been different. There was a change of coach, Pimienta was slow to adapt his ideas, because you have to remember that his beginnings were not easy, and he had a lot of inexperience in the squad. It has not been easy to get the team into promotion and he did it.
-So, what grade do you give to UD 2021-22?
– Approved by far because no one expected three months ago that UD would get involved. Of course, at the moment of truth, the team arrived decimated and, on top of that, we had the worst rival. Eibar or Girona would have been much better for us.
–Is García Pimienta worth it for the future?
– I'm not the best one to say that. He has a contract and it will be the board that assesses everything. If they think it's the right one, all the luck in the world.
–Before I was talking about the task that awaits Helguera now. What percentage of the template is valid for what is coming? Do you think there is too much cleaning to do?
– I don't know if Valles is going to continue. They say he wants to leave. One or two goalkeepers should come then. A central guarantees and two more laterals. That at least. Then look at what it is worth and you can continue or not in the future. Many players have not performed despite expectations and cannot continue. But you have to sign men and not names. In this promotion promotion it was shown that not everything is technique and game. You have to put the shoe, bite, go to the intersection with everything. And that was missing. We need a UD with more men and fewer names to be able to aspire to everything.
–All around Viera?
– He is the one who should take the lead. He is the leader and you have to surround him well. You don't have to wait for the end of the market, for the remains of other clubs. And if possible, that they are not international by other countries. Look at Peñaranda, playing friendlies with Venezuela while UD was fighting for promotion...
–He knows Eric Curbelo like few others. Your season is great...
– It is renewed and I am glad. He has limited qualities, but the claw, the desire, the strength, the fight and the dedication that he puts in... With ten more players like Eric we would now be opting for promotion in the last round. He gives everything even in training. He is exemplary.
–What about Moleiro?
– From the first moment I saw it I loved it. Rumors are heard that Barcelona has already signed him and has left him here. I do not know if it's true. But he has an extraordinary category and hopefully he evolves like Pedri. As long as he is here you have to enjoy it.
-The president's appearance is expected to take stock and advance some guidelines for the future. Due to his special relationship with him, do you trust him to make the right strategic decisions?
– The president has done what he had to do. He has trusted this team, which has reached promotion. And now he has to think that these fans deserve a team that will try again if possible with more guarantees. I'm sure you think so.
– The hobby. Yes, you will know the blessed treasure that the UD has with its people...
– It is always said that the team fills the field. But UD wasn't playing to fill the stadium, they needed to do it against Oviedo and the people responded. He needed to repeat against Tenerife and there they were. UD's gold mine is the fans, who will never fail. The gesture of applauding the players after the elimination shows that he will never abandon UD, that he will always be there. The 12,000 of always will remain safe, and we must try to get more to join. It must be the foundation of the new UD because its value is unquestionable.