Paca la Piranha appears before Nadia Calviño in 'laSexta Noche'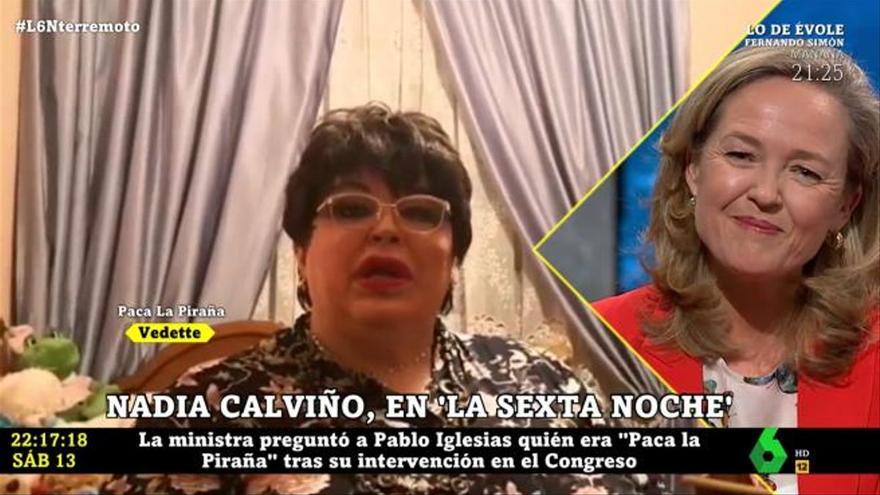 Without wanting to, Paca la Piranha sneaked last Tuesday into the Congress of Deputies, albeit figuratively. It was when the vice president Pablo Iglesias asked a question in one of his interventions: "Do you know the difference between Paca the Piranha and the lord Abascal? Paca la Piranha served in the military, Your Honor. "
It was then that was heard Nadia calviño ask the leader of Can who was Paca. On the same day, the actress replied on her account Twitter that she was "the coolest coach in Spain." Not happy with that, she sent a video to 'laSexta Noche' so that Calviño would be clear about who she was.
"I am one of the first trans women who did the military in Spain. So here you have me in body and soul for what you need from me" she began to introduce herself. As well He took the opportunity to invite her to his Atresplayer Premium program, 'Paca takes you to the orchard'.
"If you want I can tell you about me sexual transformationHow I went from man to woman "ended his message. It was then that the politician thanked him for the video and tried to justify his ignorance by claiming that" I have not had time to watch series in recent months. "
Therefore, he implied that he had not seen the hit series 'Venom' and therefore did not know it. "I did not know the character, I have been very impressed by the interviews and what he has learned, I thank him from the bottom of his heart for his love.