Pablo Rodríguez, Gran Canarian accent in Serie A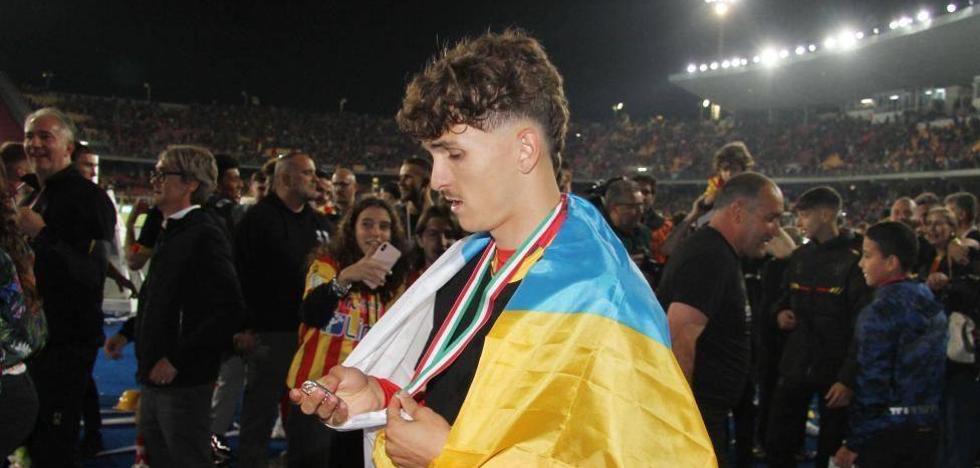 international soccer
The midfielder, who achieved promotion with Lecce, does not stop thinking about what is to come: "Who does not dream of playing against the greatest," he says
The Gran Canarian accent is fashionable in the southeast of Italy. There, at the Via del Mare Stadium,
Pablo Rodriguez (08/04/2001) He leaves his stamp based on breaks, goals and a lot of football in his boots. The attacker from the island, forged in the Real Madrid youth academy, continues to write his story with letters of fire. After becoming champion of the League and ascending with the
Lecce to Serie A, he still has more dreams to fulfill.
Life at breakneck speed. «Since I opted to leave Madrid, everything has been very crazy. The signing, my first year in Italy and this second season getting promoted.
I came with this challenge and I have fulfilled my goal», says a Pablo who denotes maturity in all his words. «I went very young, at 14, to Madrid. It was not hard for me, I have always been very independent, but it is true that
the earth always pulls a lot», continues the island midfielder.
«When you go to another country, you appreciate being from the Canary Islands even more. We are a beautiful archipelago and I am proud to be from here », he confesses while adding that « I can only thank my family for the support they have always given me, they have carried me on wings ».
In his second season in the ranks of US Lecce he has achieved a meritorious promotion to the Italian top flight, where he hopes to make his mark. «Two years ago Lecce relegated and last year we were at the gates of promotion.
You can not ask for more, we are back and being champions. This is tremendous motivation for me », she says.
«
Football no longer understands ages and I have fought for my dreams. I am 20 years old and I have no problem continuing to burn stages to reach everything I aspire to. I am very proud and happy because I have dreamed of this since I was a child," says the skilled footballer, who is now disconnecting in the archipelago "to recover a bit of the Canarian accent after so much time away."
This season he scored two goals and gave an assist in the 25 games he played

«Adapting to Italian football is a bit difficult, but I did it very quickly. I had three or four complicated months, but the work paid off, "says the island player, who analyzes and defines that"
football is to contribute each individual performance to achieve the collective goal. This year I have played less, but I have enjoyed it and fought just the same».
Pablo does not hide that he has had to change his football to adapt to the demands of Italy. "It is very difficult to put a Canarian midfielder in Serie B.
Italian football is tough, very physical. I had to adapt to have more opportunities. It has been a change for me », admits Rodríguez while he glimpses an ambitious future full of illusions.
"Who doesn't dream of playing against the greatest in Italy, England and Spain? Since I was little I visualized it and I hope that the injuries respect me to be able to fulfill it. I think of Rome, Naples,
juve or Milan and my smile escapes. I will fight to play against them », he says.
And in the future, who knows if he will wear the yellow and score goals at Gran Canaria. «I played in the affiliates of Las Palmas and I am from Gran Canaria. I grew up here and I don't close the doors to anything.
Obviously I would like to play for UD one day. I am that child who used to go to see UD as a child.
Last Saturday I was cheering against Oviedo in Gran Canaria. I felt a lot of nostalgia, but I continue on my way. Hopefully one day we will meet on the same path, "concludes Pablo.