Pablo Laso "evolves favorably" and leaves the ICU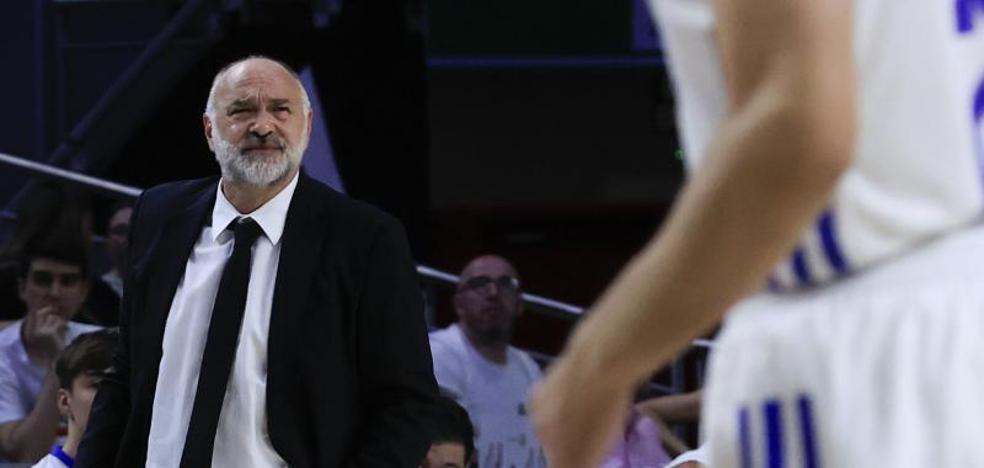 After suffering a heart attack and undergoing a catheterization, the Real Madrid coach is transferred to the floor and will undergo tests to find out the causes and extent of his ailment
Pablo Laso "evolves favorably" and this Monday he left the ICU and was transferred to the Sanitas La Moraleja Hospital in Madrid, where he was admitted early Sunday morning after suffering a myocardial infarction. After undergoing a catheterization and being discharged from the Intensive Care Unit, the Real Madrid coach will undergo tests to find out the causes and extent of his ailment.
The coach from Vitoria will not lead the white team again this season, although, in principle, his career on the bench is not in danger. His assistant, Chus Mateo, will be the one to direct Real Madrid this Tuesday at the Buesa Arena, during the third match of the Endesa League semifinals, where the current European runner-up could seal their place in the final against Baskonia after having won the first two matches of the tie at the WiZink Center. Chus Mateo already took charge of the team when Laso tested positive for coronavirus in mid-December and was unable to lead four games, three in the Euroleague and one in the ACB League, all of which ended with victory.
Pablo Laso, 54, will have to be out for a long time, but he could return for the next course, at the expense of his evolution and the cardiac rehabilitation that he will undergo when he leaves the hospital. For now, "he will continue to monitor his evolution by the cardiology service" of the hospital to which he went early on Sunday on his own foot after feeling unwell at home, hours after the second game between Real Madrid and Baskonia .
Having suffered a mild heart attack, he could return to his job as coach next year, with the precedent of his friend Velimir Perasovic, who after suffering angina pectoris in February 2007 when he was managing Baskonia returned to the bench seven months later to lead the students.