Pablo Iglesias, annoyed by a question from Susanna Griso in 'Public mirror': "That is not true"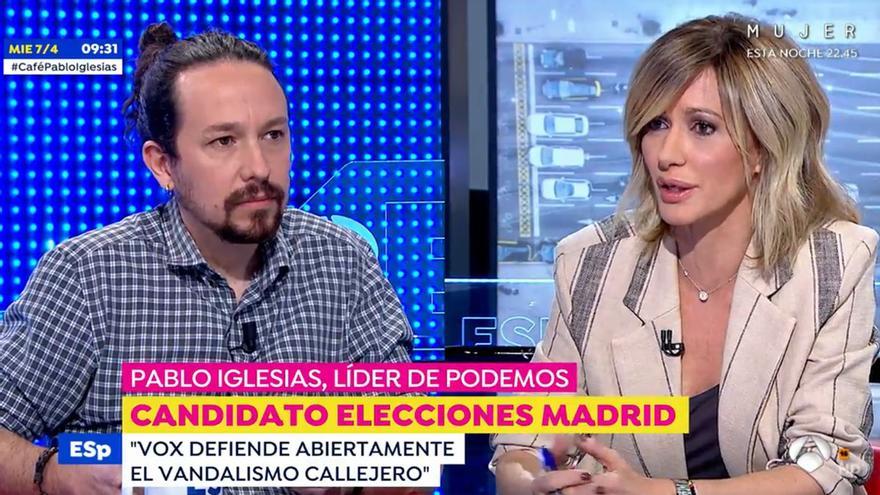 Pablo Iglesias has visited 'Public mirror' during the morning of this Wednesday, April 7. In the middle of the electoral campaign, the candidate of United we can In the next elections of the Community of Madrid he has been interviewed by Susanna Griso, which has focused much of the conversation on the elections to be held on May 4.
Although the conversation between the two has passed in a cordial tone, the candidate of the purple formation has not hidden his surprise at one of the questions that the presenter has asked him. After Iglesias condemned that Vox claims "state terrorism or street vandalism", Griso has raised a question with which he has not agreed.
"You know that this speech that Vox can make in the electoral campaign creeps into many people who feel disappointed, who see no future, that somehow they trusted United We Can, in that they were going to be accompanied by this economic crisis and that is not happening, "commented the journalist.
"It is not true"Iglesias has repeated up to three times, frowning and shaking his head, while Griso expanded his point of view: "The minimum vital income has not met expectations, we have 8 million people in a very precarious situation."
A position that the former vice president of the Government has not shared at all: "It is not true, I was in Vallecas the other day and I heard the opposite." "It is not true that there is any type of transfer. What the extreme right, that of the PP and that of Vox, is defending is to end social aid, with public centers, turn private education into indoctrination centers. What they are doing, and it is an evidence, is destroying everything common"Iglesias has settled.