Pablo Arrigo and Carla Della Vedova exhibit their recycled jewelery at the FEDAC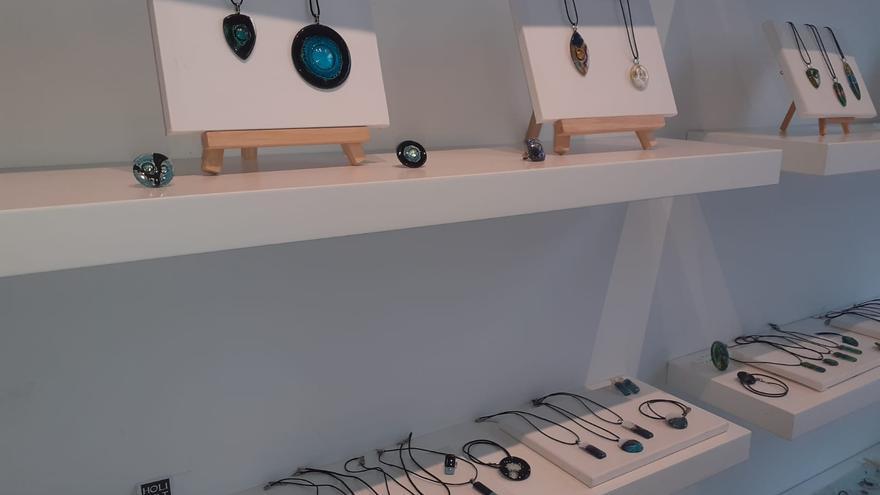 The recycled glass jewelry, pictures and plates by Pablo Arrigo and the dolls, rattles and ornaments that Carla Della Vedova makes with crochet and using the amigurumi technique, which involves weaving the entire piece with a basic stitch and in the round, will be on display. in the Sala de la Fedac of the Cabildo de Gran Canaria until next October 16.
Pablo Arrigo produces under his brand 'Holi Art Vitrofusion' costume jewelery, plates and pictures with recycled bottle and window glass that he cuts, paints and bakes until he gets the final piece.
The craftsman cuts the pieces, shapes them to his liking and then, so that the figures take on color, he applies enamel made from oxides and pigments between two pieces of glass that he then joins. Next, the piece goes to a furnace that reaches 1,000 degrees and there the rust, when burned, causes the enamel between the glasses to inflate and produce bubbles and different textures.
For her part, Carla Della Vedova exhibits dolls, rattles and ornaments crocheted using the amigurimi technique, which is an acronym for two Japanese terms, 'ami' which means knitted and 'nuigurumi' which means stuffed doll. This style is increasingly known in the West and is characterized by the fact that everything is woven with a basic stitch and in the round.
Della Vedova, who also has her own brand, 'Ayres del sur', works with washable cotton fabrics.
Both artisans have gone hand in hand showing their work on different islands such as Fuerteventura, Tenerife or Lanzarote, although they usually exhibit in markets in the south of Gran Canaria, since tourists are their main buyers.
And not only that, Pablo Arrigo and Carla Della Vedova, who also carry out personalized orders, have an establishment in Agüimes where all their creations can be found.