Pablo Álvarez, astronaut: "All the tests are hard, the first exam lasted 11 hours"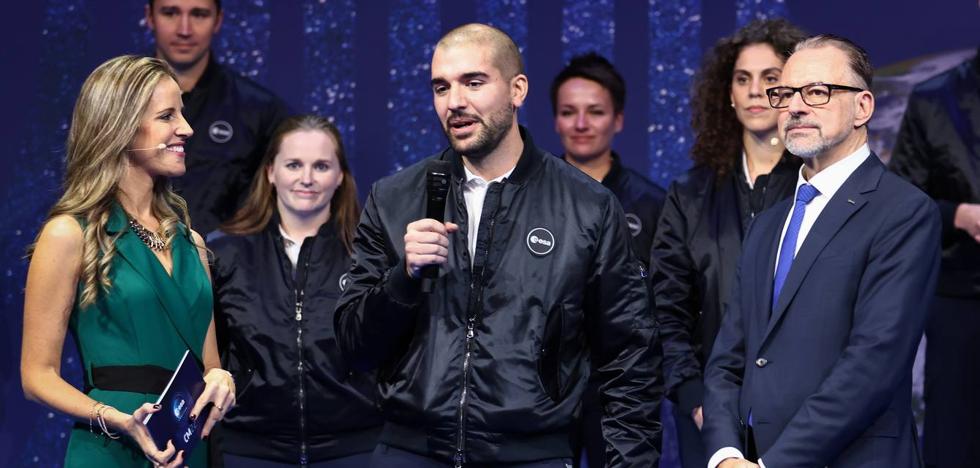 The engineer from León has been selected as a career astronaut despite suffering from a slight disability in his left leg: "I don't know what my life is going to be like from now on"
Pablo Álvarez Fernández (León, 1988) is an aerospace engineer and has been chosen within the class of 2022 of the Astronaut Corps of the European Space Agency. Between April and May of last year, more than 22,000 applicants applied to become an ESA astronaut.
-What do you feel today? What does it mean to you?
The truth is that I had spent my whole life wondering what an astronaut would feel when they are named. And it is very complicated. you feel everything It's been a rollercoaster these last few days, not knowing the details, not knowing until the last moment if we're going to be here or not. They confirmed it to us today. This morning. At least our status as a career astronaut or as a reservist. And, well, I'm very happy. It is a great honor to be able to represent all Spaniards in the Space Agency and if possible in space. And also a great responsibility.
How have these 18 months been? What has been the hardest?
-The truth is that it has been very long. All the tests are very hard. The first one the exam lasted 11 hours. They have tested absolutely everything. There are other tests that weren't so hard, they got along better, like the technical tests, but they were very long. They have to make sure that you're completely healthy, that you're not going to cause any trouble once you're up on the space station.
-Are you starting a very hard training? Until 2025 it will not be part of a crew. Are you strong?
-It's a long-distance race, now is when it starts. I managed to sign up for her. This has only been the beginning. A tough start, but what lies ahead is even more difficult.
-The moon as a goal?
-How I dream.
Did you study aerospace engineering with a view to attempting a career as an astronaut?
-It crosses your mind but it is not a realistic race. There are very few people, very few lucky ones. 22,500 people from all over Europe have participated in this process and I am sure that if we started over again we would have a completely different class. Because any slight variation can mean that one day they choose you or not, that an interview goes well or badly or that you sleep badly on the day of the performance tests and you are out. I feel very lucky to be here.
-Is celebrated?
-I hope so. We have a pretty tight schedule tomorrow. But still Friday night, ha ha.
Pablo Álvarez and Sara García together with the Minister of Science and Innovation Diana Morant.

-What message can you convey to children as an astronaut?
-I would tell them to never stop believing in their dreams, to pursue them, that with insistence, effort and a lot of desire they can become a reality, even if that dream is something as improbable as going into space.
Do you already know what awaits you in the next few days?
-I know when I have the flight back to Spain. I don't know what my life is going to be like from now on.
What made you want to be an astronaut? A movie? An idol?
-My idol as a child has been Pedro Duque, of course, the first Spanish astronaut who opened this path for everyone. Somehow, you see him as unattainable, you think you can never do something like what he did, and I still can't believe he's here.
-What have they told you in León?
-I have turned off my mobile for five hours.
-What will your parents say when you tell them that you are going for 10 days to the space station or to a mission on the Moon?
-When I told them the news they said they didn't know whether to be happy or not. They will be very proud, but they will be a little afraid. I'm sure they can deal with it and it will be fine.
-When will it start to form?
-I am going to start on April 1 at the astronaut center of the European Space Agency, which is in Cologne. There I will have a year of basic training after which I will be considered an astronaut, before we are still aspiring astronauts. And then you have the incremental training, which is what is done before you are assigned a mission, it prepares you more for operational issues. Once you finish that training you stay on standby until you are assigned a mission. Then you start the specific training for that mission, some segments that you have to carry out and the particularities of your mission, which last two years and is usually done between Houston, Europe, Japan, Canada, Russia and all the countries that make up ESA.
-Have you spoken with Pedro Duque? Has he given you any advice?
-I haven't spoken since I found out I was going to be selected, but in one of the rounds he interviewed me.
How did you feel when you found out that you had been selected?
-They have been calling us one by one to give us the news and then we were sharing the information. It's difficult because all the companions who have come here are equally valid and anyone could be an astronaut. Sometimes it's hard to take it in when you're there. I have felt very happy for myself, selfishly, but I would also have loved it if Sara could be a career astronaut and that we could also have the first Spanish woman in space.
- Is there a very good scientific program at the University of León? Is there a Léon factor? Or is it a coincidence?
-I studied aeronautics there and they prepared something for me. Not to this level, but I only have words of thanks for them. They don't always enjoy all the resources they would like and so everything... The proof that they have given us a top quality education is that we are both here. I had introduced myself, well there is a project for astronauts in which astronauts with disabilities are presented. I have a small disability in my left leg, very slight, but this, in principle, would have excluded me from the previous tests. So when they've opened this door, I've entered through that program. At the beginning, they were not going to be career astronauts and today they have included me among the five chosen to be. So, also the message that I gave you before for the children. Regardless of the disability they may have or their conditions or even the labels that we ourselves sometimes put on them, they have to pursue their dreams.