Oyarzabal dedicates the title to all the realists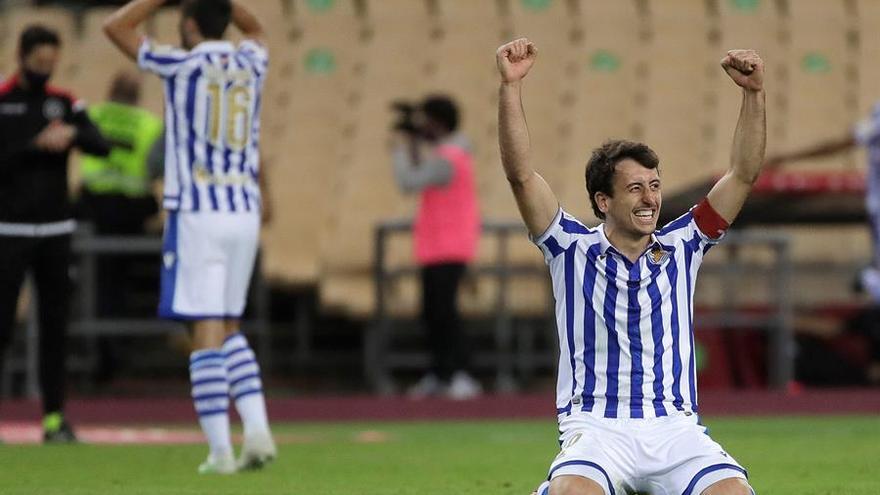 The captain of the Real Sociedad, Mikel Oyarzabal, has dedicated the Copa del Rey title to all the people who, due to the covid-19 pandemic, have not been able to accompany the team at the Sevillian La Cartuja stadium.
Oyarzabal, with tears in his eyes, has celebrated that the Royal has been able to dedicate the title to all the people who have suffered in this year of a pandemic. "Giving this to all of them is the best we could do," he said at the end of the match.
"This is for everyone, for my family, for my friends, for all enhancements ", he emphasized.
"I love you all very much, we are champions and we are going to celebrate it one day all together without any doubt", has abounded.
On the penalty that has given the title to Real Sociedad, Oyarzabal said that "he was clear about what he was going to do" and "trusted" in himself, the same as his teammates, so he did not hesitate to launch it.
Marcelino, "very sad"
For his part, Marcelino García Toral, Athletic Club coach, confessed to feeling "very sad" after losing against Real Sociedad, which he congratulated for winning the title "deservedly", and regretted that the "greatest frustration" left them the meeting is "not having been ourselves".
"I think we were not ourselves and when you move away from your version this can happen. That the rival, in a specific action, although deservedly in the general calculation, wins a title. We must congratulate Real and calmly analyze what We must improve because within 15 days we have another option, "reflected the coach at the press conference after the match.
For the Asturian coach "the big problem" that Athletic had was the "excessive responsibility and obligation to win this game"because" the main thing that was in the head "of his footballers" was to do it for his fans "and" give him that satisfaction that we all know what it meant ".
"I think he has played a very trick on us. We have gotten far away from our best version and also from who we are. We have to analyze it with pause, but also as quickly as possible, and see where we have been wrong to offer solutions to a group that today is sunk, but that must get up right away, "he explained.
Marcelino stressed that "emotionally" Athletic was not "at that level of joy" necessary to "enjoy" what was at stake and express his "maximum capacity".
"The two teams stepped on the similar area and in that there was great similarity because the Real also generated very few occasions, but that does not console us. Defensively we were ordered, but we must have more creativity, more depth and more arrival. Football is decided for minimal details and in those details the Royal has been superior to us, "he admitted.
He also recognized that the "big problem" at the level of play was "with the ball" because they had "more fear of losing it than intention to play it"And, in that way, they could not get out" of that negative vicious circle. "" We were not dynamic. It was difficult for us to create, combine, win duels … We did not have a good game. The rival with his weapons surpassed us and we must congratulate him, "he stressed.