"Our folklore is the Beatles, but also the couplet"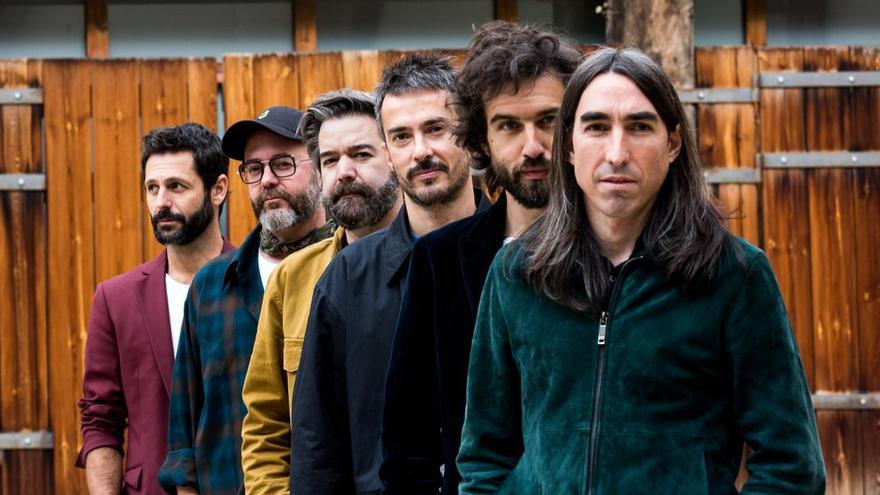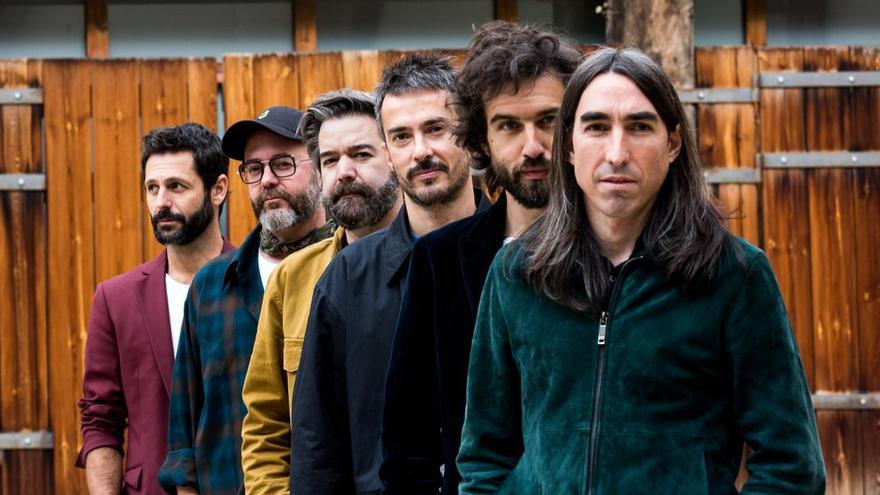 'Ground wire' is the title of the sixth and long-awaited album of Old Morla. 10 songs in which the group, without losing its essence, explores sounds and rhythms of root music, of folklore from different parts of Spain and also from the other side of the Atlantic. THE PERIODIC OF SPAIN chat with Juanma Latorre (guitarist and composer), Álvaro B. Baglietto (bassist) and David 'The Indian' (battery), to know all the details of the new CD.
'Cable a ground' is the name of your new album. A declaration of intentions.
ÁLVARO: Yes, 'Ground wire' It is the summary of how we have behaved emotionally at the band level. When we decided to make an album we started a bit from the post-pandemic moment; also wanting to do something different. We had also been inquiring with folk instrumentation and somehow all elements came together. More than in 2020 in January 2021. We started to pull those three strings and these things began to come out with rhythms, with sounds, that made us feel that we were doing something different. That is our motivation every time we make an album: to try to do something different. We do not want to repeat. In an intuitive way, we come up with a challenge. And we found, in January, that ground wire that also has to do with how we have felt this identity crisis: where do we come from, what is our folklore, if they are the Beatles or if it is also present the town, the couplet, traditional sounds. All that was mixed a bit in that identity crisis. We feel comfortable, wrapped in that hodgepodge. It was like throwing a ground wire. We needed to fill that gap.
Could it be said then that the pandemic, apart from what it has meant for the sector, has served you as learning?
ÁLVARO: There have been many learnings. We have talked a lot. We have been in close contact throughout the pandemic. When you force yourself to stop suddenly, the first learning is to forget about the macro and go to the micro. Say "where am I?" My house, my territory, my neighbors, my friends, my town … From there you cling to that identity that has seen you born. I've spent a lot of time on TikTok too (laughs).
Leaving aside the enormous tragedy that we have suffered, we have also wanted to grasp the positive of valuing things, valuing what is close, and from there try to get creativity.
In 'Cable a Tierra' you wink, in songs like Stab Trapper or Finisterre, to folklore, to root music. How did this idea come about? Was it premeditated?
JUANMA: In our creative processes there is always a mixture of intuition and premeditation. Almost nothing starts in a very premeditated way. We rarely work with a a priori. It is true that as you do things intuitively, at the same time you start a process of reflection that almost runs in parallel; More than in parallel, it goes a bit behind the intuition, but you are walking intuitively and at the same time thinking about what you are doing, because you have to give a shape to everything. In the end there are common criteria that help you to choose which songs to put on the album and which ones not, to choose instrumentation, the type of production, the mix, the album title, the art … then it is that mixture of doing things by intuition. the time of wondering why you have done it like this.
It all started in a very intuitive way, collecting things that we had previously investigated, some of them for many years on certain instruments, traditional rhythms that had been on our radar and that before that little gap that Álvaro commented, before those questions about the identity and rooting, probably in an intuitive and instinctive way, came out. From there you start to pull the thread. There were two songs that defined the sign of what was happening with the album: 'Puñalada trapera' and 'La virgen de la humanity'.
To be able to capture characteristics of traditional music on your album, you will have had to do a preliminary investigation, an immersion. How has this job been? What would you highlight from this process? Anecdotes, instruments that you have discovered …
DAVID: It's all full of anecdotes. everything. A few years ago we were invited to the Folkarria, a traditional music festival that takes place in Valdemorillo, in Madrid. Álvaro and I were with our families and there, between the performances, people gather in the town square to play. Suddenly we saw the one who later became our friend, Jesús Tejas, a musician from a town in Albacete who has a project called La Ronda de Motilleja. He was playing a kind of tiny guitar, so I asked him what it was and he said "a guitar."
ÁLVARO: He already had a tremendous interest. He spent the whole day with Jesús Tejas asking.
DAVID: And with more people. I am going to explain the entire anecdote, which Jesus told me recently after two or three years. I asked him about that. María Rozalén was also playing another guitar, singing, other friends with percussions… So I said, how cool, what a musical moment. I liked. I started talking to him, I asked him how the guitar worked… I remember that he and his partner had to leave and he told me that he had other instruments in the car. I asked him if he could show me them and I went with them. He says that after saying yes, when he was on the way to the car with his friend, they said: "Hey, let's see if he wants to steal from us", and he recently confessed that to me. They were scared off by my excessive interest (laughs).
ÁLVARO: I hallucinated. It was because he was behind them with an interest that you freak out, with his hair … (laughs).
Traditional music has been forgotten for many years due to a series of circumstances, going back to the time of the dictatorship "
DAVID: I was taking advantage of the moment, I wanted to know about the guitar, those tambourines. That was the funny anecdote. From there a beautiful friendship emerged, a person who has explained many things to us about traditional music, in what state it is today. It has been forgotten for many years due to a series of circumstances, going back to the time of the dictatorship.
ÁLVARO: And the group we played with in Cuenca? They were there too, weren't they?
DAVID: In Cuenca it was Zascandil. Javi Collado, from this group from Tarancón, was also playing the tambourine. I already knew him from another story and I also spoke with him and he was explaining things to me.
So there was already an interest there …
ÁLVARO: They are curious things that show that something was being forged there, it was being created.
DAVID: Thanks to that first interest, then the guitar thing seemed interesting to us and we gave one to Juanma a few years ago. It was a very special moment. It is a guitar that we use a lot in these years. From there, Juanma for example, who is a producer and works with many artists and groups, has met people within the environment and has further explored this compositional path; he has known that part more. That brings us to January of this year and to that beginning of "we're going to make a new album" and what happens, that those things just come out.
What was the response from your fans to these two previews?
DAVID: The response from our fans to new songs is never usually too effusive. That response grows over time. It is the beautiful part of our personality, that people are entering our music. There are more direct songs, less direct songs, but in general they are songs that tend to internalize, assimilate. You are finding special things in the recording and you are discovering nuances and layers. The response has been positive. It is also true that we are now experiencing a very saturated moment due to the traffic jam that occurred last year with the releases, the vinyl manufacturing problems … In that sense we are happy, of course.
We would stop being old if we always stayed at the same point "
In this album, in addition to these nods to traditional music, there are songs that recall the Vetusta Morla from the beginning and others more rock-like such as 'No seré yo'. After more than 20 years of experience, is it difficult to continue innovating?
JUANMA: The world is full of possibilities. Really innovating and trying new things is difficult, because getting out of what you know how to do takes time and requires seeing yourself in situations that you are not used to and in which you feel uncomfortable, but of course you cannot say that you are running out of possibilities. . How do you not keep innovating would be the question rather. There's always something new to learn. Also, on our previous album, Same place different place, one of our discoveries was to see that our essence is in change. It may seem somewhat paradoxical, but it is that we would probably die, we would stop being Vetusta if we always stayed at the same point. The reason that you listen 'Ground wire' And there are still things that permanently remind you of Vetusta, it is because we are constantly questioning our essence, changing things, trying things, and there is something that remains. When you change all the pieces of the board and there is something that underlies, a structure that is still there, that's the beauty.
Because of the choruses or the rhythms, is 'Cable a tierra' your most singable album?
JUANMA: It is an album in which, unlike the predecessor, which was very complex at the level of arrangements and in which we were very focused on breaking down our own barriers, there is an emphasis that we have put: that the songs should be sustained as much as possible. possible with the melody of the voice. In fact there are few instrumental passages. The end of 'No seré yo' is an exception on the album. They are very short songs, without skinny moments, as we say, or long instrumental passages. Everything goes to the melody of the voice and the rhythm.
ÁLVARO: He has a bit of a popular spirit. The album has been created from there, so that it can be sung. But if we talk about chanting …
Do you think there have been others more singable?
JUANMA: You have to give it time.
ÁLVARO: But for example 'A day in the world' was very choreable. It was very easy to sing.
JUANMA: But did you see it when we were doing 'A day in the world'? Did you think the whole world was going to sing it? Because I didn't see it coming, and I didn't even tell you about 'The rare days'. I didn't even see it coming (laughs).
For your next concerts, will you bring new instruments like the guitar or some other?
DAVID: They are already incorporated. This summer, how we have started to play new songs like 'Finisterre' or 'The Virgin of Humanity', especially in the case of Finisterre I have already incorporated the square tambourine, which we have used a lot these years and it has been a leading player on the last album.
JUANMA: The guitar is also incorporated and the drum.
DAVID: The Dominican tambora, which is a typical instrument from the Dominican Republic that looks like a conga but is played on both sides, that Jorge has also incorporated it. It is quite present on the album.
JUANMA: It also happens that afterwards we don't take out the real instrument because it is very complex, but we use the technique of sampling. The autoharp is sampled, for example, castanets, tambourines … If we didn't need a symphony orchestra (laughs).
In your last live shows, traditional groups from each region or city that you visited have participated. Are you going to continue doing this?
JUANMA: We haven't talked about it yet, but I think it would be a great idea. It was very nice to see how other musicians were integrated, as well as, as you say, musicians from the place we were going to. They have contributed a lot and there have been moments. With Fetén Fetén, Eva Tejedor, La Ronda de Motilleja … It was amazing. Hopefully we can continue to do so.
One of your last great concerts was at the Caja Mágica in Madrid in 2018. On June 24 you will perform at the Wanda Metropolitano. There are still a few months left, but how do you deal with it?
JUANMA: With a little of everything. Whoever is not nervous going out to play Wanda is not alive (laughs). But with great enthusiasm, of course. It is our great challenge for 2022: to ensure that there is a great atmosphere and that it is historical. We always try to go one step further and this is one of the fat ones.