Òscar Camps, founder of Open Arms: "Saying nothing and not getting wet is synonymous with complicity"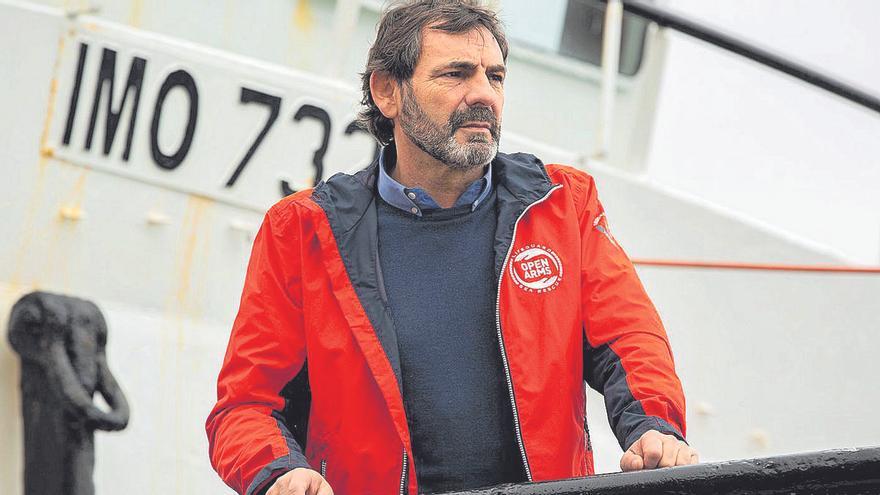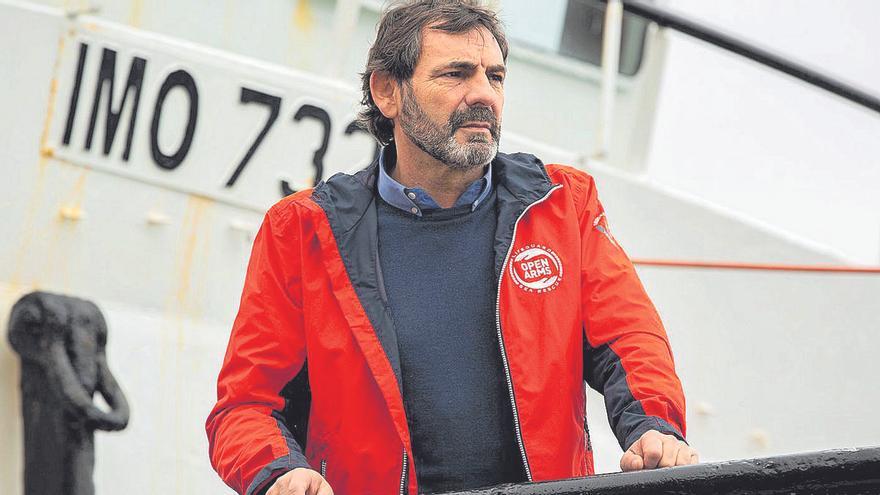 Seeing the photo of Aylan, the Syrian boy who was found dead on the shores of Turkey changed his life. That day Òscar Camps decided to create Open arms, an organization dedicated to saving people. This Wednesday he will talk about his experience at the University of Zaragoza within the Department of Cooperation for Development; and Thursday afterwards at the IES Rodanas de Épila.
-What do you expect from these talks?
-They are opportunities and you should not miss any, raising awareness never hurts and more in these times in which xenophobic discourse is rampant in the streets. Obviously when you have the opportunity to speak to receptive people you have to take advantage of tell them the truth and counter that speech. Today in this crisis that we live, not saying anything, not giving an opinion, not getting wet is synonymous with complicity.
-A photo changed his life. Have you repented?
-No not at all. A child changed my life and many other children that I see on the street entering school with an Open Arms sweatshirt I charge my batteries to continue.
-Did you think that in addition to removing your conscience, you would remove others?
-I don't know, at no time did I think on a large scale, I always thought of contributing my own individual participation. I want to do something and my profession supports me when it comes to helping those people who are left at sea. My contribution was that, only, the rest has come as a result of that citizen action. So you never know what grain of sand is going to trigger an avalanche. In this case, deciding to go to Lesbos to help has had many consequences; to me at a particular level but to many other people in general, because thousands of people and hundreds of volunteers that we have had in 84 missions follow and support us. I never would have imagined that getting up from the couch that day and buying a plane ticket to go to Greece would trigger all this. So I do not stop any other initiative and I encourage people to contribute their particular grain.
-Open Arms has more than 61,500 people saved at sea. Would just one have been enough?
-Sure. One was enough. Who would not be satisfied to save a life when it is the most important thing a human being can do? And when we sent this plane to India with 82 tons of essential medical supplies, we thought about that, about only one life. This justifies all the effort that goes into mobilizing so many people.
-From this privileged Europe, do we understand that no matter how many stones are placed, people will continue to risk their lives to reach a better life?
-I hope so. Currently, at the head of this Europe there are retrograde mentalities that refuse to see reality and that denial implies making certain decisions that cause deaths. In 10 or 15 years we will begin to talk about responsibilities and names and surnames that they have taken decisions that cost thousands of lives each year, especially in the Mediterranean. Think that the United Nations considers a warlike conflict 1,000 deaths a year and in the Mediterranean we have three warlike conflicts that Europe refuses to see.
"In 10 or 15 years we will talk about responsibilities, names and surnames that have made decisions that have cost lives"
-Matteo Salvini will be prosecuted for the kidnapping of 147 immigrants. Will it be the only one?
-It is curious that the maximum banner and critic and creator of racist and xenophobic speeches and defamer of Open Arms, Mr. Salvini, who believed that even the Spanish Government had so much reason, is sitting in the dock. How curious that we are criminals, that those of us who are in connection with the mafias and favor the irregular arrival of people do not have any charge or any lawsuit if not the opposite. It is significant, but the discourse continues to permeate society but it will take more than one Salvini on trial to change the discourse.
-In Spain, Vox continues to grow. Will that change Spanish immigration policy?
-Well, I don't know, we should deeply analyze the origin of irregular immigration in Spain. Except in specific moments, irregular immigration does not come to us by boat, it comes to us by plane and I think that has been the case for many years. I think it is necessary not to create a biased discourse about a minority, who are those who arrive in a boat, who risk their lives because they do not have legal and safe ways to request asylum and refuge. Migration policy must be reviewed but not only in Spain but also in the European Union. The responsibility of the following countries on the southern European border, Greece, Italy and Spain right now are alone at the forefront of migratory pressure. When everyone wants to reach the rest of Europe, none of those who come to the Spanish coast wants to stay here or on the Italian coast ... they have another destination and the lack of solidarity means that those three countries that form the southern border have that responsibility alone. And that is where you have to start to change, here and that you must begin to comply with international conventions and with human rights.
"Except in specific moments, irregular immigration does not reach us by boat, it reaches us by plane"
-How is the work at origin? They are working in Senegal.
-It is difficult to promote growth or the creation of projects in origin that take place when Europe does not collaborate. In Senegal we are witnessing how Europe and even China are fleecing Senegal and Mauritania with factory ships, they are leaving without any fish, they are destroying everything, with the only objective being to create that flour that will feed the European fish farm and they are leaving hundreds of thousands of young people (the average age is 19) who have their kayaks to sail half a day or a day from the coast and now have to do it five days from the coast if they want to find a fish. They are putting them out of work. Y How do you tell that person not to go to Europe or the Canary Islands, which is less distance than where you have to go fishing. Europe is not helping anything. Then they will sell us the same as in Somalia, that happened and now they sell them to us as pirates because they attack European ships and we have left them with nothing. We work in origin but it will be difficult for us to change something if we continue to leave nothing behind. The project fits quite well. And we are currently collaborating with the Spanish Agency for International Cooperation (AECI), which supports and finances the project.
-Open Arms was born with the intention of being brief. Do you see your end soon?
-We have done 150,000 pcr in this period of pandemic, we have worked with seasonal workers in Aragon Y Catalonia… We have made ourselves available to everyone to try to alleviate the suffering of the most vulnerable. A pandemic universal had to do something. And if, for example, in India there is a problem and we can get resources, why not, we have the ship blocked in Italy, because all our assets have continued to be able to do something, collaborate ... Every life counts and if we can save one, why are we going to stand still? It is true that we wanted to disappear and we pretend with the same idea but the situation does not favor it so we will have to continue. When the administration gets on with it and ends up doing what it has to do, we will stop being at sea.