Osasuna resists against a better Elche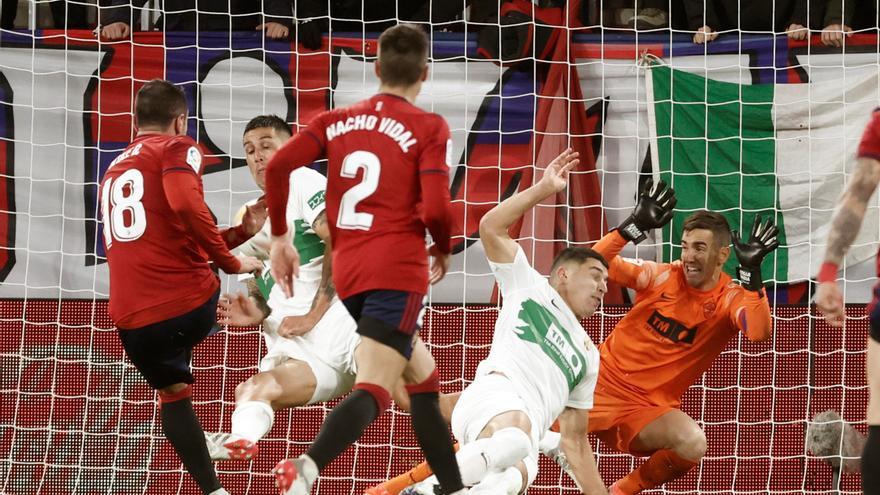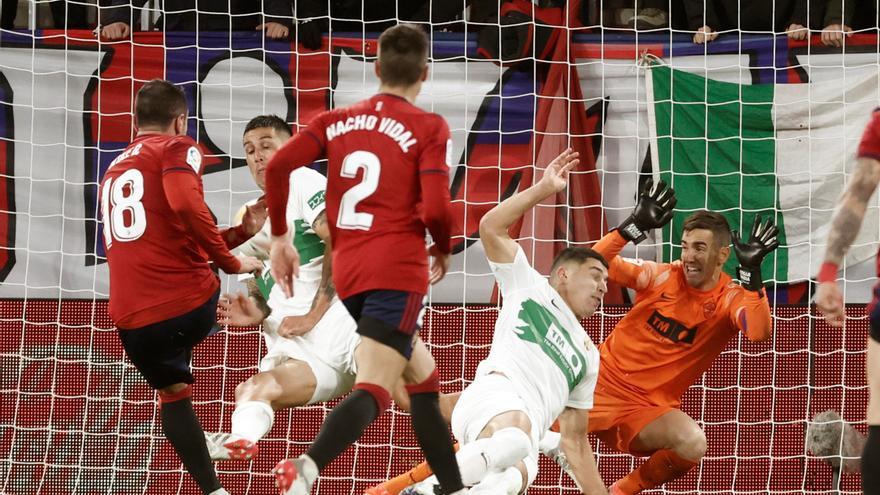 Osasuna added a draw this Monday in El Sadar (1-1) before a Elche that he had more clear chances than his rival and that he could take the shock of having had a little more luck against a Navarrese team that tried until and end and that has already accumulated six days without winning in LaLiga Santander.
Osasuna had not won since last October 17, more than enough reason to go out with everything before an Elche that was planted in El Sadar wanting to start the Francisco era with a great game. The technical secretary, Sergio Mantecón, was in charge of directing the team.
It didn't take long for Jagoba Arrasate's pupils to have the first. Kike García missed a goal that the fans were already singing after sending a clear shot over the crossbar. Osasuna was boiling and the next play he found the prize.
In minute 7 Fidel committed an unnecessary penalty after a slap that hurt his team. Against Budimir he scored again more than six months later to put the first from eleven meters calmly and with quality.
From there, Elche did not back down and went up. A rehearsed corner action was taken advantage of by Fidel to amend his previous mistake with a big head anticipating the red defense at the near post. Osasuna failed again from a set piece to the despair of his coach.
Kike Barja tried it with his particular overflow and one against one. The visiting defense was compact and lThe attackers from Elche were able to make the second. Sergio Herrera saved the second after a great play by Lucas Pérez shortly after the break.
The franjiverde club came out more awake at the second 45 minutes in search of the second lunge. Argentine Lucas Boyé hit the post on the first clear chance.
The change of system favored an Elche that with the 3-5-2 won arrival and took possession. Herrera took Josan's shot in the same line, who came out to give depth to his team on the right side.
Arrasate put Roberto Torres and Argentine Chimy Ávila on the green with the aim of winning bite and quality in the final meters. The clash looked bad for Pamplona interests and his coach was aware of it to try to remedy it.
Osasuna was unable to reach the opposite area regularly. The Arrasate team could not create danger in a very bad second half, quite the opposite of an Elche that did not suffer and that could take the victory from El Sadar.
Data sheet:
1 – Osasuna: Sergio Herrera; Nacho Vidal, Unai García, David García, Cote; Kike Barja (Roberto Torres, m. 79), Moncayola, Oier (Darko, m. 63), Rubén García (Manu Sánchez, m. 87); Kike García, Budimir (Chimy Ávila, m. 79).
1 – Elche: Edgar; Palacios (Barragán, m. 85), Enzo Roco, Diego Glez., Mojica; Mascarell, Marcone (Dumbau, d. 60), Fidel (Josan, d. 60); Tete Morente, Lucas Pérez (Guti, d. 85), Lucas Boyé.
Goals: 1-0, m.7: Budimir. 1-1, m.19: Fidel.
Referee: Isidro Díaz de Mera Escuderos (Castilian Leonese Committee), assisted by Becerril Gómez and Santaúrsula Aguado. The referee from León showed yellow to Fidel, Mascarell and Marcone on the visiting side.
Incidents: Match corresponding to the fifteenth day of LaLiga Santander played in El Sadar before 16,485 spectators.