Osasuna endures and leaves Getafe alive | sports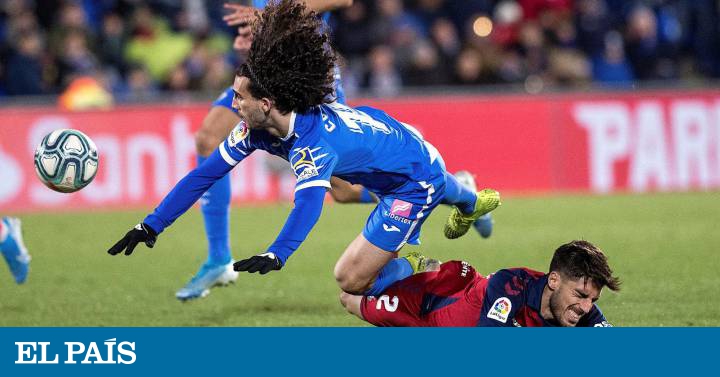 Getafe and Osasuna are not precious teams, but their games do not usually leave anyone indifferent. Nor do they end up zero to zero, as yesterday in the Coliseum. The intensity is not negotiated if Bordalás and Arrasate are on the benches. He attacked the local team more and better, especially at the beginning and end of the crash, but they always stood up the reds.
Getafe left without brake, trying to overwhelm his rival in the first minutes. But if this Osasuna of Arrasate knows something, it is to play with the accelerator stepped on. Even so, Estupiñán had a hard time covering her band and the blue arrow that furrowed her. Jason, very incisive, penetrated again and again to center or check Rubén's gloves. Bad luck that of the reddish goal, who left injured after 20 minutes.

GET
OSA

Getafe
David Soria, Djene, Cabrera, Nyom, Marc Cucurella, Nemanja Maksimovic, Kenedy (Portillo, min. 80), Mauro Arambarri, Jason (Mata, min. 73), Jorge Molina (Enric Gallego, min. 84) and Ángel.
Osasuna
Rubén (Herrera, min. 18), Pervis Estupiñán, Aridane, Roncaglia, David García, Nacho Vidal (Brandon, min. 57), Brasanac, Roberto Torres, Oier, Rubén García and Marc Cardona (Fran Mérida, min. 81).
César Soto Grado
Nyom (min. 89),
Jorge Molina (min. 80),
Nacho Vidal (min. 48),
Oier (min. 82),
Rubén García (min. 74) and
Brandon (min. 74).
Stadium:Alfonso Pérez Coliseum
The attacking gusts of Getafe scared but did not harm Osasuna. A hard shot from Jason found Aridane's knee when he sneaked into the goal. The Navarrese team lived cornered in their field and tried to find a way out with deep balls. In one of them, Cardona failed to control when she could head towards Soria.
The activity was diluted between the pressure exerted by both sets. There was no respite for the player who dared to think a little with the ball, then he had one or two rivals on top. Osasuna tried to stretch after the break, but barely created danger beyond the stopped balls. In a side foul, David Garcia won from above although the ball was very focused, at the hands of Soria.
Getafe reached the last stretch decided to find the game with everything. He put even more rhythm to his attack and more chic up with Jaime Mata. The best occasion came in the 78th minute, when Molina finished off the crossbar after picking up a loose ball product of a failed Kenedy Chilean. The ruling did not demoralize Getafe, which continued the siege. A shot of Arambarri was poisoned by bouncing in a defense and demanded the best of Herrera. The Osasunista goalkeeper again frustrated the Uruguayan already at the discount, when he responded wonderfully to a great low shot. That was the last one. Osasuna left the Coliseum alive.
You can follow EL PAÍS Sports in Facebook, Twitter or subscribe here to the Newsletter.