Osasuna comes out of relegation suffering against Eibar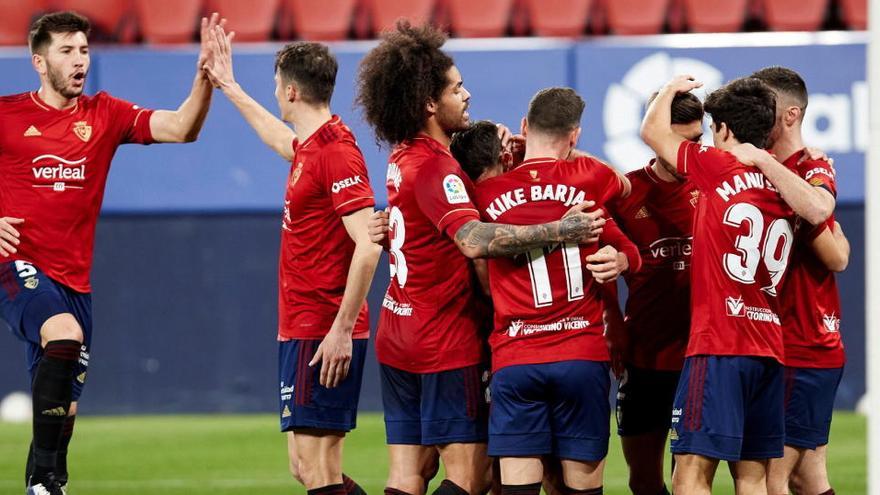 Osasuna beat the Eibar 2-1 with much suffering thanks to the goals of Calleri and Budimir that serve to those of Arrasate to leave the relegation positions again and that in turn get the gunsmith team in trouble. The importance of the match made both teams go out for all with a high pressure from an Osasuna excited to win again at home to avoid relegation after the victory two weeks ago against the Pomegranate by 3-1.
Arrasate started Lucas Torró, Budimir and Aridane after their muscular injuries to give their team strength and intensity, while Rubén García and Manu Sánchez formed a partnership that paid off after 18 minutes to start.
These two footballers were in charge of making a brilliant and quick play on the left wing that ended the Argentine Calleri putting the ball out of reach of Dmitrovic with the inside of his right foot after a excellent pass behind the youth squad loaned by him Atlético de Madrid.
With the passing of the minutes Osasuna took a step back, something that the gunsmiths took advantage of to take possession of the ball and thus add chances. The Serbian goalkeeper stopped Torró's header, which could have made it 2-0. Eibar stretched to find the equalizer one minute before the break. Kike García put the ball in the red squad arriving from behind with a powerful punch against which Sergio Herrera could do nothing.
The equality continued after the first 45 minutes with an Eibar who proposed more than your opponent. The chances came by the drop of a hat, but they came to the concern of an Arrasate who withdrew Calleri when he found something touched. Yoshinori Muto's shot in 71 came close to the post. Neither team proposed a pattern of play. Fear and nervousness took hold of Osasuna.
Dmitrovic made the afternoon stop by deflecting Roberto Torres' powerful shot that ended up off the crossbar. Those from Pamplona went up in the last section. Three minutes from the end, Budimir made it 2-1 that gave a balsamic victory to Osasuna That helped him to leave the descent and place himself in fifteenth position, equaling Alavés on points.
Data sheet
3 – Osasuna: Sergio Herrera, Nacho Vidal, Aridane, David García, Manu Sánchez; Kike Barja (Roberto Torres, m. 63), Oier (Moncayola, m. 63), Torró, Rubén García (Íñigo Pérez, m. 90); Calleri (Adrián, m. 71), Budimir (Gallego, m.90).
1 – Eibar: Dmitrovic; Arbilla, Oliveira, Bigas (E. Burgos, m. 46), Soares; Muto, Recio (Diop, d. 71), Edu Expósito (Quique González, d. 90), Bryan Gil; Enrich (Pozo, m. 71), Kike García (Sergio A, m. 85).
Goals: Calleri 1-0 (m. 18), Kike García 1-1 (m. 44), Budimir 2-1 (m. 87).
Referee: Figueroa Vázquez (Andalusian Committee), assisted by Martínez Moreno and Carreño Cabrera.
Incidents: Match corresponding to the twenty-second day of The league Santander played at the El Sadar stadium behind closed doors.