Osasuna celebrates the permanence with a draw against Athletic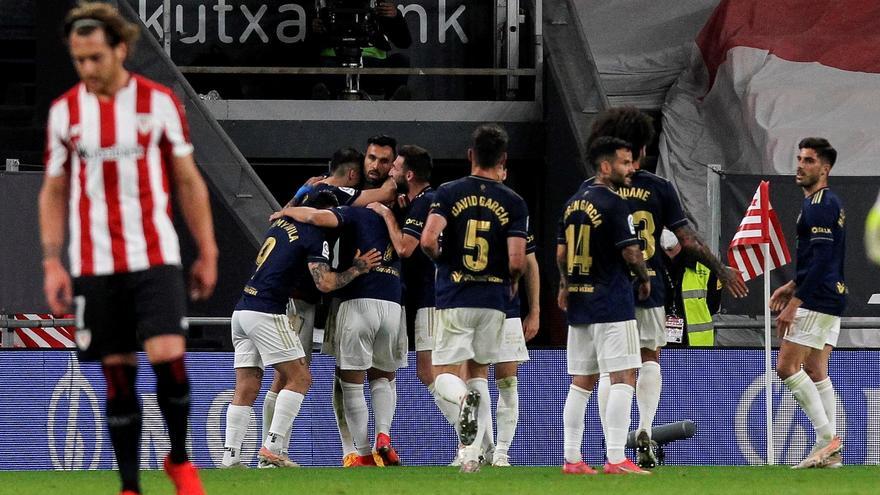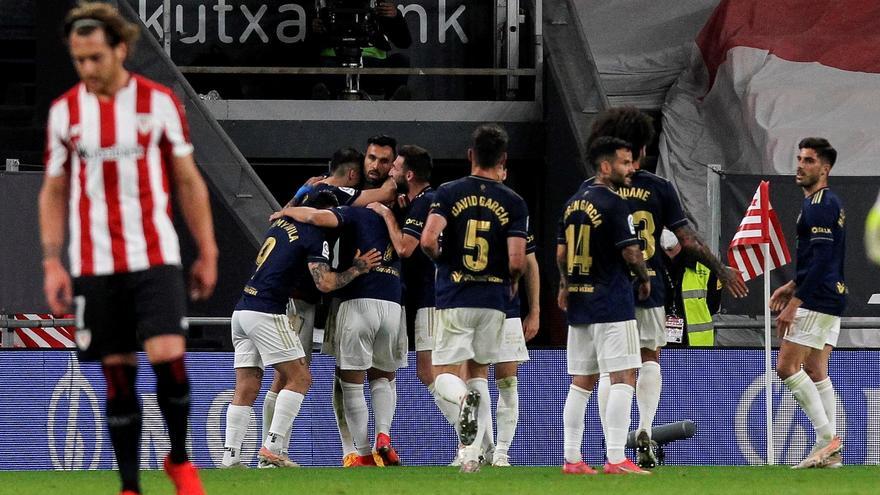 Osasuna celebrated this Saturday his mathematical permanence in LaLiga Santander with a goal at the last minute of the Croatian Before Budimir what served him for tie at two in San Mamés before a Athletic that with this seventh draw in nine games without losing it says goodbye to the slim chances of achieving a European ticket.
The team went ahead twice with so many of the young people Jon Morcillo, 56 seconds into the game, and Oihan Sancet, after meeting time, but the Navarrese team tied with so many of the Balkans Darko Brasanac, in the 11th minute, and Budimir, in the 88th.
It was too much punishment for Athletic and the good games of their young offensive promises, the scorers and also an Asier Villalibre who was possibly the best of the match with Alex Berenguer. But it was also a well-deserved award for an Osasuna's ability to react after being greatly outmatched at the start.
The rojillos -this Saturday in blue- already knew before starting the game that they were assured of permanence and perhaps that is why they came out as relaxed to the field. Although it could also be the intensity that Athletic put him at the beginning to try to rush his few, but real, European options.
Whatever it was, the truth is that the locals already went ahead for the second 56 of the game. A beautiful rojiblanco goal in which the least brilliant was Morcillo's final shot, which hit Aridane before entering.
The best of the play, a diagonal from Berenguer that disordered the Red defense and a beautiful heel from Villalibre on the front that left only a Morcillo who scored his second goal of the season.
Athletic started almost furiously, who was able to score at least two other goals in ten minutes unleashed by Sancet and Villalibre. Those who, however, lacked precision in two shots already within the area with many options that did not hole between the three suits.
When The crash seemed to be heading towards a Bilbao win, Osasuna's tie came on his first arrival with some danger to the area. There, Brasanac, free of mark, deflected a center of Juan Cruz from the left that Unai Simón had surprisingly abandoned. He slightly deviated the center of Marcos.
He stopped in his tracks that play to a hitherto far superior Athletic and gave air to Osasuna, who changed the rhythm to a more leisurely one.
A clear penalty to Villalibre that invalidated a millimeter off the previous game and another fall by Budimir in which a legal charge was understood gave way to a second quarter of an hour flatter and a final stretch of the first half animated by a deflected header from Budimir to a great center of Moncayola and a shot of Morcillo. In the middle, another shot from Budimir and two from Villalibre and Sancet.
A shot by Kike Barja, well stopped by Simón, opened a second round-trip time that led to Sancet's 2-1 score that predicted up to six dangerous rojiblancas arrivals. One of them a fall of Berenguer in the area.
The Navarrese took revenge, angry with the referee for not sanctioning his fall, and He put the almost done goal on the head of his teammate.
Jagoba Arrasate reacted and formed a very offensive eleven, but it was Sancet who again had a chance.
Already in the final siege of Navarre, when it seemed that Athletic was going to achieve two consecutive victories for the first time in the season, Budimir hooked a great header to the center of the newly incorporated Enric Gallego for his team to celebrate their permanence assured and Athletic lost the few options of reaching Europe.
Data sheet:
2 – Athletic: Unai Simon; De Marcos, Nuñez, Íñigo Martínez, Balenziaga; Berenguer (Unai López, m.80), Vencedor, Vesga, Morcillo (Ibai, m.75); Sancet (Raúl García, m.80) and Villalibre (Iñaki Williams, m.75).
2 – Osasuna: Sergio Herrera; Ramalho (Nacho Vidal, m.71), Aridane, David García, Juan Cruz (Rubén García, m.71); Torró (Chimy Ávila, m.71); Roberto Torres (Jony, m.79), Darko Brasanac, Moncayola, Kike Barja (Enric Gallego, m.88); and Budimir.
Goals: 1-0, m.1: Morcillo. 1-1, m.11: Brasanac. 2-1, m.62: Sancet. 2-2, m.88: Budimir.
Referee: Valentín Pizarro Gómez (Madrid Committee). He showed a yellow card to the local Vencedor (m.50) and the coach Marcelino García Toral (m.71) and to the visitors Torró (m.26) and Braasanac (m.92).
Incidents: LaLiga matchday 35 match played in San Mamés behind closed doors due to health restrictions due to the pandemic.