Operations sink 47% in Spain due to economic slowdown and epidemic | Economy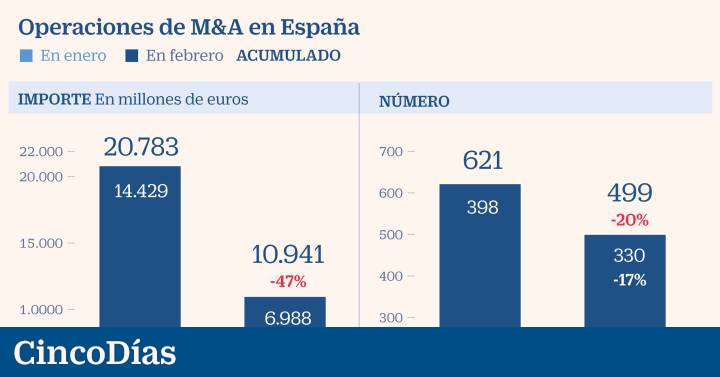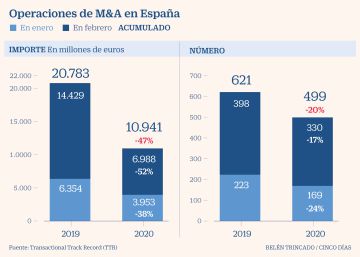 The deceleration drums that sounded at the end of last year have become an incontestable reality in the beginning of 2020. Prices for clouds and especially the panic caused by the coronavirus explain the collapse of the amount of corporate operations in Spain in January and February to be below 11,000 million, an amount 47% lower than in the same months last year, according to information from the Transactional Track Record (TTR) transaction data platform.
"The activity has collapsed in the first months of the year. It is not accidental. The expectations of the sellers have not yet been aligned with the interested parties' purchase offers," said the director of one of the main corporate operations advisors in Spain. The country's growth forecasts have been cut for this year to 1.6% by the Government, compared to 2% in the previous year. And the estimate will be revised down in all likelihood by the effect derived from the virus. All these factors have to be transferred to the valuation of the assets. Until then, transactions will be dilated over time.
Numerous sales have been carried on since last year that are pending on how the coronavirus psychosis ends. Most of Ferrovial Servicios' sale, the largest operation – the total was valued at 2,500 million – remains on the air, after the group controlled by the Del Pino family sold its subsidiary in Australia at the end of 2019 and New Zealand for just over 300 million. The sale of the Imperial Brands cigar business has been paralyzed by Covid-19. And the infection also has a lot to do with Abdow Latif's Fotowatio: the big stakeholder is the Chinese giant Three Gorges. "Logistical problems with Asian buyers are being of great importance. They cannot travel or have key information, because managers and advisors are not working in their offices," adds another executive from a specialized M&A firm.
The number of operations in the queue is very large. These include the fertility giant IVI, the renewable energy group Q-Energy, a firm in which the Canadian pension fund CPPIB, the real estate service provider Haya Real Estate and the company specialized in Conforama furniture sale. The sale of the WiZink bank is at stake following the ruling of the Supreme Court, which questions its business model (see pages 3 and 4) has been key. "The situation is being very negative, especially for large operations," adds the partner of an investment bank.
All this has not prevented the release of one of the most anticipated operations for this year. Bridgepoint – with the help of Credit Suisse, Uría Menéndez and JP Morgan – has launched the sale of Rovensa, the former Sapec. Pai, Partners, Pamplona, ​​UPL and an American fund have passed to the final phase. The buyer will settle in these weeks.