Only three out of ten people worked in Spain during the second quarter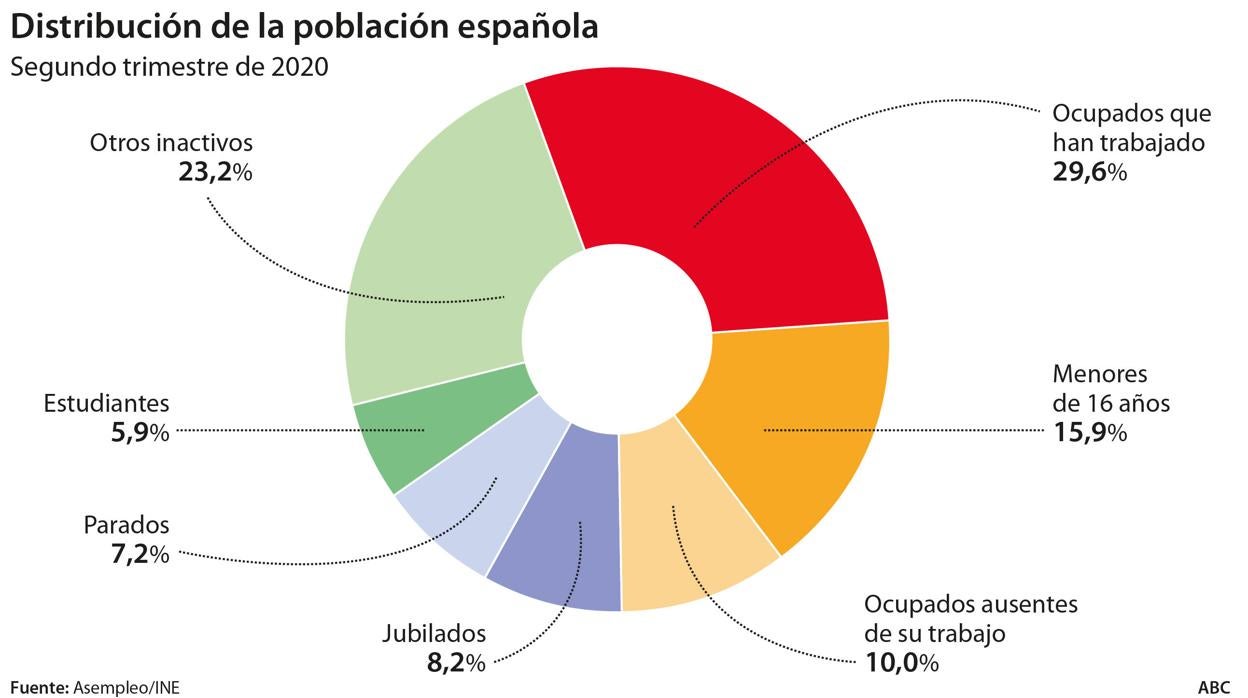 Madrid
Updated:
save

Never before, since data are available, have there been so few people working in Spain. In the second quarter of this year, only 13.9 million employed persons worked effectively, which represents 29.6% of the Spanish population. That is, 70.4% of Spaniards depend directly and indirectly on the income generated by that 29.6% of the working population, according to the latest Unemployment bulletin based on data from the Active Population Survey (EPA).
This data exceeds that registered in the third quarter of 2013, the lowest point of the previous economic crisis, when only 31.4% of Spaniards worked effectively.
The document explains that this situation was due to the increase in employed persons absent from their usual job, the inactive and the unemployed.
Busy people absent from their job reached 4.7 million people in the second quarter, which is three times more than at this point last year, according to Asempleo. The main increase in this group has occurred among those employed who allege economic or employment reasons to justify their absence. These 3.4 million employed persons correspond entirely to those affected for an ERTE due to confinement measures. To obtain a historical comparison, it should be noted that this group had never exceeded 60,000 people in any second quarter since 2013.
On the other hand, the number of employed persons absent from their usual job for a temporary disability (disease) has grown by 53% compared to the same period of 2019, reaching historical highs. The increase in health problems in Spaniards may be due to the incidence of Covid-19.
Another of the groups of workers that has increased between April and June is that of the inactive. There are currently in Spain 17.6 million people of working age who are neither employed nor actively looking for a job. One part is made up of 4.3 million people who have never worked, where students over 16 years of age (2.8 million) are integrated. The bulk of the inactive, however, is made up of those who have worked before, but left their job more than a year ago. This last group has increased in that period by 3.5% compared to the same quarter of last year.
However, the type of inactive that has grown the most in the second quarter due to the pandemic is those who have worked at some point in the last year. This group has increased by 11.5% compared to the same period last year, reaching 10.8 million, a historical record.
This phenomenon is largely due to those unemployed or employed who lost their job in the second quarter and have experienced serious difficulties finding a jobEither because the employment offices were closed or because the expectations of finding a job in the current context were minimal.
Thus, if they have not been actively seeking employment, they could not be classified as unemployed, and have gone into inactivity, explains Asempleo.
This situation has been especially relevant among workers who were previously employed in commerce or hospitality (400,000 more compared to the same period in 2019).
Difficulties in seeking and finding employment have meant that during the worst quarter for the Spanish labor market since data are available, unemployment has barely increased by 4.3% in year-on-year terms.