only one in ten will hire in 2020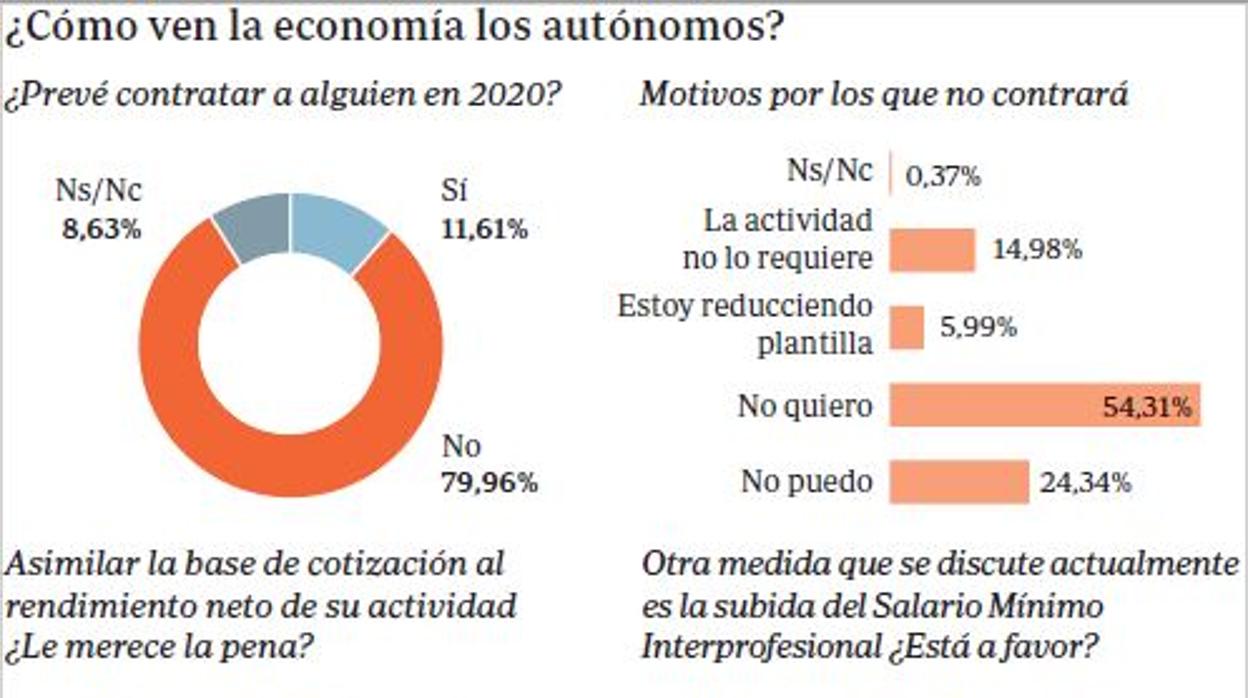 Updated:
save

The self-employed foresee a more complicated 2020 than 2019. Above all, for the socioeconomic uncertainty which has been established in the country. According to the barometer presented yesterday by the National Federation of Autonomous Workers (ATA), prepared from 1,212 surveys, only 11% of self-employed workers are planning to hire staff this year. On the other hand, 79.76% do not consider expanding their workforce.
In addition, 32.81% say they may have to fire a worker. A pessimism that extends to the valuation of the evolution of the business: 49.26% say it goes worse than in previous years and only 12.68% believe it is going better. Overall, almost 86% of the self-employed surveyed believe that the economy will continue at a downward pace, compared to almost 7.4% who think not.
"It shows that the level of confidence in the self-employed has fallen," said ATA President Lorenzo Amor yesterday, after ensuring that if "stability, moderation and the possibility of building confidence come back, the self-employed will evidently hire as they have always done. ».
The impact of the SMI
The barometer also investigates the position of the collective regarding the measures that the Government handles in labor matters. The most worrying is a hypothetical rise in the Minimum Interprofessional Salary (SMI): 64.67% of self-employed workers are against this measure, compared to the 19% that approves it. Also, 69% believe that the increase in SMI will have a negative impact on their business.
Although the study does not offer data disaggregated by communities, Amor advanced yesterday that the position of the self-employed regarding the SMI vary depending on the territory. "The same is not the opinion in Madrid than in Andalusia," said the president of ATA, thus referring to the wage disparities that exist in Spain. Despite these differences, the position of the group is categorical: "The rise of the SMI is not only a problem for employers: it also affects families, pensioners and workers," explained Amor yesterday.
More doubts exist regarding the adequacy of the contribution base of these workers to the income they receive. The report reflects that 45% of the group is favorable to this measure and 43% rejects it. Of course, 65.47% would be willing to increase your contribution base If the Social Security fee is a deductible expense of the company and not of the self-employed person. Likewise, the possible extension of the flat rate also generates debate within the collective, according to the barometer published by ATA. The measure is considered a useful or very useful by two out of three self-employed (63.91%), while 36.09% believe it is not a good measure.