only 9% of the contracts signed in July were permanent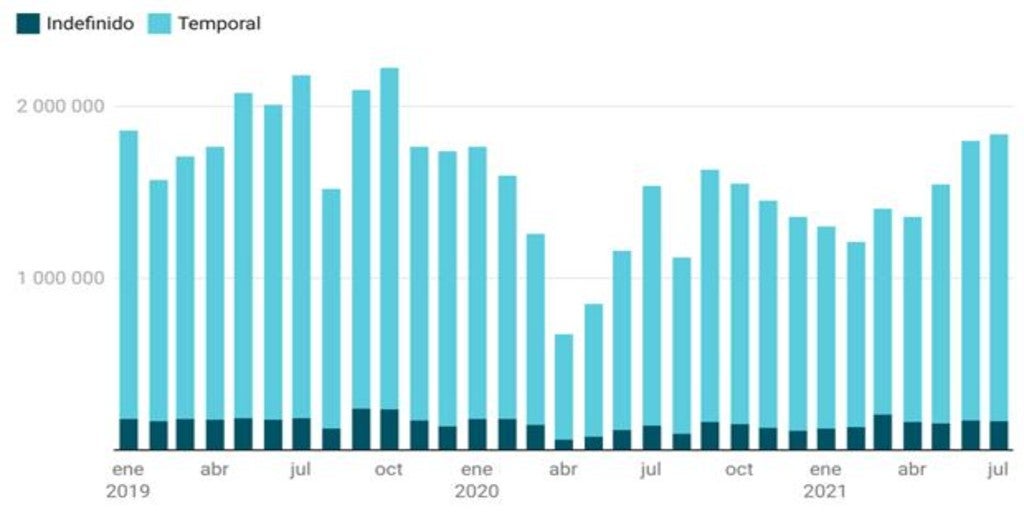 Madrid
Updated:
Keep

The summer season has given a strong boost to the decrease in registered unemployment in the offices of the Public Employment Service (SEPE) during the month of July, which has ended with a sharp decrease in 197,841 people (104,891 women and 92,950 men). The best figure in the historical series and that exceeds the record declines of May and June. However, this 'employment wave' hides a disturbing fact: the high temporality. Of the 1,838,250 contracts signed in July, only 165,000 contracts were permanent (9% of the total). All this, despite the fact that hiring has grown by 302,128 contracts in the last 12 months (+ 19.67%) and that in the accumulated of the first seven months of 2021, 1,457,270 contracts have already been signed, more than 1 , 6 million than the same period last year.
Permanent contracts are divided according to the length of the day: only 101,178 were full time for 64,322 part-time. So far this year, permanent full-time contracts have totaled 699,481 compared to 422,926 of those of part time.
Compared to July 2020, permanent contracts have hardly meant an increase of 24,395 contracts more (+ 17.29%) although, in the accumulated of the first seven months of 2021, the growth has been 228,611 permanent contracts more (25.58%) compared to the same period of the previous year.
Almost all the remaining contracts were temporary, 1,672,750, although these are divided into several categories: 13,880 have been for formative character and of the remaining 1,658,870 corresponded to other variants. 28.96% of the latter group has been eventual contracts due to production circumstances – 532,313 full-time contracts – 23.33% of specific work or service (428,797 full-time contracts as well) and the temporary part-time contracts have accounted for 33.2% (611,309 contracts).