Only 8% of Canarians at risk of poverty receive vital income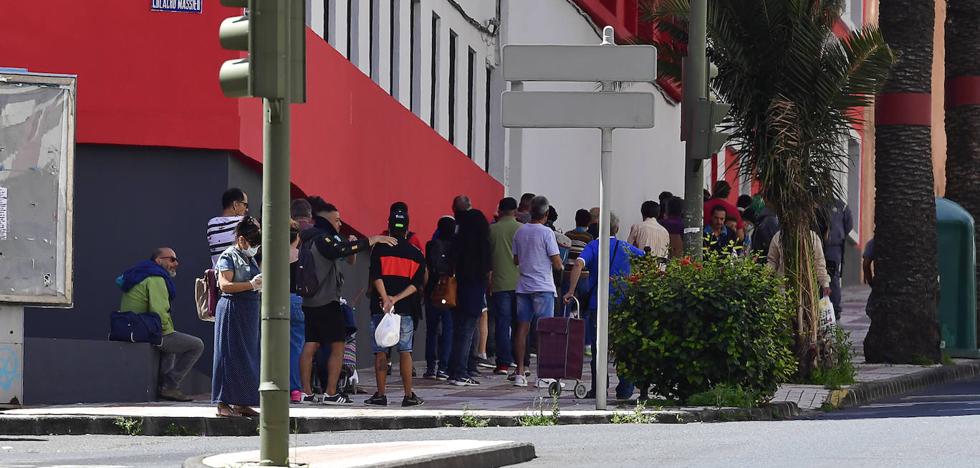 The archipelago is the second community that receives fewer benefits although it has the highest rate of poor population, 28%
Of the almost 2.2 million inhabitants of the Canary Islands,
608,424 (28%) are at risk of poverty. However, only 50,108 of these people are covered by the minimum vital income (IMV), which represents 8.24%, according to data made public yesterday by the
Association of Directors and Managers in Social Services of Spain.
This circumstance occurs despite the fact that the archipelago registers the
highest poverty rates in all of Spain along with Extremadura, which exceeds it by one tenth.
On the contrary, regarding
the IMV benefits you receive is the third lowestsecond only to
Balearics with 7.23%, although its poverty rate is 16.1%, and
Cataloniawhich with a percentage of poverty of 15% has a coverage of 7.83%.
The
The Basque Country has 9% of people at risk of poverty and 22% of them receive this income and in
Navarra receives 28% of the 9.6% of the vulnerable populationwhich shows a very uneven distribution.
Poverty line

At the national level, the report of the Association of Directors and Managers in Social Services in Spain indicates that only
13.35% of the population below the poverty line throughout the country has benefited from vital income, that is, 1,176,187 people.
Of these, just over 500,000 are minors. In addition, 213,219 households receive the child support supplement.
The IMV reaches 461,788 households despite the fact that almost 1.9 million applications have been processed.
With these figures, it is verified that the minimum vital income reaches only half of the expected beneficiaries (51%), still
there are more than 1,100,000 to be incorporated into the IMV to reach the goal of 2,300,000 people planned by the Government at the beginning of its implementation.
tails of hunger

The Association of Directors and Managers in Social Services stresses that the Government "barely" reaches half of the goal that in a few months,
the minimum income would reach 800,000 families who live in extreme poverty.
While, they point out,
"hunger queues should shame rulers" and "the continuous denunciation of the Government's inexperience in managing the vaccine against poverty", which is the IMV, should be news.
It also indicates that since March 111,000 people have joined the benefit, which shows that
the pace has slowed compared to the previous quarter. It went from an average of
80,000 new recipients per month between January and March to 37,000 between March and June.