Onionlab: rebuild reality | Innovation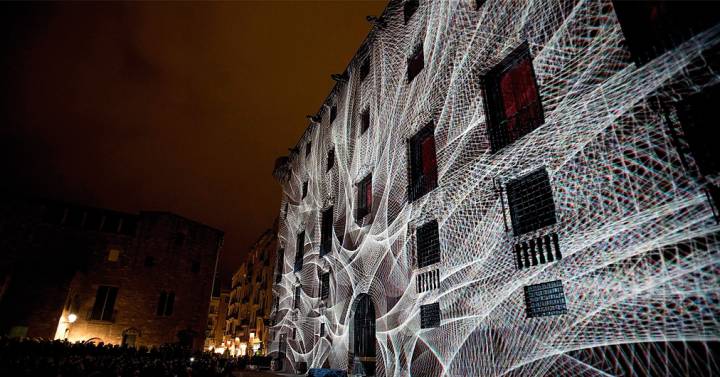 Last December, the facade of the Prado Museum was deconstructed before the eyes of hundreds of spectators. But we must not fear for the state of one of the most important art galleries in the world: what happened was part of the video mapping show created by Onionlab, a Barcelona studio specialized in this technique that uses large architectural surfaces to project fascinating images that simulate actions in three dimensions.
Aleix Fernández, the co-founder with Jordi Pont of this adventure, began exploring this field when here he barely knew exactly what it was. "It all started a bit by chance, we both studied multimedia engineering and had an important technical base," he says.
"We were linked to creative scenes, making visuals for clubs and concerts, and we took advantage of our technical knowledge to create. We wanted to use technology to express, to communicate and generate content for creative industries. "
They were, as he confesses, in the right place at the right time. "It seemed to people that what we were doing was a bit out of the norm. We were the first to use software to create live videos, and we started to generate 3D content. Then this technology dropped a lot in price, digital art began to become popular and light festivals began to take place. "
Precisely in one of these events, the Geneva Signal Festival, they presented one of their best known works, Evolució, which they later recreated in other architectural spaces such as the facade of the church of Santa Ludmila in Prague.
"We started developing projects that could be reproduced more than once, and adapted to different facades," explains Aleix, who also highlights the special characteristics of a technique that has its own language. "The mapping does not have a narrative format, it does not have dialogues or plane changes. It is very spectacular, although the challenge is to capture the attention of the public for as long as possible. "
But onionlab they also work with other techniques: among their upcoming projects is the exhibition design of the Spanish pavilion at the Dubai Expo and immersive virtual reality installations, such as the experience they have recently presented at the Sónar festival in Barcelona.
. (tagsToTranslate) onionlab (t) reconstruct (t) reality (t) be (t) study (t) from Barcelona (t) specialize (t) videomapping (t) technique (t) use (t) large (t) surface ( t) architectural (t) architectural (t) project (t) fascinating (t) image (t) simulate (t) action (t) three (t) dimension



Source link