One year of the euthanasia law in the Canary Islands: «My mother died happy, for her and for saving three lives»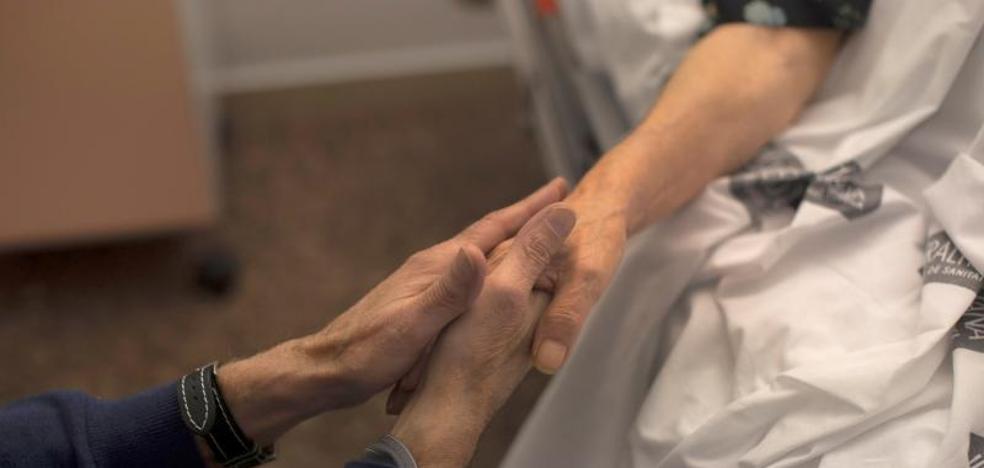 euthanasia
Mercedes is one of eight people who have been helped to die on the islands. She did it in a hospital so she could donate her organs.
Before dying, Mercedes had the churros with chocolate that she had ordered the day before for breakfast amid laughter and the love of her children. She also shared that unique moment the doctor, the nurse and the psychologist who accompanied her
in the process of two and a half months from when he requested euthanasia until he exercised his recognized right one morning at the end of April at the José Molina Orosa hospital in Lanzarote.
He knew the date of his death, which he decided to delay for two weeks despite his deterioration in order to donate his organs.
She left "super calm and happy, for her and because she was going to be able to save three lives"relates her daughter Claudia excitedly, who wants to tell her experience of living euthanasia so closely to "honor" her mother and her courage.
Also to defend a law that
allows those who face the end of their life with a horizon of suffering to die with dignity for an incurable disease and recognize the role, both health and emotional, of the professional team that traveled this path with her.
A year ago today the euthanasia law came into force in Spain and
Mercedes is one of the eight people who have received her in the Canary Islands. In his case, in order to donate his organs, he died in the hospital, but normally people choose to do it at home, decide with whom, how, when.
People of legal age who suffer from a serious and incurable illness or a chronic and disabling condition that causes "intolerable physical or mental suffering" without the possibility of cure or improvement can benefit from this right, says the law. Mercedes is one of six people with neurodegenerative diseases who have received medical help to die in the archipelago. The other two suffered from terminal cancer.
"He went from being an autonomous person to being totally dependent, he couldn't do anything, and
her perspective was to live suffering bedridden», says her daughter, who does not hide the doubts that arose when her mother told her that she had requested euthanasia.
"He made the request and did not tell us anything, when I found out I was very angry," he says. That was at the end of January and in the following days until that April morning in the hospital she went through all the phases of mourning until the acceptance of a free decision of a special and very vital person.
"My mother had no other way out than to suffer,
his disease had no treatment, only patches and patches to prevent pain", bill. She decided that she did not want to die like this and, after the scrupulous process established by law, the Guarantees and Evaluation Commission, made up of five medical professionals, two nursing professionals and five lawyers, recognized her right to receive euthanasia. She was a genius and figure until the end of it, when she found out she called the people close to her to tell them the day she was going to die, "like that, without hot cloths".
Claudia only has words of gratitude for the geriatrician Javier Alonso, the nurse Sara Fernández and her mother's psychologist, Silvia Camino, for their constant support. "They always gave us, with the greatest respect, a sanitary and emotional support until the day of her death, and today we continue to maintain that bond," she says.
"Incredible Peace"

«When Javier Alonso proposed to me if I wanted to be the nurse responsible for the Mercedes case
My legs were shaking, but now I can say that it is the most memorable thing I have experienced in my 13 years in the profession», also tells excited Sara González. This health worker recounts the contradictory feelings that she has felt when helping her patient to die, "a mixture of pain and feeling alive, an incredible peace".
More words for a moment that has made her advance as a nurse and person: laughter and tears, emotionality, intimacy, dignity, feeling useful, helping people as a health worker at a crucial stage of their lives, contributing to fulfilling a recognized right.
The nurse understands the fears that colleagues in the profession may feel when facing a case like this, but as a healthcare provider she defends the need to respect that individual right established by law, to which the healthcare system is obliged to respond so as not to prolong the suffering of those who ask for help. And always as an act of life.
19 open files

In one year in the Canary Islands, 19 files have been opened on people who have requested euthanasia. "From minute one of the approval of the law we have tried to create the mechanisms to give an agile and rapid response" to these patients, says Elizabeth Hernández, general director of Assistance Programs of the Canary Islands Health Service (SCS). Only one case has been rejected, two people died before receiving help and in others there have been discrepancies between the doctors responsible for the cases and the consultants, which have to be resolved. The health company highlights the "impressive commitment" of the Guarantees and Evaluation Commission, which has the last word to accept euthanasia or not, as well as the doctors who directly take patients. Giving an answer to the applicants within the terms established by law, just over 40 days, is one of the objectives of the SCS, which will launch a "complete" training plan to resolve doubts and give all the advice to the health personnel.
Six women and two men have received euthanasia in the Canary Islands in the year the law is in force. Of these eight people, six suffered from neurodegenerative diseases and two from terminal cancer. The youngest patient who has received help to die in the Canary Islands was 40 years old and the oldest, 80, although the majority were between 60 and 69 years old. Three euthanasias were carried out in 2021 and five this year.
149 health objectors
On the islands, 149 health professionals, including medical staff, nurses and hospital pharmacists, have declared themselves conscientious objectors to the euthanasia law, which represents less than 0.8% of all these categories. The list managed by the Canary Islands Health Service is confidential and with restricted access, for the exclusive use of hospital directors with the aim of correctly managing the right to aid in dying.