One million undecided have been vaccinated since last October 1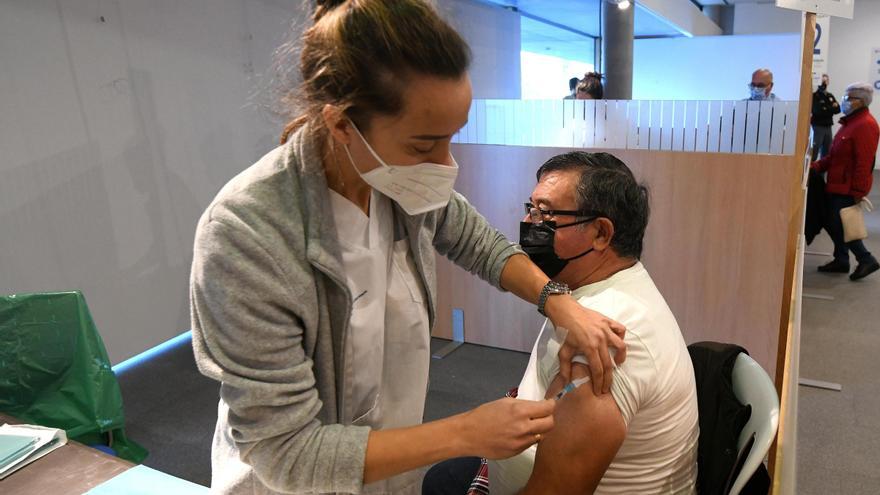 The vaccination campaign has managed to attract half a million undecided since last October 1, although there are still 3.9 million people in Spain who have not received any puncture of the antidote against covid.
This is clear from the daily reports of the Ministry of Health, which continues to call on citizens to get vaccinated against the coronavirus in the face of the increase in infections, which has led several autonomous communities to put on the table the implantation of covid passport in different activities, from nightlife to hospital visits.
Thus, 38,209,702 Spaniards have at least one dose of the vaccine, and of them, 37,519,860 (79.1% of the entire population) have completed the guideline. In terms of the target population, that is, those over 12 years of age, this data represents that 89.1% of Spaniards already have immunity.
On October 1, the process had been completed by the 77.2% of the total population, and a total of 37,680,085 citizens had inoculated at least one dose (79.4% of the population).
This means that 3,910,125 people, out of 47.3 million Spaniards, do not have any dose, and that since last October 1, half a million have been vaccinated – or at least the process has started – so far undecided. Most of the unvaccinated are between 20 and 49 years old.
The Minister of Health, Carolina Darias, has insisted on the importance of continuing to "attract" this group so that they can protect themselves from the virus after pointing out that around 60 percent of those admitted to intensive care units are patients who had not done so.
So the campaign continues, and in fact in Catalonia there has been a slight buoyancy, especially in the most lagging group (20 to 34 years) with 4,000 more punctures this week compared to the previous, once the possible extension of the covid certificate – now in force in nightlife – is on the table to other sectors, as the Government has warned.
In the Valencian Community, the Minister of Health, Ana Barceló, recently explained that some 50,000 citizens have declared "openly" to the Ministry "that they do not want to be vaccinated and that they do not want to receive any more messages "from the Generalitat inviting them to get any of the vaccines against covid-19.
According to the councilor, the age group from 29 to 39 years is the one that "fails the most" in community vaccination, although the reasons are unknown.
The Valencian government is one of those that is studying when and where implant the covid passport, before requesting judicial endorsement.
This European certificate is also pending in Aragon, Navarra and the Basque Country, once the justice has endorsed it in Galicia for visits to hospitals, which is added to the one that was in force in this community for nightlife.