One dead and 17 injured at a festival in Valencia when part of the stage fell due to the wind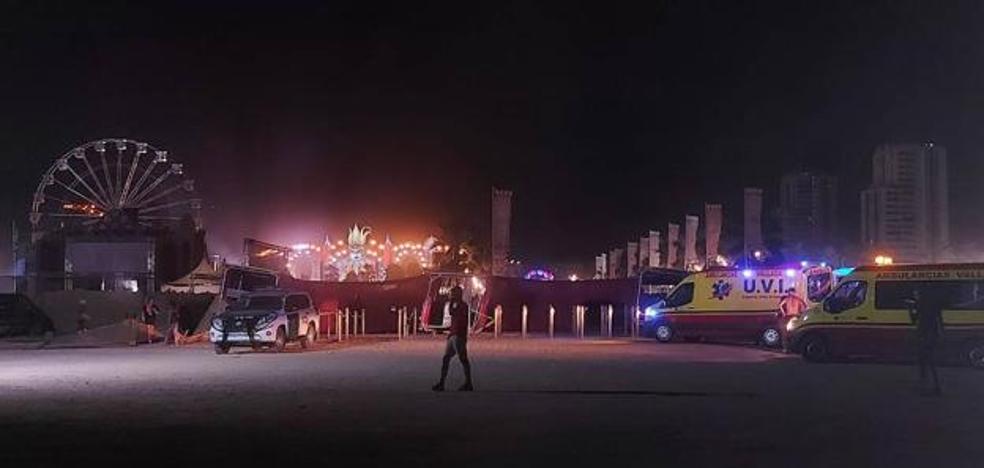 The organization has announced through a statement that the Medusa Sunbeach Festival has been canceled
One person has died and 17 more have been injured of varying degrees, three of them with serious polytrauma, when part of the stage of the Medusa Sunbeach Festival, which is held in Cullera (Valencia), collapsed as a result of a strong gust of wind.
The incident has been registered osbre the 4.18 hours of the dawn of this Saturday. The CICU (Emergency Information and Coordination Center) has reported that the accident has caused the death of a 28-year-old person, three injured with polytrauma (transferred to the hospitals of La Fe, La Ribera and Gandía), fourteen injured with bruises minor (transferred to La Fe, La Ribera and Clínic) and 40 people evacuated.
The organization of the festival has confirmed in a statement that due to inclement weather its activity has been temporarily suspended.
The Medusa Festival site has been evacuated as a "preventive measure" to facilitate the work of the emergency and security services. Civil Guard is in place of the incident collecting more data about what happened.
As explained by AEMET through its Twitter account, tonight there have been hot blowouts with very strong gusts of wind and sudden rises in temperature. "The atmospheric profiles that give rise to hot bursts are all very similar. They are said to be onion-shaped boreholes, with relatively cool, moist air next to the ground and an extremely dry, warm layer a few hundred meters above," they explain.