Oliva opens the burning chapel of Brines and pays tribute to her favorite son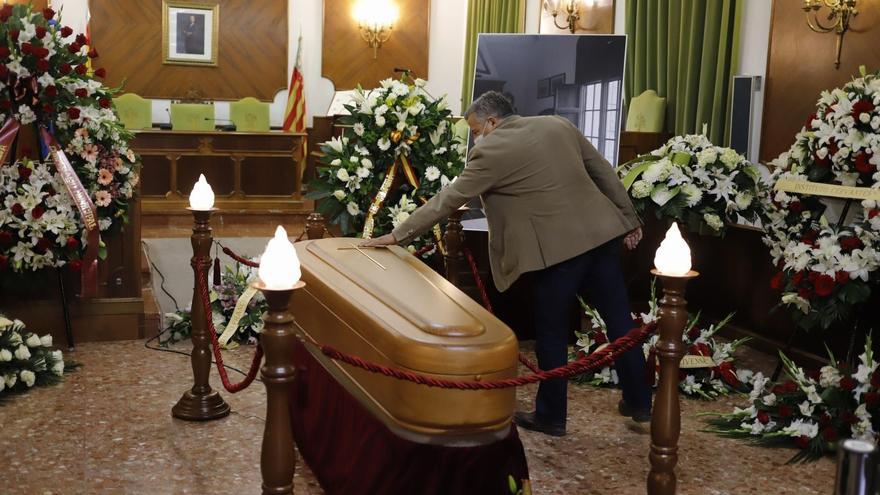 The Oliva City Council has opened this Saturday, shortly after 10:00 hours, the burning chapel with the mortal remains of the poet Francisco Brines, a native of this Valencian municipality, which He passed away on Thursday at the age of 89.
The casket has been installed in the plenary hall to receive the tribute from the neighbors from the municipality, to which the writer moved 25 years ago, to the Elca family estate, now the headquarters of the foundation that bears his name and which will manage his legacy.
Francisco Brines entered a week ago, a day after receiving the 2020 Cervantes Prize from the kings at his residence in Elca, at the Gandia hospital to be operated on for a hernia. The writer passed away Thursday night by complicating his delicate state of health, which already prevented him from collecting the highest award for Hispanic literature on April 23 at the headquarters of the Instituto Cervantes in Alcalá de Henares (Madrid).
The municipality of Oliva decreed three days of official mourning as a sign of mourning for the death of his favorite son and one of his most illustrious neighbors, academic of the Royal Spanish Academy (RAE) and awarded, among others, with the National Prize for Literature, the Reina Sofía Prize for Ibero-American Poetry, the International Poetry Prize Federico García Lorca and the National Prize for Critics.
Before the opening of the burning chapel, the most intimate friends and the members of the Francisco Brines Foundation have dismissed the writer with a emotional tribute in Elca, the place where he spent his childhood and that inspired many of his verses and where his legacy will now remain and will be disseminated, more than 30,000 volumes and fragments of Art History that the writer acquired throughout his life .
The Minister of Culture, the also Valencian José Manuel Rodríguez Uribes, plans to travel to Oliva at noon to visit the burning chapel of the poet, the last Cervantes Prize. The chapel will close its doors at 5:45 p.m. and at 6:00 p.m. a response will be held in the church of Santa María in the municipality, to which family members and those closest to you will come to the poet.
The coffin will be transferred on Sunday to the Golden Room of the Palau de la Generalitat de Valencia, where a burning chapel will be installed, which will remain open from 10:00 a.m. to 1:00 p.m. The Valencian Government has declared three days of official mourning in the Valencian Community for the death of the poet, the first Cervantes Prize for Valencian literature.
The writer will later be buried in the Valencia cemetery, where the family pantheon with the remains of his parents is located.