Olga Cerpa and Mestisay shine again on the first sunset of the year in Maspalomas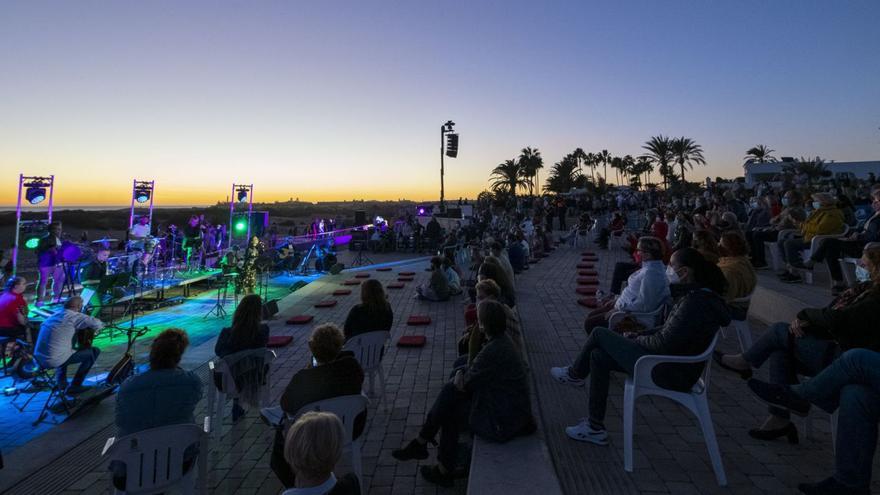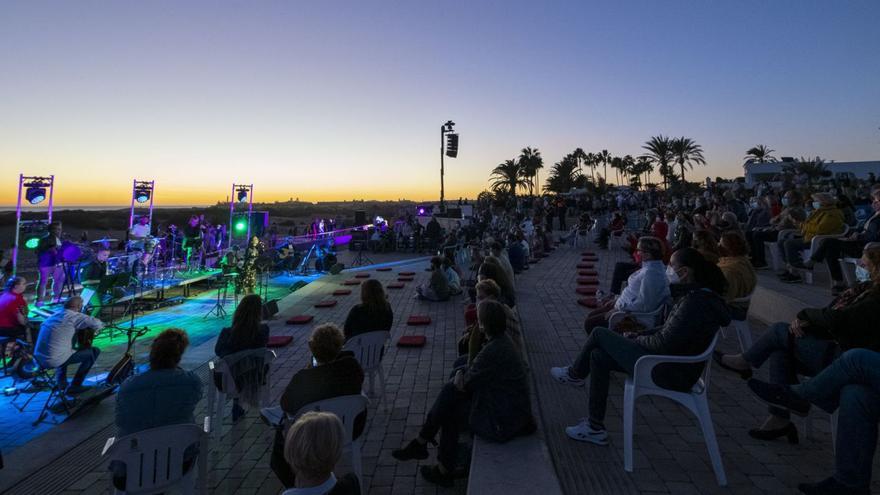 And there are already five. Olga Cerpa and Mestisay resumed the tradition of starting the year with a concert at sunset in the viewpoint of the Maspalomas dunes. The show has held out this year after last year's cancellation due to the coronavirus. On this occasion, despite the increase in cases in recent days, it has remained given its peculiarities: it is outdoors, in a very spacious place and with a reduced capacity that had about 200 people. They also gave up the visual spectacle that accompanies them to avoid crowds.
In an incomparable setting, with the Atlantic Ocean, the Maspalomas dunes and the Lighthouse around it, this concert is already a tradition at Christmas in Gran Canaria. An unmissable date on a date practically empty of cultural offerings on the island. And it does so in a watchword of Gran Canaria such as the dunes of Maspalomas and with one of the musical references in the Archipelago. The proposal gains weight over the years.
"That it has been possible to celebrate is the prelude that this year is going to be something more normal," celebrates Olga Cerpa, who had the idea together with her colleagues to start this adventure six years ago to fill what they considered a void. "It occurred to us because on January 1 there is nothing, there is a general melancholy, it seemed like Good Friday, there is nothing to do. We found the perfect place and also in the middle of the afternoon. It is the secret. That is why it has been growing, since the second year it was people from all over the island and it is a success, "he celebrates.
Olga Cerpa admits that last year was "one of the concerts that cost me the most to suspend." That is why this year they had between eyebrows to maintain their celebration. And they succeeded despite the limitations. The concert could also be seen on social networks in another of the gestures that were carried out to avoid crowds.
The appointment began with the interpretation of Luna de margarita, by Simón Díaz, which was reproduced with the fall of the first rays of the sun on a day that was also especially accompanied. The concert ended with Esa musiquita, "it is the best way to wish that this year is much better than the previous one."
In addition, the program was packed with other of the most popular songs of the Canarian band, which was made up of nine regular musicians from the Mestisay line-up, under the artistic direction of Manuel González and the musical by guitarist Pancho Delgado. They were Hirahi Afonso on timple, percussionists Jonnhy Olivares, Antonio Montesdeoca and Totó Noriega, bassist Jaime del Pino, Jairo Cabrera on horns and wood and keyboardist Juan Carlos Sierra.