Olga Cerpa and Mestisay say that they are censored in Maspalomas for their support for Salvar Chira-Soria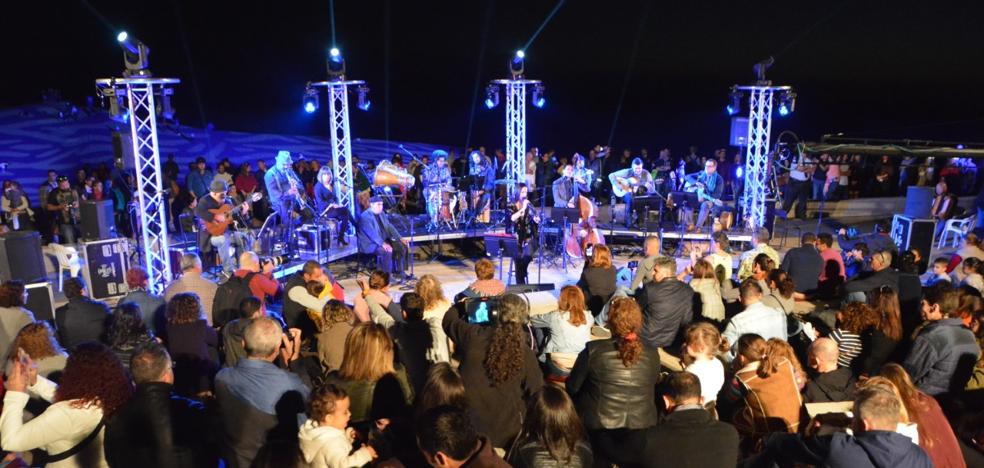 song
The artists denounce in a statement that the San Bartolomé City Council does not support the concert on January 1, next to the Dunes
Olga Cerpa and Mestisay
issued a statement on Tuesday in which he assures that
the Department of Culture of the City Council of San Bartolomé de Tirajana
the "censorship" for their support of the Salvar Chira-Soria platform by not responding to them for the celebration of the
concert that since 2017 star in
the viewpoint next to the Dunes of Maspalomas.
«During the last four months we have tried to contact the Department of Culture of the San Bartolomé de Tirajana City Council through various means to activate their collaboration in the annual event, obtaining silence as a response.
Already in the last call, tensions began to arise with the councilor responsible for said area in that municipality, Elena Espino, belonging to the Nueva Canarias political party; We are aware that they were problems -after receiving instructions from the councilor from the leadership of her party in GC, as she herself commented to our representative at the time of her-, derived from
our well-known public commitment to the Salvar Chira-Soria Citizen Platform», explains a text signed by Manuel González, Olga Cerpa and Antonio Montesdeoca.
Image by Olga Cerpa and Mestisay. /

C7

They emphasize that "weeks later, realizing that the real reasons for her possible suspension were very uncomfortable to defend publicly, she would be the one to change her arguments and argue that the problem was one of the budget; Our response was that we would be able to finance it in its entirety -as it happened, when the councilor was left without arguments of a certain respectability, without the San Bartolomé City Council having to give us a single euro for it-, in such a way that said councilor was forced to collaborate in its celebration.
Likewise, this year we had already obtained public and private financing from outside the municipality where the».
The group also points out that "finally, indirectly, we have learned that on the part of that aforementioned department of that consistory
a concert is being organized on January 1, in the same place and at the same time; obviously it will not be us, who devised and created it, who will act there». They emphasize that "apart from the lack of respect for the moral right that assists us (understood that not in reference to being hired but to being owners of an idea and a concept of production that uses a public space for its celebration; therefore, it is required an official explanation given the refusal to cede us that public square) it is abundantly clear that
the goal was from the beginning of the problems to get out of the way».
«We must add that throughout more than three decades of professional career we have almost never suffered censorship of this type over our artistic activity; It is true that there have been previous and more secretly concocted ones. But never, until now, have they expressed themselves so directly, in an attempt to intimidate us and harm our livelihood and that of our musicians.
It is a very typical example of what has been called social cancellation: Thus, the power of a public institution is used in a partisan manner to exercise unfair coercion over our right as citizens to express ourselves freely and democratically around an issue -the announced construction of a mega power plant in a ravine on our island- that It should worry all the people of Gran Canaria due to its harmful effects on the recognized environmental values ​​of this unique place", they point out.
«And it is that
something very serious is happening in this society of ours, which normally assumes behaviors -of people in charge of public institutions- who persecute whoever is a dissident of what is established as politically correct. Needless to say, it is very unpleasant to make these facts publicly known; We do so obliged to make the real reasons for this cancellation known to the public that has accompanied us at that event during these years, "they add in a text in which
They appreciate the support of the previous government group of the San Bartolomé City Council and the technicians and officials who participated in the previous concerts.
«
We are already working to be able to locate the event in another place in Gran Canaria and we will announce it shortly, so that all the friends who have accompanied us year after year can share it with us if they feel like it. Because we are sure that music and culture will finally fly over all adversities", they conclude in the statement that
Olga Cerpa, Manuel González and Antonio Montesdeoca (Mestisay) sign.