Olena Zelenska: "I beg Spain and the whole world to give us arms"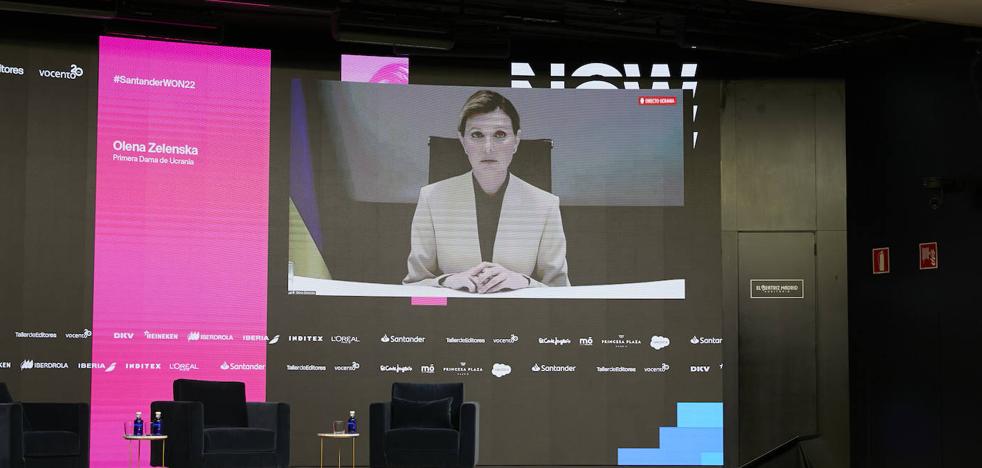 Santander Women NOW
The First Lady of Ukraine opens Santander Women Now with a political and desperate speech. She called for entry into the European Union and military equipment for the "heroic women" who fight on the front lines
The first lady of Ukraine was connected live at 9:30 a.m. with Madrid. Behind a desk, with the blue and yellow flag to one side, Olena Zelenska opened Santander Women Now with a tough and combative speech. Also desperate. "At this very moment that I pronounce these words, the city of Severodonetsk continues to be destroyed by the Russians," she reminded the public, who received her with long applause, and thanked the Spanish role in welcoming refugees: "When contemplating Guernica I see Mariúpol destroyed and the inhabitants of Bucha murdered", said who introduced herself as the "ambassador of all Ukrainian women, whose lives and families have been broken by aggression, but who do not give up".
With the projection of images of four women who maintain their courage under attack (an amputee recovering in a hospital, a teacher in arms in the Donbas, a pediatrician from Kharkiv and an old woman trying to rebuild her house near kyiv) Zelenska He asked for weapons because "evil has come to the home of Ukrainian women," he said.
"Although this is not the role of a first lady, today for the first time I ask Spain and the whole world to give us arms, to protect us," Zelenska continued. Every day without weapons means more death for us. There are about 37,000 women in our army. Should these heroic women fight unarmed against the enemy? Will they have something to stop him?
Zelenska also called for her country to join the European Union. "In a few days an event will take place that may decide the fate of this terribly aggressive war." Europe, she said, must understand that "war does not happen behind a wall, it is not something that happens to the neighbor."
"We fight for the right to freedom and independence. We do not want to be with you as refugees, but as a related and ally country. We have the essential component to belong to the European Union, which is to make the value of human life prevail over everything else", he maintained in the forum that has the support of Banco Santander as Global Partner, the sponsorship of DKV, Heineken, Iberdrola, Iberia, Inditex, L'Oréal Paris and the collaboration of El Corte Inglés, Hotel Princesa Plaza Madrid, Multiópticas and Salesforce. His serious face relaxed only briefly at the end. She almost smiled and put her hand to her heart to conclude, "Thank you."