Oldest known iron sword recovered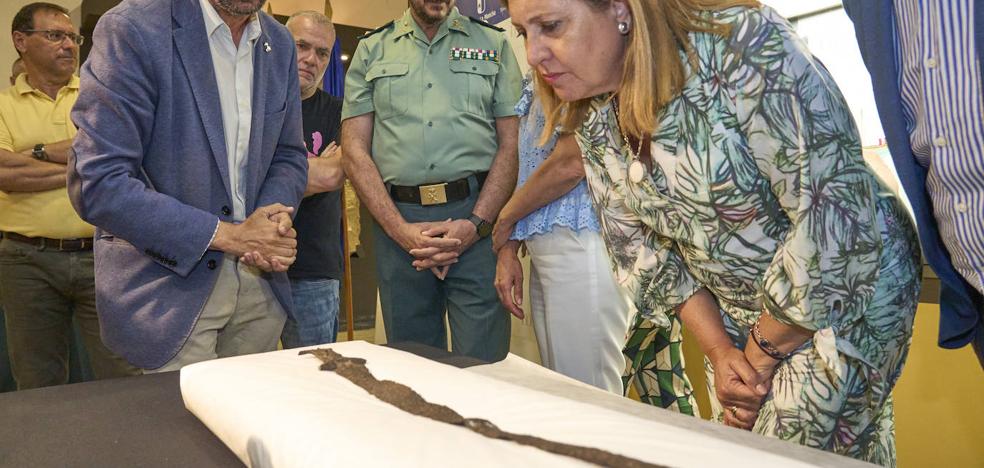 It is dated to the 7th century BC and was going to be auctioned on the Internet
The Provincial Museum of Ciudad Real already exhibits among its funds a jewel of Spanish military history: the oldest iron sword known to date, made with the wrought iron technique in the seventh century before Christ, in full transition between the Bronze Age and the Iron Age.
The sword was located by the Civil Guard last December as part of the 'Pandora' operation to combat illicit trafficking in cultural property on the Internet, the plundering of archaeological heritage and the reception of stolen or looted works of art. The agents discovered an advertisement on a web page that had been published from the town of Villanueva de la Fuente (Ciudad Real) in which an alleged Roman sword was being sold for an initial price of 1,200 euros. Due to its characteristics, the weapon was very similar to a mold for making swords, unique in the world, which appeared in Ronda (Málaga) in 1983.
The Civil Guard then contacted the seller to verify the authenticity and age of the sword and he voluntarily agreed to deliver the weapon for his expert opinion. Technicians from the Ministry of Culture of the Junta de Castilla-La Mancha were in charge of its analysis and confirmed that it was an exceptional and unique piece that, surely, had been looted from a tomb since it must have been buried next to the body of its owner warrior. Quite a rarity for its time and, furthermore, it is in a good state of preservation and complete, although only the handle is missing.
Unique design

According to the technicians of the Ministry of Culture, the piece is also unique because of its design -ancient for its time- perhaps because its owner commissioned the blacksmith to make a sword with the new metal discovered -iron- but in the style of weapons used by their ancestors. Thus, the result was an iron sword that was too long for its time, since shorter bladed weapons were then used for hand-to-hand combat.
The sword has been handed over to the Provincial Museum of Ciudad Real in an act in which the Government delegate in Castilla-La Mancha, Francisco Tierraseca, stressed that "the conception regarding archaeological pieces is changing because, although there is an illicit market which makes good use of the Internet, it is a fact that donations to cultural institutions are increasing so that the population as a whole can enjoy a heritage that belongs to the entire community». The Government delegate also recognized that the Culture technicians and the Civil Guard agents have carried out "coordinated, silent, prudent and effective" work so that the existence of this sword does not transcend until its analysis and transfer. to the Provincial Museum of Ciudad Real where it already occupies a preferential place.