Official: Yosvany Hernández signs with Guaguas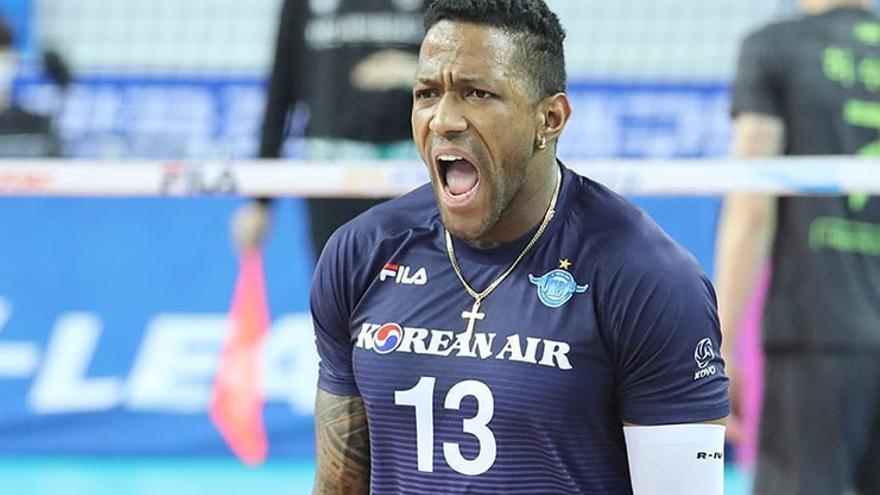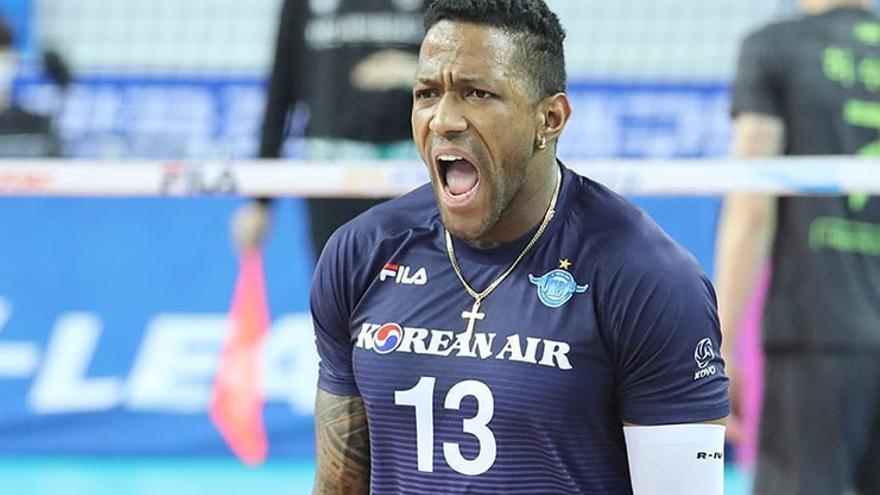 Hernández, trained as an elite athlete in his native Cuba, Yosvany made the leap to Europe in the 2013-2014 season under the guidance of Belarusian Stroitel Minsk, starting a successful sporting career in some of the best volleyball leagues in the world. have led to defend the colors of Al-Hilal VC (Saudi Arabia, 2014 - 2015), Jakarta Pertamina Energi (Indonesia, 2015 - 2016), Talalea El-Geish (Egypt, 2016 - 2017), Baniyas VC (United Arab Emirates, 2017 - 2018), Ansan Ok Savings Bank Rush & Cash (South Korea, 2018 - 2019)), Hyundai Capital Skywalkers (South Korea, 2019 - 2020), Haliliye Belediye Spor (Turkey, 2020 - 2021) and finally the Korean Air Jumbos ( South Korea, 2020 - 2021).
His record includes a Korean V-League, two Belarusian Leagues, 2 Belarusian Cups, an Egyptian Cup, a runner-up in the KOVO Cup, a runner-up in the Saudi Arabia Super League and a bronze in the Indonesian Proliga.
CV Guaguas incorporates a player capable of marking the differences in each game, with a serve that reaches 140 kilometers per hour and of finishing from any position thanks to his 2.01 meters of height. To his good reception and blocking, he also adds his winning character and his hunger to continue increasing his record defending the yellow elastic during the next two seasons with the option to extend his contract for one more season.
The one who was great captain of the Cuban National Team disembarks on the round island at the age of 29 with the intention of achieving the stability that he has lacked until now and helping to continue forging the legend of the new Guaguas.
Sergio Miguel Camarero's assessment
"It is another great signing that has been possible thanks to Juan Ruiz, because being able to bring two world figures of the stature of Escobar and Yosvany Hernández to CV Guaguas is not easy at all and is something that is already known throughout Europe and practically all over the world. "
"He is a very powerful player both in attack, reception, service and blocking."
"It will help us a lot when it comes to achieving our goals that beyond the league and the Cup we want to do a good job in Europe."
"As a coach, I am delighted with his arrival and being able to count on such a complete squad and with such good players, because the truth is that it makes the job much easier. The level of training is going to go up a lot."
"El Guaguas has taken a step forward because we have a powerful team to compete in Europe and achieve good results. Now we have to work with great enthusiasm and with great desire to do well, working every day, which is what in the end will give us the success".
Yosvany Hernández: "I am a humble player who always puts his heart and soul in every game"
The experience of playing in so many different countries
"It has given me the opportunity to get to know many different cultures and to learn more about this beautiful world in which we live."
"I am a person who has no difficulty adapting to new cultures and playing in different championships."
Your reasons for accepting the CV Guaguas offer
"It is a project that Juan Ruiz the president presented to me as very beautiful and the truth is that my jaw dropped because I will also finally be able to live with my family. My son will study in Spain and my wife will also be able to work there All these years that I have been playing in different countries they have never been able to follow me because of a language, especially, it was something complicated ".
"This project has enchanted me and the truth is that the most probable thing is that in the future I will also end up living in Las Palmas de Gran Canaria".
The opportunity to play the CEV Champions League
"What motivated me the most about the project is having the possibility of playing the Champions League, being able to show my quality in a competition in which I have not been able to do so to date.
Your impression of SVM
"I don't have much information about the Super League, but I have a strong mind to do great things in the Champions League."
The benefits for the team and for the club of being able to compete in the Champions League
"I think he can bring a lot of experience to the team and help the fans to love volleyball more, because playing in the Champions League is another level."
Your contribution to the team
"I am going to bring confidence to the team, I am going to work as hard as necessary and my teammates will be my family from now on."
Wanting to know the island
"I don't know anything at all yet, but I'm dying to get to know the island completely, from end to end."
"I am friends with Sulián Matienzo, with Nancy Carrillo and with Lisbet Arredondo. The truth is that I think I am going to have a great time, I am sure that I will love Gran Canaria and more because of our personality, that we like the climate warm, the good atmosphere, the good vibes between the people ".
Your knowledge about your new team's game
"I saw the statistics of the last games and some images on the club's Instagram".
His good feeling with Juan Ruiz
"Juan at all times has shown me a lot of appreciation and the truth is that in Korea they wanted to renew me and pay the fine to be able to free me from the contract with the Guaguas, but because of the appreciation that I took from the president, for his sincerity and for his words towards myself, I had no doubts in deciding to come to Las Palmas de Gran Canaria ".
His virtues as a player
"I am a fairly humble player. My friends and my manager always tell me that I am a beast, but I honestly do not see that, I consider myself a humble player who always puts his soul, his heart, in every game and in every training session. ".
His hobbies beyond the track
"I like being with my family, taking my son to the park and playing soccer."
"I don't live an eccentric life because it's not something I like."
"I like to watch movies, Netflix, play the Playstation at home, I like to live a very quiet life as if I were in a bubble."
Its objective
"My goal is to destroy everything, I don't like to lose."
"I come with everything and whoever gets in the way should take off (laughs)".
Message for your new hobby
"I would tell the fans that I will give everything from the first to the last day, in each training session, in the confidence of the team, in the physical and mental preparation, both on and off the field."
"Your support is always necessary, even at times when they could not go to see a game due to viruses."
"A big greeting to all of them, a love and see you very soon in the Guaguas".