Offended by fiction – La Provincia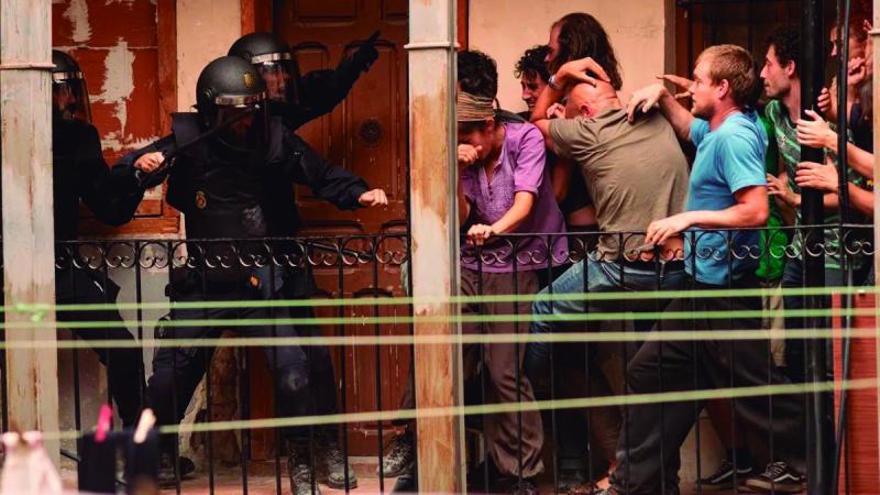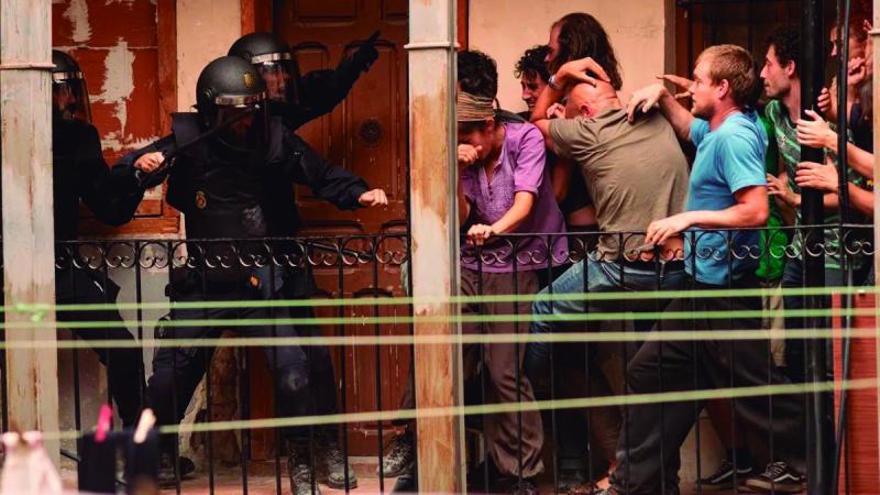 They are the series that everyone talks about: Homeland and Anti-riot. For better and for worse. Both have broken molds, the first when addressing an issue, that of ETA terrorism, until now practically unexplored in the series; and the second, for having the most controversial police force as the protagonist. In the case of the adaptation of Fernando Aramburu's best-selling novel, controversy splashed him even before its premiere, with a promotional poster that, according to his detractors, equated ETA victims with their executioners. The debate is in the street, and especially in the networks, with praise and also insults and disqualifications.
The scriptwriter and journalist Laura Jurado has followed the two series. "Riot control has gotten rave reviews, they said it was very addictive, and I wanted to see if it actually lived up to those expectations. And it is true that it hooks, I aired it in a single afternoon. It has a subplot related to evictions and tourist rentals that I think is very successful, a topic that had not yet been seen in Spain. I am more interested in that than seeing what a police unit is like from the inside, "he values ​​the series by Rodrigo Sorogoyen, harshly criticized by the police unions Jupol, SUP and CEP, considering that it contains" lies and clichés "and does not show the" real conditions "in which the agents work. "Honestly, I did not expect to be told that there is riot control with a Nobel Prize. That part, I insist, does not interest me. What worries me is ignorance. When the series about what happened in Chernobyl came out, many thought that what was told in it was what had actually happened. The duty of fiction is not to be a faithful and trustworthy portrait of reality ", emphasizes Jurado.
The same happens with Homeland. "As Aitor Gabilondo has said, Homeland cannot be considered the definitive account of what has happened in the Basque Country. I do not think that the author of the novel wanted to make the great thesis of the Basque conflict ", says the screenwriter.
"A series does not have to reflect reality and less that of some," says Rafa Gallego
The critic and playwright Rafa Gallego is not surprised by all the commotion. "Spain is spoiled forever, I don't think it's recoverable when it comes to freedom of expression and respect for creators. It is a country that still has many totalitarian traits. There are still many people, and many of them in the police forces, who have an undemocratic idea of ​​what society is. Creators must be allowed to create, and that's it. A series, a movie, a book, does not have to reflect reality, much less the reality that certain groups, such as the police, want ".
"In the end, criticisms like that are annoying because they interfere with your work, it is the noise that makes you waste time and energy, and surely conditions you for the next project. Imagine the director of that series or of any other that has received so many hosts, how he faces another process that has to be financed by a production company. We run the risk of self-censorship because noise, no matter how much we try to abstract ourselves, in the end ends up conditioning you, "adds Gallego. As an example of self-censorship, he puts La mort de Guillem, a film that focuses on the figure of Guillem Agulló, an 18-year-old anti-fascist and anti-racist boy, who was stabbed to death by an extreme right-wing group in 1993. he refused to play Guillem for fear of reprisals from neo-Nazi groups. There that thick fog appeared that often surrounds creators when they dare to do something different and that challenges the public ".
When a creator touches on a topic, let's say, uncomfortable, the focus is on it, immediately, and comments follow one another on the networks, of all kinds. "I see a lot of aggressiveness. Everyone is eager to express their opinion as if it were dogma. And creating debates would be interesting. The culture of hatred and aggressiveness has been imposed, leaving the creation of another to the ground ", laments the filmmaker Marga Meliá.
Two series that have broken molds, but the duty of fiction is not to be a faithful portrait of reality
The director of Dona, a short film with which she continues to be selected in festivals and exhibitions, suffered in her own flesh the scourge of the disqualifications of which she speaks, by a headline in the press: Women have always been told that we are quiet. "Most had not seen the short. He responded to that desire to argue. It was very heavy. Half were insults. If there was a debate. I ask for more calm, more arguments, for or against, because not everything is black or white. I see that they want to fight and anything turns them on. And that is quite dangerous, "he warns.
"It does not offend me that there are people who are offended by fictions, but I find it worrying," confesses writer Sebastián Alzamora. "This points towards a low educational level. If there is no clear distinction between what is fictitious and real, demagogic, false, lying and intoxicating discourses have the open path. It means that we start from a perception of reality that is not very consistent and little nuanced. At present we live in times of slogans and very visceral positions and very all black against all white, without any nuances, and that leads to confuse fiction with reality ".
"If a creator decides to break the deck and bet on a very radical discourse, I think he has to be totally free to do so. Readers will also be free to judge him and to accept that fiction or reject it. I am not in favor of limits, and less prior "", clarifies Alzamora.
"I do have limits, which are those that I set myself, which for me is unacceptable. I am not so concerned with external censorship as with my own. There are issues that you have to deal with in a fair way ", defends the documentary filmmaker Núria Abad.
"You don't have to set limits in an artistic work. When it comes to a show, we cannot expect it to rain to everyone's liking, and the viewer will always have the decision to see it or not to see it ", considers the filmmaker Bernardo Arzayus, concerned about the attacks on those who tell what they don't like in terms of fiction: "It's sick, but what else can come out of a sick society like ours".
"We live in times of slogans, and that leads to confuse fiction and reality," laments Alzamora
The same, or even worse, they are in the US. The HBO platform, the same one for which Patria has been produced, has withdrawn from its catalog Lo que el viento took, from 1946, "for offering an idealized vision of slavery and perpetuating racist stereotypes", something that, for him too filmmaker Alex Tejedor, it is "absurd". "What will be next? Will they put those who remain of Monty Phyton in jail for being irreverent? "After the controversy unleashed by the publication of the first poster of Patria for the alleged equality of victims and terrorists, HBO released a new trailer for the series that focused on the memory of the victims and the suffering of their families. |
"The police are hurt"
"The image that Riot Police gives of the police force is extremely violent, with very little empathy, and that hurts them, they feel outraged. Yes, it is a work of fiction, but it damages the image of the police ", assured Pablo Pérez, communication secretary of Jupol, the majority union within the National Police Force. "What bothers them the most is that Sorogoyen and his team have affirmed that they have been advised by the General Directorate of the Police. And we don't feel supported, at the moment. We are waiting for the words of both the Director General and the Minister of the Interior, for that reason of the advice. If the person who has advised Sorogoyen has done so to get that image out, it makes us think that there may be a hidden interest in discrediting these units, "says Pérez. | Gabi rhodes