Núria Espert: "The theater is a healer" | Babelia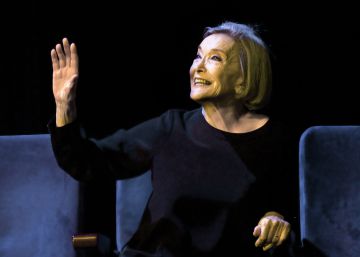 The coronavirus disaster caught Núria Espert Y Lluís Pasqual in full tour (and in full success) of Gypsy romance. In order not to return to the black cloud, the actress tells me "of the joy of traveling with Lorca and of the reception of the public." Public from Spain, Italy, South America. "We don't know when we will resume our functions. Everything is deeply uncertain. Like the same reception of the premiere ", he tells me. I tell him that I have seen very young people, for whom Lorca was a strange and distant reference, fascinated by the show. A girl commented to her partner: "I had neither seen nor heard such a thing." "We just couldn't imagine it," her friend told her. The actress laughs: "In the magazine companies there was before that advertisement that said 'Success has surprised the company itself.' It would have served us well too. As much Pasqual as my daughter Alicia as the co-producer, Julio Álvarez, as I myself thought that the Ballads Only an audience that already knew him would go to see him. We were wrong. Neither thought it would become so popular. There were many successes, such as when Pasqual decided to put my childhood memories in the foreground. They were things that produced great empathy. Then I remembered that in The Rape of Lucrecia I had already noticed a young audience in the room. And with him Ballads I noticed that echo again, that commotion ". It is enough to review his career to see that his sense of smell, his connection with young people, comes from afar: from the election of directors, he was soon able to do so. Name after name: Víctor García, Lluís Pasqual, Mario Gas, Miguel del Arco. Or unusual guest stars like Jorge Lavelli or Robert Lepage.
I ask him when his confidence in a director springs. Because of their ability to listen, because of a confluence of sensibilities? And I remind you of Del Arco's phrases: "He is not afraid of anything. He may doubt what you propose to him, but he always says: "Let's try it," and he launches. " "It's true," she replies, "and I'm glad it's true. Miguel must be the one who has given me the most notes. And I take them absolutely seriously, but many times the next day I do a horrible performance because I only think about the notes. I had not seen The function to be done, but what happened to Miguel was love at first sight. When he told me that Lucrecia seemed like a Tarantino movie, I thought: "This is my man." It drove me crazy, but he's a great director and a great theater man. And a person's heaven. Do you know something? I think that everyone who has talent is usually a person's heaven ".
Too bad there has never been a show with Del Arco. Not with Lepage. "With Miguel we are still looking for the material to get together. With Robert Lepage we had everything ready to do Mother Courage in the María Guerrero, but a part of the producers backed out at the last moment ". He has directed a lot of opera but, as far as I remember, little text. "I made three text montages: Bernarda Alba's house in English, in London, with Glenda Jackson and Joan Plowright; a Medea with Irene Papas, at the Grec, and Contredanse, by Francisco Ors, in Tokyo. But I don't like directing. Neither opera nor text. I don't put my heart there. As an actress I feel like I've done something, and I'm usually happy. At the opera I was only happy when it was over. " We are talking about an eternal theme: the differences between actors and actresses. He says to me: "May my colleagues forgive me, but I believe that we have better qualities to interpret. We are more moldable, we know how to put ourselves in danger. Actresses like risk, surprise and surprise us. It is paradoxical: a man is constantly asked to expose himself… to expose himself as a woman. " Flashes: "Difficulties of The Lear King? It is very difficult to shudder with that character. When you feel it close, the difficulty fades. And yet I didn't catch the Prosperous of The Tempest. But it was not Lavelli's fault: it was a casting mistake. "
The last time we saw each other he told me that there was a play by Wajdi Mouawad that was one of the few things that she wanted to do as an actress. "Is named Tous des oiseaux. It is as beautiful as Fires. Or more. It is a family where there is a grandmother, parents and children, all mature. And an absolutely universal conflict and message. I liked it madly. I have great hopes that this horror will end, and that we return as we can, because the theater is healing. In the hardest moments of my life I have taken refuge in his protection. I must first continue with the Ballads. And then I have to talk to Wajdi. There are some problems that I hope will be solved. I hope everything is solved as soon as possible ".
Due to the exceptional circumstances, EL PAÍS is offering all its digital content for free. Information regarding the coronavirus will remain open as long as the severity of the crisis persists. Dozens of journalists work tirelessly to bring you the most rigorous coverage and fulfill your public service mission
If you want to support our journalism you can do it here for 1 euro the first month (from June 10 euros).
Subscribe to the facts.