"Now I'm more concerned with songs than fusions"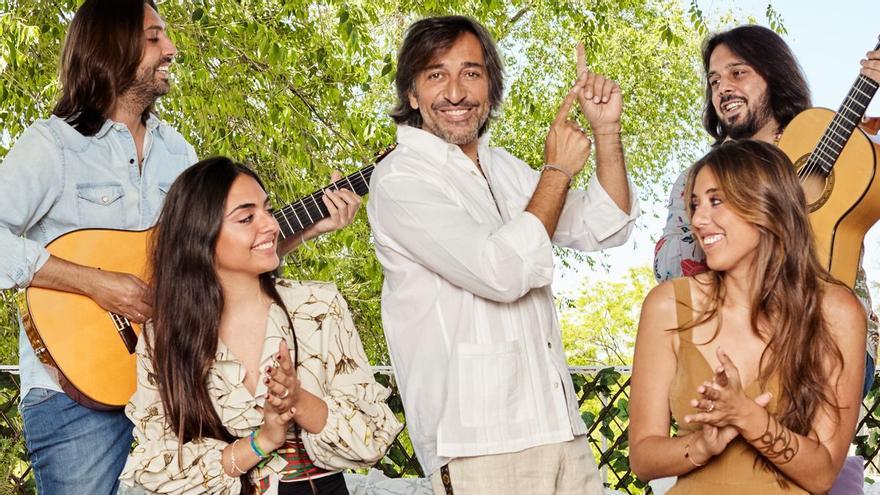 So Ketama is back in the freezer after the 2019 reunion tour?
With the pandemic It was already very difficult and for the moment he stayed there. It was very gratifying to get together again, to have Juan and Juanmi's guitars, on the right and on the left, but now each one is doing their own thing. I have been with the records of my daughters, Lucía Fernanda and Marina, and with Rosario's record, and I have made a very nice bolero with Benjamin Prado that will come out later. And things with Rayito, amazing guitarist and producer ...
And he has composed and recorded that song, 'Me maten', with C. Tangana.
He came home, played me his album and I was very impressed. We worked for a couple of days and 'Me maten' came out, a song in which we remember when they wouldn't let us enter the nightclubs, when now they put red mats on us and give us blessed glory. We laughed a lot. It's very easy to get a song out with him, and 'Me maten' is like an anthem: the 'We are not crazy' From this epoch.
In the end, it turned out that Tangana is not the radical ragman away from traditional music that he might seem.
He is a music lover. Look at the artists that he has caught: he has gone to Brazil and played with Toquinho, and he has gone to Cuba and recorded with Eliades Ochoa ... He has that ability to observe other musical generations, like Jorge Drexler or us. In a few days we are going to perform with him at Grammy, In Las Vegas.
Another new song is 'Corazón gitano', with Álex Cuba.
One of the most recognized Cuban artists; lives in Canada and has several Grammys, the Americans, which is very difficult. The gypsy heart represents the free heart, that which we long for when we have a job with a schedule.
He comes to Barcelona under the name of Antonio Carmona y Familia. What does this union represent?
They are the new generations that I have in my house, and they are all very experienced musicians since they were little. Carrying that new blood of the Habichuela gives a lot of play, and they have fun. We go everywhere as a family, as a clan. In the concerts, Marina sings her songs, and Juan, Lucas and I play pieces from my entire career, alone and with Ketama, and some other song, such as 'Those little things', by Serrat, that I have been singing for many years.
After having worked with Ketama in the fusion with pop, jazz or Mali music, do you now tend to close ranks with the flamenco-rumbera roots?
Right now I'm more concerned with songs than fusions. Then now, the accompaniment can go for flamenco, Latin, pop… The fusion has already passed for me. I know how to defend myself in Indian, Irish music ..., and put a cajon in it, or a guitar, or a letter. I have that ability to conform, because I have had my teachers, my father, Juan Habichuela, and my uncle Pepe.
With this formation of heirs, do you feel that you are now the patriarch?
As much as a patriarch, I don't know. It seems too much to me. But I have a very young soul. When we finish working we all go with the straws, with the little guitars… I share a lot with my family.
Was it difficult for you to open the doors of your family life in the program 'Los Carmona', from 'Lazos de sangre' (TVE)?
You have to be present in the media, and there are no music programs. I miss the spaces of other times, like 'Rockopop'and many others. That now they release music like this, delving deeper into other things, because it is the price that must be paid. They did a very nice review of the Habichuela. But we in Spain have our Miles Davies and our Billie Holiday, who are the Niña de los Peines, Tomás Pavón, Sabicas, Carmen Amaya ... And if they don't show them on television, people don't know.